52 year old Céline Geraud was born in 1968 in Moselle, a French village close to the German border. Her mum was a nurse in Nancy and her father was an engineer in the coal mines. In fact, he was the director of engineering in the local area. He was also a very athletic man, a runner.
"No-one in my family practised judo before me and my brothers. With 7000 people in our village, we could choose only gymnastics, judo or cheerleading."
From this early background came an extraordinary sports career, with a magnetic, lifelong connection to Judo and to world sport. A young and timid Céline moved from Moselle in 1984, to the training centre in Orleans. Sixteen years old and pushing hard within domestic judo, Céline's move was very tough.
"My coach at home was a wonderful man, Mr Galea, a great teacher. It was a dynamic club with about 100 judoka and there were many competitions, but not many women on the tatami in this time.
In Orleans I met the family Delvingt and particularly Yves Delvingt. I improved so much with his training and guidance, but training went from twice per week to twice per day. It was a shock, culturally and physically. Yves didn't speak much, though each word was important. I also didn't speak much, being so shy and unaccustomed to the speed of life there and so we connected with our similar personalities.
It was difficult to arrive in Orleans, 500km from my own family, so at the weekends I stayed with a generous family in Orleans. They lived near a lake, where I ran and was able to maintain my fighting weight. I was with them for two years and they were very good to me.
In Orleans I was shocked by the intensity of the training and with this my body changed a lot. I was fighting at -61, weighing 58kg. I went to 66kg and making weight became a new challenge. I had never been on a diet before.
Martine Dupond was another judoka at Orelans and we trained for 3 years there together. She stayed in judo beyond her competitive days and was national coach for 5 years. We became best friends and are to this day. She was a year older then me and it was like having a big sister. She helped me to adjust. She understood all the processes. She helped me to be less shy. We are so different but it worked for us. We won the national championshps at the sime time too."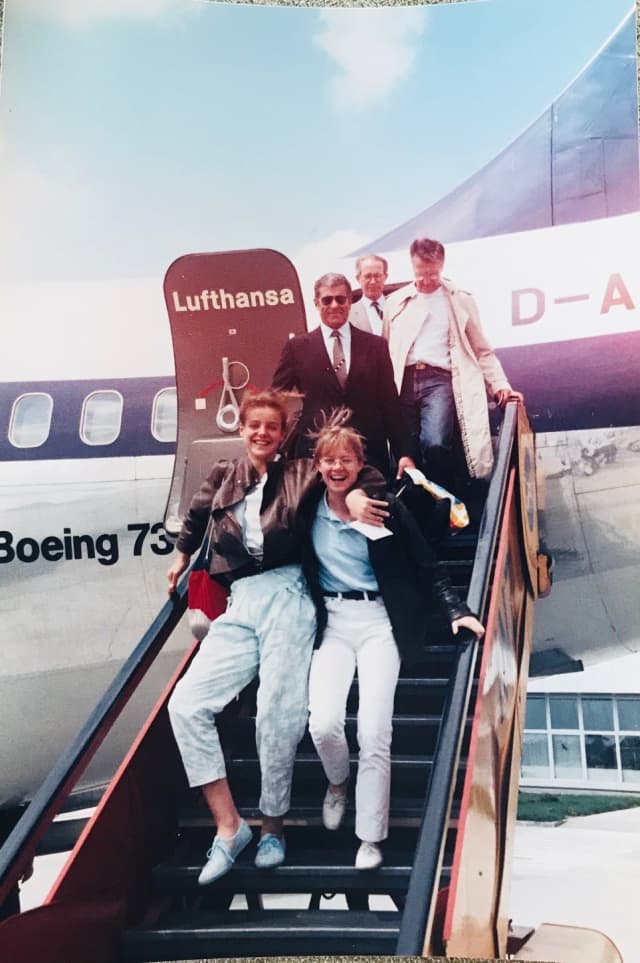 Céline's favourite judo memory was feeling like a Samurai, a real warrior, winning the 1988 Tournoi de Paris, on her 20th birthday. Competing at the Coubertin, with all the crowd shouting her name, it was even more intense than the world championships.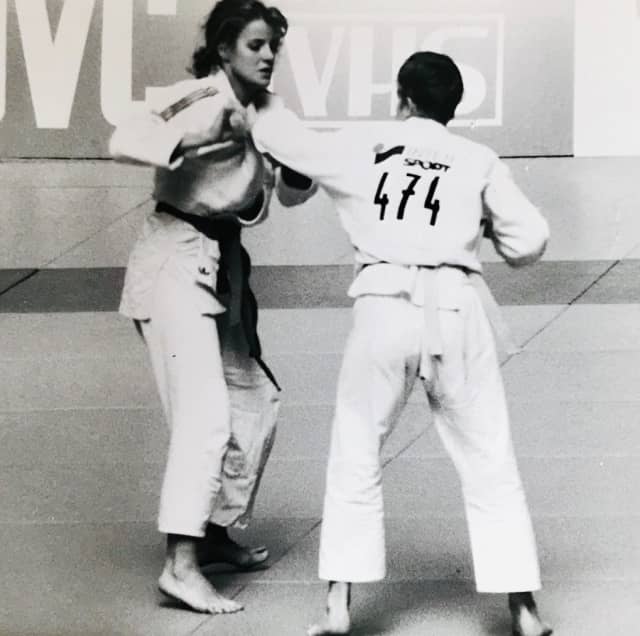 "Just before the Seoul Games I was in the best position. I won the nationals and I won Paris. Then at the Europeans I lost in the first round, coming back through the repecharge, but placed 5th. The other French girl in the weight had been world champion in 1982. France selected her for the Olympics, preferring a fighter with more experience. I was so disappointed, just losing that medal at the Europeans, but otherwise having such a good year overall. Silver at the worlds in 1986, European 5th place in 1988, Paris gold in that same year. It's a personal thing, to not quite meet such a big goal, but be so close."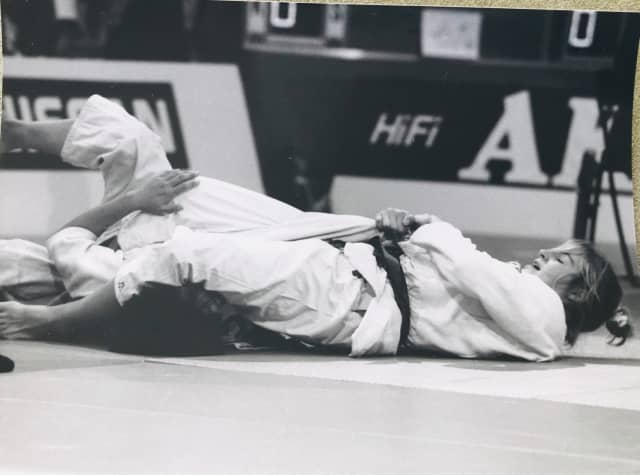 Celine admits to carrying some of that disappointment but it is always combined with a deep-rooted pride in the people around her. None more so than Cathy Fleury.
"1992, towards Bercelona, I won the nationals, but Cathy Fleury won Paris and so I missed out again. Of course Cathy won gold at that Olympics and she deserved it all. We were not best friends and our rivalry was intense, always against each other, but she was a fantastic judoka. It was hard for me, but I was so very proud of her. She really used that selection and proved everything was correct. It was an inspirational victory and one I'm grateful to have been a small part of."
Beyond competitive judo, Celine has had many drivers to propel her into a working life. One was particularly significant, the unexpected death of a sibling.
Celine had 3 brothers, one older and 2 younger. The oldest died in 1995, a car accident while travelling in Mexico. "He was going to see an archiological site and was on his way back. He was 29, travelling for pleasure with his girlfriend. It was awful.
He had been French junior champion at -73kg, a ne-waza specialist. He had moved away from competition and was becoming a great photographer and was starting to make himself a name. He had been in Cuba for 5 months, learning, honing his skills, travelling and was then selected to show some of his work in an art festival. It would really have been something special to have seen where that career could have taken him.
I was enveloped in my personal disappointments at that time, with regret that I missed out. When my brother passed it changed my place in the family. I became the oldest and I had to manage a lot of things, for the funeral etc. I grew up all over again, once in Orleans and then truly at this sad time. My parents were too devastated to manage everything and I felt a colossal power to manage my career at that time too. The 4 years after his death provided some of the most productive moments of my life; I built my career. I felt I had to be strong and do it on my own, not wanting to ask for support from my family, who were hurting so much already."
Celine set her goals, to be involved in journalism and broadcasting, really wanting to be a sports journalist for the written press.
"I found a position within French TV and I began to work in that field in the Summer of 1995. It was almost like an internship, with mostly desk work. I did some reporting, helping more experienced journalists. After that I was invited to stay as a freelancer and after that Summer I was working for them regularly. I stayed for the next 3 years as a reporter, sometimes out on site and sometimes at the desk. There was a great mix of coverage, from Formula 1 to sailing and more. There was lots of travel too.
My first time in front of the camera was in 1998 for the football world cup in Paris and France won. To be at the Stade De France, interviewing spectators for the semi-final against Italy was incredible. What an atmosphere!
That was a great springboard and after that I began with 'Tout Le Sport', a daily channel 3 magazine programme. I worked as a presenter for the first time and stayed for a wonderful 7 years. Then on to the more globally known 'Temptation Island.' It was a big departure from sport. There I was the anchor woman for 4 years, with long stints of filming in Costa Rica, Mexico and Brazil. There are so many funny memories from that time. Between those travel periods I continued presenting sports shows, 'Automoto' for example. I covered the Rugby World Cup too and with such a mix of experiences I improved a lot, learning so much in each role and with each team of colleagues. They were always kind with me. Each environment was interested in the others, like different worlds, asking for insider information. Temptation Island candidates asked me about Formula 1 and so on.
I am proud of many things in my career so far. In 2013 I became the first woman to present 'Stade 2'. It began in 1975 and only ever had male presenters. I was afforded so much respect because I was an athlete in my own right, like my CV was protecting me. It was hard to establish myself in sports journalism but I have been very proud of this job. I watched 'Stade Deux' when I was a child and I wanted to be like them. I wanted this from ten years old and to get there was satisfying. Judo helped me a lot with finding my place in the world."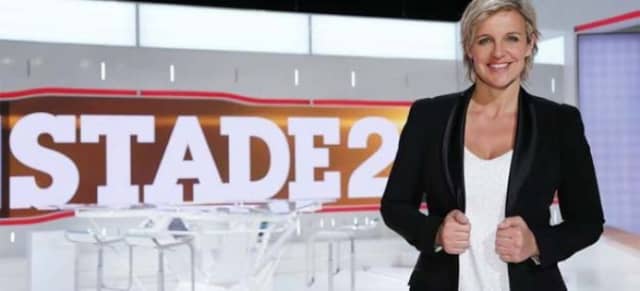 Celine spoke generously of her personal life, sharing a pragmatic view of her busy and varied life. Some years as a single mum provided her with a logistical challenge that can be tough to explain. Having to juggle parenting with such a promising and active career was a big challenge, but as she says, "It was not easy but it is just what we do: organise the routine. The calendar is always solvable, even with longer trips. My older daughter's father and my family have all played an important part in ensuring the girls are happy and I can continue with my career. I am both fortunate and organised. Judo has helped me to see more than one step ahead. Action reaction and anticipation. The layers of 'if' have always been complicated but always manageable, somehow."
No matter where Céline's career and life has taken her, there has always been a connection to judo, "It is the family you never really leave!! Having not touched my gi for quite a while, in 2009 I came back to the tatami and I trained and enjoyed a role as the Vice President of FFJ and found again my love for judo. I was head of communications and media. I left that post just last winter and took a role with the IJF. I was ready to welcome some new experiences. I love the idea of shared experiences with all kinds of people from all over the world. It is exciting and actually rejuvenating to be in such a comfortable environment, but with the added pleasure of working with people from everywhere. There is drama on the tatmi and with the IJF I have been able to touch again that high level and enjoy all that is positive in the sport that gave me my roots."
The recent International Judo Federation series 'Coffee With Céline' has been fun, insightful and refreshing, presenting to the world the athletes' individual and personal stories. We have seen some of the current greats offering anecdotes, goals, philosophies and much more, from the young superstar Bilodid to the powerhouse of Canadian judo Christa Deguchi. Basile and McKenzie brought real sparkle too. The series has come to an end and now Céline is ready for some new challenges, of course.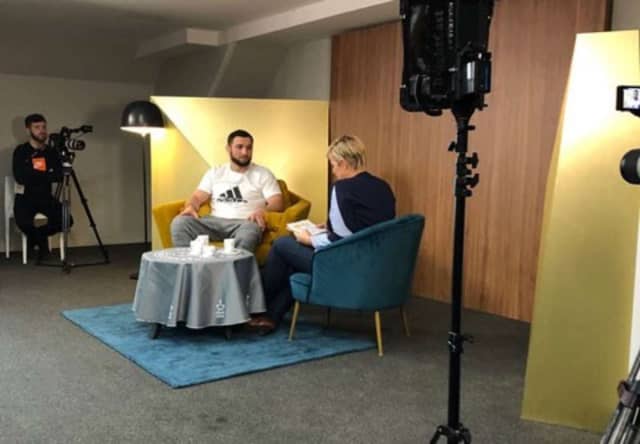 You can catch up with all episodes on the IJF website and social media platforms.