For once, those who were most nervous were the journalists. For once, the athletes were more relaxed. As there was coffee, a lot of coffee, the excitement led to good humor and, hence, to laughter. For once, we write about those who write. This is the story inside the story of a program.
Céline Géraud is a well-known French journalist. Former European champion and world medalist is, above all, a judoka. The Paris Grand Slam is also the occasion to launch a new program developed by the Media team of the International Judo Federation, which is called "Coffee with Céline".
"Judo has a colossal potential," Céline explains. "We have to exploit it to the fullest so that the youngest discover it."
The idea of ​​the program is simple. They are short interviews with the great champions to know them better. "We know what they do, but not who they are. Behind their results are people with feelings, hobbies and passions. They are the heroes we want to make known to the youngest."
It's Friday, the eve of the tournament. The Media team gets to work. Three cameras, a director and, Céline. While installing the makeshift studio, Grace, Jakho, Nicolas, Giorgi and Tural go to look for the judoka. And the thing starts strong because those who are going to launch the program are not exactly rookies.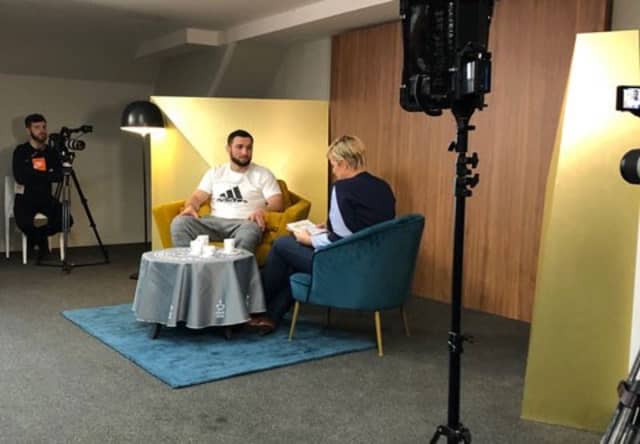 The first is called Varlan Liparteliani. The Georgian is a judo star, a World and Olympic vice-champion. He is also a very nice man and, as Céline says, "it is precisely what we want to know, that they are very nice people with many things to tell." Fifteen minutes later the Georgian thanks and releases the chair between hugs.
It is Nikoloz Sherazadishvili's turn. The Spanish, World champion in -90kg in 2018, is very close to Lipaterliani. He tells us, for example, that a week earlier he received the visit of Liparteliani in Madrid. "He wanted to see Real Madrid and visit the Santiago Bernabeú stadium."
The third cup of coffee is for Rustam Orujov. At first glance, the Azeri is shy. When he speaks, he does it with sincerity and surprises Céline. "When I have asked him if he is superstitious, he has confessed to me that, for some time, before each tournament, he visits orphaned children to help them. But in the end, those orphans help him even more."
They are confessions expressed with honesty because the environment lends itself to it. All judoka speak and laugh and the Media team relaxes thanks to them.
Between two interviews, we took the opportunity to ask them for a few extra minutes to record some messages that will be used to edit video promos of World Judo Tour tournaments. Everyone accepts and the thing ends in a barrage of laughter. It must be said that it is recorded in English and that not everyone dominates the language of Shakespeare.
Orujov accepts the challenge and does it with aplomb and a big smile while the team asks him again and again to repeat the sequence.
The Russian Natalia Kuziutina too. "I loved talking to her," says Céline. "She has so many anecdotes, very interesting and fun and expresses herself naturally."
While Céline accumulates caffeine in her veins, we talk to Grace Goulding, IJF Rights and Broadcasting, who is helping to record the Baku Grand Slam promo with Orujov. "The relaxed atmophere allows the athletes to open up in conversation," she explains. "It was interesting to hear them talk about their lives outside of judo."
And the list is long. We have an appointment with Sally Conway, Clarisse Abegnenou and Fabio Basile. "We want to develop the program in the long term, stabilize it and make it a reference for everyone. We will try to broadcast the first one in a few days", Céline ends.
We don't know if she will sleep well with so much coffee. We will see because there are many judoka with whom we want to share an open, serene and fun talk. And that means many liters of coffee.