It took a lot of work on Labour Day. It was not a day for amateurs; people had to collect a pick and shovel and sweat like never before. You had to be especially motivated and in that game the Polish Piotr Kuczera and the Dutchman Michael Korrel were in pole position. They were the very best and that is why we begin with them.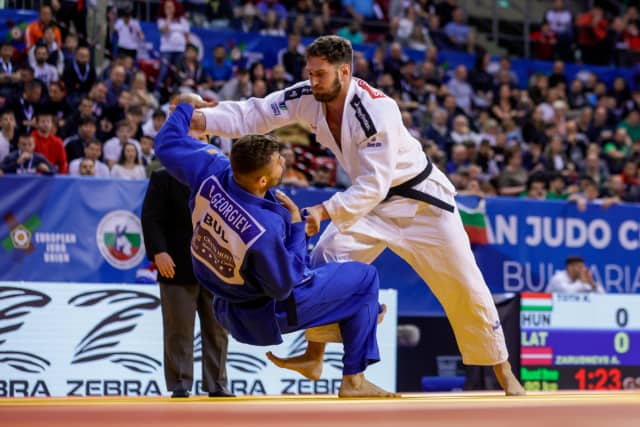 -100kg The Dutch Dawn
We start with Kuczera, a 27-year-old, practically unknown to the public, whose greatest merits so far were two bronze medals in grand slams two years ago. Kuczera starred in the first upset of the day, eliminating the hitherto untouchable Jorge Fonseca in the second round. The next to fall was Nikoloz Sherazadishvili. Two world champions were pushed out of his way with intelligence and offensive judo. There was no problem in the semi-finals and a chance to win a European title presented itself.
Michael Korrel was expected in Sofia. The Dutchman lost the Grand Slam final in Tel Aviv but he has recovered the quality of his judo; he is more effective, more patient and builds his fights intelligently. The only one who was able to put him in trouble on his way to the end was the Azerbaijani Elmar Gasimov. Korrel reached the final by eliminating his compatriot Simeon Catharina in the semi-finals as a favourite, but not such a clear one.
Korrel studied his opponent well and had Kuczera crippled from the start. The Pole did not seem the same as the one who had run over everyone in the morning. Nothing relevant happened, just a shido for Kuczera and then golden score arrived. It was the moment that Kuczera chose to become active and multiply the initiatives but physically Korrel seemed more whole and after eight minutes of combat, he flew at Kuczera to score ippon and win gold.
Sherazadishvili defeated Catharina for the bronze, adding a fourth medal to the tally of the Spanish delegation.
Daniel Eich from Switzerland completed a great tournament defeating Gasimov by ippon in the match for the second bronze medal.
-78kg German Inspiration
Something similar happened with the women. Alina Boehm got up in splendid form and reached the semi-finals by ippon against Spain's Pérez Gómez, Israel's Lanir and Britain's Powell. In the semi-finals she had to raise the bar of her demand because she was fighting against the Italian Alice Bellandi, who had just eliminated the French and first seed, Madeleine Malonga. Boehm won by mimicking Kuczera's route and like the Pole, her last opponent was a Dutchwoman, who was also expected in Sofia.
Guusje Steenhuis started as the second favourite. She did everything like her compatriot Korrel, with determination, imposing her pace and without making mistakes. She was also the favourite going into the final but it was the day of Boehm. We have never seen her so inspired before, during a whole day. She was serious, never made a mistake, not even scoring waza-ari. There was nothing that Steenjuis could have done, not today and not against Boehm, who claimed her first major title.
Malonga won the bronze via the non-appearance of the Portuguese Patricia Sampaio, injured in the semi-finals. The second bronze went to the Italian Alice Bellandi, who defeated the German Luise Malzahn with a textbook ippon.
-90kg Total Control
For a Georgian to reach the final in this category is neither new nor surprising. That a Serbian does it, since Aleksandar Kukolj changed his weight, is not so common. Darko Brasnjovic rewrote history by getting into the final at the age of 22 and with a virgin record of medals in the senior category. The Serbian had to work hard because almost all of his fights reached golden score. He won more by mental strength than physical strength and he didn't display judo enough to sign autographs either. That is why his presence in the final was quite a feat, because even without being the best or the most attractive in terms of the quality of his repertoire, he knew how to win with his guts and his head.
It was in the final where he met the most difficult rival. Luka Maisuradze, silver in Antalya, bronze in Baku and Paris last year, is the typical Georgian warrior, a tough guy who's hard to beat even when he's having a bad day. In Sofia he had a good day and that was bad news for Bransjovic.
Maisuradze took control early on and scored waza-ari. He was totally superior and Bransjovic was also penalised twice. Time was running out and the downfall began for the Serbian, who made the mistake of rushing and conceded by osaekomi. Incidentally, Bransjovic learned live that the finals are something else, no matter how well one has fought to reach them, which did not detract from an outstanding performance throughout the day. Maisuradze fulfilled the forecasts and with his newly released European title, he added to a track record that is beginning to look very good.
Mammadali Mehdiyev vs. Krisztian Toth, Azerbaijan vs. Hungary for a bronze medal. They have the same wrinkles, the same gray hair and they have been among the elite for so long that they have no secrets left to reveal. It was a tactical pulse that was on its way to being resolved by penalties. The only one attacking was Mehdiyev and Toth paid the price for his inactivity.
The second bronze was a matter between Greece and Italy and two judoka with bronze medals in past editions. Christian Parlati and Theodoros Tselidis were having a duel just as inactive as the previous one until Tselidis countered an attack from Parlati and scored ippon; a different first and last medal for Greece in Sofia.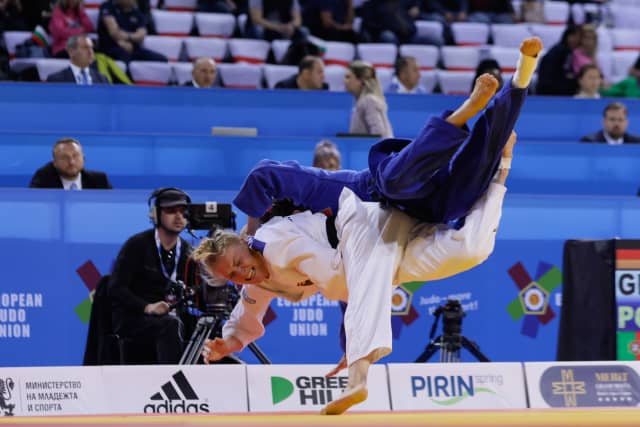 +78kg New chapter
For some time now this category has been reduced to a final between Raz Hershko and any Frenchwoman. It is as if Israel and France have decided to share the cake in all the tournaments. When it's not Romane Dicko, it's Lea Fontaine or Julia Tolofua. By now, all of France knows Hershko's judo perfectly and Hershko herself has detailed records of the French school. In Bulgaria it was Dicko's turn, from her lead in the world ranking. Both reached the final almost too easily, as if it was not possible to obtain a result other than one with them facing each other in the last match.
Hershko is faster, Dicko is bigger. It all started at full speed with Dicko scoring waza-ari. A minute later she finished with a superb uchi-mata. This time she was ready for Hershko.
Asya Tavano added a second bronze for Italy and Marit Kamps could not sign up for the Dutch party after being defeated by Turkey's Sebile Akbulut.
+100kg Head on a Spijkers
If there was a weight with very few doubts, that was the heavyweight category. Georgian and former world and European champion, Guram Tushishvili, acted as a scarecrow due to his track record and due to the absence of the main tenors. Perhaps he felt too favoured, too superior. Maybe he thought the gold was already his before he started. Tushishvili reached the semi-finals, it is true, but he was defeated by Jan Spijkers, who achieved one of the most beautiful victories of his career and certified that, although late, the Netherlands woke up in time to dispute the gold in three of the five categories in contention. With the Georgian out of action, Germany took advantage of the occasion through Johannes Frey, whose last final of any type of tournament dated back to 2020. Due to recent results, the Dutchman started as the favourite, but what the European Championships in Sofia has taught us, is that the favourites have thinner skin than it seems.
Spijkers took advantage of an opening by Frey to work in ne-waza and achieve an osaekomi that made him European champion. It was a clean victory, without hesitation and it was an express version.
Roy Meyer is still not retiring and he's right! The Dutchman collected a new bronze, which added to the one obtained in the last world championship. He knows that the final is already a step too high, but he is still good enough to fight for bronze; another medal for the Netherlands.
Tushishvili saved his honour with a bronze, by winning against Ukraine's Yakiv Khammo.
France dominated the medal table in Sofia, proving their status as favourites. Perhaps it is an omen because the next edition of the European Championships will take place in France. The Netherlands finished second thanks to a sensational final day, with Georgia rounding out the top nations podium.