It's 2019, and many sports, particularly in the Olympic landscape, are given to talking a big game about women's participation, gender parity and equality.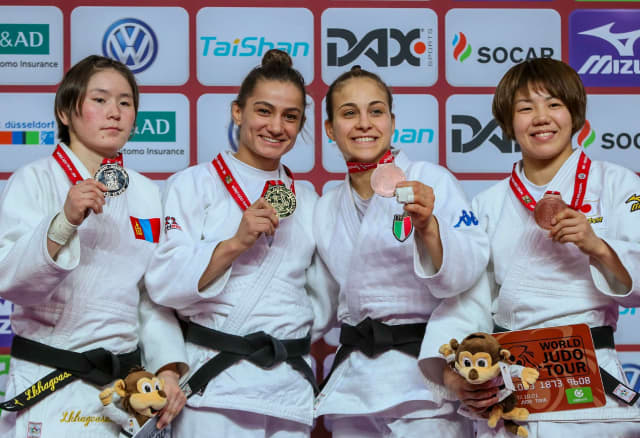 You know what talks? Money. Everything else, as the saying goes, walks.
The starting place for this discussion is simple: if men and women are playing the same sport and by the same rules, are they getting paid the same?
Here, and without fanfare, the International Judo Federation can rightfully claim to be ahead of the game in understanding that fair is fair. In judo, the equation is elemental, and has been since Day One, since the very first competition featuring both men and women on the same program: same rules, same money, same everything.
Compare: tennis At the four Grand Slams, the men play best-of-five sets, the women best-of-three. Serena Williams, the American champion, was one of the leading campaigners when Wimbledon became the last Slam, in 2007, to offer equal prize money.
The rest of the year, the tour schedule sees both men and women playing best-of-three sets. And as the Guardian reported in an in-depth study last July, through the first half of 2018 men's No. 1 Rafael Nadal had earned considerably more per tournament than women's No. 1 Simona Halep.
Williams was the only female athlete to make the Forbes Top 100 'highest-paid athlete' list for 2017, at No. 51. She didn't make that list for 2018. There were no women on that 2018 Forbes list. Zero.
Consider: cycling The men's Tour de France: three weeks. The women's: one day.
Prize money — this year, the UCI launched minimum salaries for women. By 2023, as ESPNW reported, the very top female riders will earn €38,000, or about $43,000. That's what continental lower-level men make. Two-thirds of pro women now make $10,000 or less annually.
Consider: basketball This 2018-19 NBA season, the league minimum salary is roughly $838,000. In the WNBA, the league maximum for a veteran player is $113,500 — or about eight times less.
An NBA referee's starting salary is $150,000. So you make money officiating a game in the NBA than you do playing in the WNBA, and by a lot.
These NBA numbers do not take into account, of course, the contracts and earning power of global superstars such as LeBron James, Stephen Curry, Kevin Durant, Russell Westbrook and James Harden. Those five make up a full quarter of the top 20 on the Forbes 100 list for 2018.
This summer will see, in soccer — or football, if you will — the women's World Cup in France. For their win in that tournament in 2015, the U.S. women took home a total of $2 million USD. The year before, the German men's team earned $35 million for winning. The 2015 women's tournament, in Canada, was played on artificial turf, often regarded as more physically demanding; the men's, in Brazil, on grass. The U.S. men's team, which was knocked out in Brazil in the round of 16? It took home $8 million. So — four times more for losing, and early, than the U.S. women won for winning.
In April 2017, amid an increasingly complex negotiation, the U.S. Soccer Federation agreed that the U.S. women's team, going forward, would get better hotel and travel arrangements, and two years of back pay when their per diems were less than men.
As the New York Times reported, the agreement also sizably increased base pay for the players, more than 30 percent initially, and improved match bonuses that could double some of their incomes, to $200,000 to $300,000 per year. The deal runs through this year's World Cup and the 2020 Olympics.
What the deal does not do: guarantee equal pay with the U.S. men's national team.
In early 2018, meanwhile, the U.S. women's ice hockey team, locked in a bitter dispute over pay and working conditions with its own governing body, USA Hockey, threatened an international tournament boycott — including, it seemed, the 2018 Winter Games. A contentious negotiation ended with the athletes getting a so-called "living wage," $71,000 per year per player; the NHL, it would later be revealed kicked in $25,000 per player to make the deal work; the Americans went to PyeongChang and won gold, defeating Canada; the gold earned each player a $37,500 bonus from the U.S. Olympic Committee, which under American law is tax free.
Consider: progress A 2017 BBC report surveyed 68 governing bodies; 55 responded; 44 sports pay prize money; 35 paid equal amounts to men and women. That's 80 percent.
For that same BBC survey in 2014, that 80 percent figure was 71.
As recently as 1973 — the year that Billie Jean King beat Bobby Riggs — not one sport rewarded paid out equally.
After the 2015 women's World Cup, the under-secretary general and executive director of the UN Women program, Phumzile Mlambo-Ngcuka, wrote an op-ed on the institution's website. It's worth quoting anew, because almost four years later her words are all the more worth consideration:
"Women are far more visible in sports today than at any previous point in history. The women's World Cup, as just one example, reached tens of millions of viewers, breaking television ratings records. The teams in that event were doing more than adroitly blocking a pass or scoring a goal. They were challenging stereotypes and demonstrating women's leadership and other abilities that can readily translate into many other domains. Perseverance and team spirit, among other values, can take women far in business, politics, scientific research, the arts and any other field."
Turning to the pay gap facing the best female soccer players, she wrote, "Similar pay gaps occur across other professional sports — with the exception of tennis, which since 2007 has awarded equal prize money at all four Grand Slam tournaments," and of course here she could and probably should have said judo and IJF.
"That," she continued, "should be the model to which all other sports aspire. All sports federations should close the gap and put women and men, in this and other respects, on an equal playing field."