The IJF Refugee Team have been prominent in the media and rightly so. Theirs are stories of unimaginable heartbreak but with fighting spirit, some luck and a lot of collaboration, the IJF have been working hard to support refugee judoka for a long time. Judo For Peace and Judo For Children are just two of the arms of aid provided and now there has been progress in order to facilitate the elite judoka, among our refugee community, finding their way to the Olympic Games.
Six judoka competed In the individual event and on day 8 of Olympic judo they fought together at the inaugural Olympic Judo Mixed Team event. They fought the German team in round one. Despite their loss they seem to have made friends for life and immediately after their contest their company was requested by the German team, who wished to thank them for their participation and congratulate them for all they are achieving.
Daniel Keller, President of German Judo Federation opened the presentation, giving each member of the EOR team a gift, "We wanted to give you something as a memento of our match as it was the first of the Olympic team event, the first ever. Thank you, from Germany."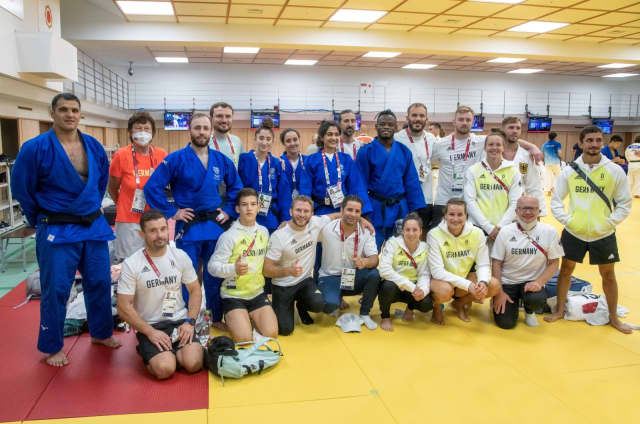 Ursula Schmitz, Deputy Chef de Mission for the German National Olympic Committee was present too, "We are very proud to have this special match against this team. In Germany we welcome many refugee athletes and we really feel we want to support them always. It's good to bring them to the Olympic Games. With good coaches and the right kind of preparation it is great for everyone."
Sanda Aldass fought in both the individual and team event for EOR and said, "We really appreciate all that has been done to make us a part of the judo family. We love and admire our German friends. They all deserve to be here and so we will cheer for the German team and indeed all judoka!"
Later in the day President of the IJF, Mr Marius Vizer, also met with the Refugee Team to offer his congratulations for such a positive debut at the Games.