Mixed zone, 11.40 am. Javad Mahjoub was a river of tears. He did not cry because he had lost but because he was convinced that he had been a disappointment. He asked for forgiveness and he was wrong to do so. No-one should apologise for doing things right.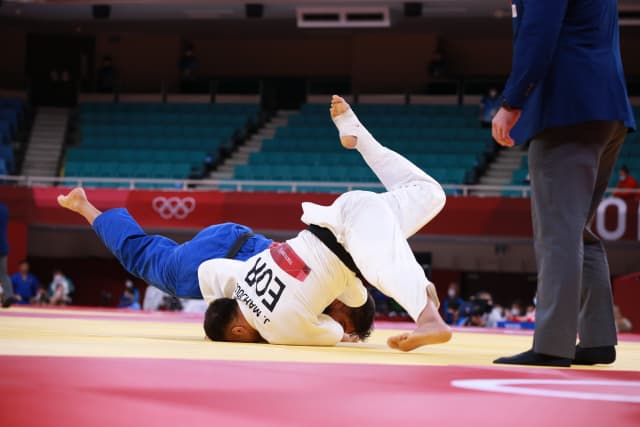 Javad will forever be remembered for being the first member of the Refugee Team to win a match at the Olympics. He is 30 years old and was born in Iran. "Today I am a refugee and that is very hard, very sad," he explains. "If I am here it is thanks to the International Judo Federation and the solidarity of the entire judo community." 
Javad is a lion and he's talented too. He has won international tournaments. So he decided to leave his country and change his life but, as he says, "you don't start from scratch but from minus ten." Between one thing and another, bureaucracy, regulations and health crisis, Javad has been absent from all tournaments for two years. To get an idea, two years without competing is like totally fasting for a month. Sensations are lacking, training cannot be optimal. These are inappropriate conditions and when the Olympic Games are finally looming on the horizon, a bomb-proof will is necessary to travel without complexes because, in the case of Javad, he is also a leader. He is the one with the most talent in the Refugee Team, the reference and, contrary to what some may think, he has not come to Tokyo to parade; he has demonstrated it with facts. 
The last day of the individual tournament was the one that many were anticipating as Teddy Riner was facing posterity and all the big shots in the heaviest category. At 11:26 a.m. Javad appeared in the athlete tunnel. The draw brought him German judoka Johannes Frey in the first round. It could have been worse, but also better. Frey is twenty-second in the world ranking. Javad is ranked 100 and naturally the German competes like everyone else when there are tournaments, while Javad could only watch them on television.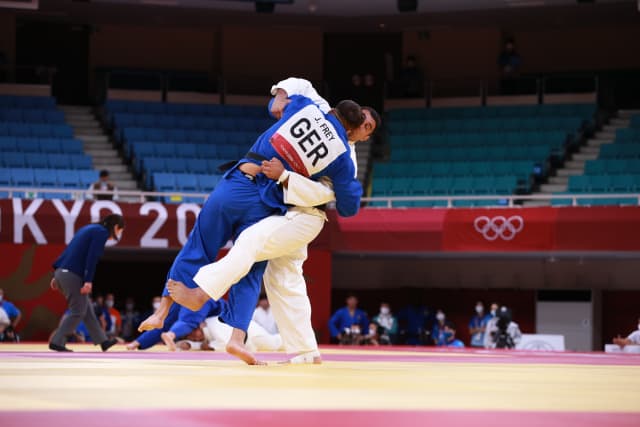 In other words, the first round should be a mere formality for Frey. However, we already told you that Javad has talent, enough to surprise the German with a textbook waza-ari and shut the mouths of everyone who sees a marketing operation in the Refugee Team. He won because he was better and he showed it. 
In the second round, a mountain was waiting, Olympic and world champion Lukas Krpalek. Javad also surprised the Czech and also made him fall but he did not know how to reach the end of his movement. Krpaleck is another matter, he is the same age, but he is fourth in the world, much better than Frey and the king of ne-waza. Javad did not give up beforehand, that would not be his way. He fought like a lion but he made a mistake that cost him the elimination and unleashed the waterfall of tears.  
His sorrow was so deep that even international journalists strove to console this magnificent warrior, wounded in his heart, because he did not feel for himself but for those who have allowed him to teach the world what he is capable of. This is called nobility. When he managed to compose himself, he spoke to the same people who spoke words of encouragement to him, "I hope Lukas wins because he is a magnificent judoka and a hero in his country. Really, I would like him to get the gold. "  
Judo understands values, but there is always a winner and a loser. With Javad, not because Krpalek qualified for the quarter-finals, but Javad conquered the hearts of those of us who had the privilege of seeing him like this, fighting on an Olympic mat like all the brave ones. Head up Javad, head up.