An Olympic champion with 4 Olympic medals in total. That's a big clue; there aren't many who can boast that. Ok, so you're still not sure who it is? This judoka also has 8 world medals. Yes, yes you read that correctly, 8 world medals! 30 World Judo Tour medals… does that help? Ok, so let's just talk gold medals, that must seal it: Olympic champion, double world champion, Masters champion, 11 times continental champion. This is a judo superstar, someone who lives by the judo values but assumes nothing, despite being able to wear the badge of a living legend. 'Legend' gets thrown around a lot but this Cuban couldn't be described as anything less… oops, I think we have given it away. Yes, Idalys Ortiz is in the house!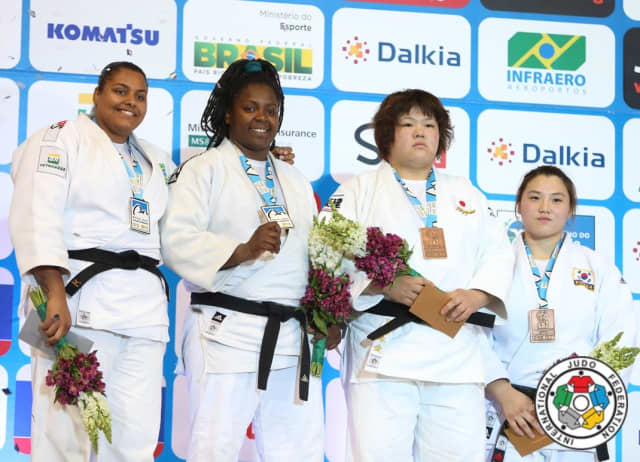 Just listening to the great champion gives an insight into many aspects of her life and of course her mentality towards training and competing.
"There has been a lot of uncertainty for me as I didn't know whether I wanted to continue or just work until the Tokyo 2020 Olympic Games. However, finally, we believe that I could return, aspiring for the 5th Olympic medal.
It is a big pleasure to be visiting the city of Antalya, experiencing my comeback to the tatami, even if as a visitor. Although I had a break, I did not stop practising judo 100%. I was involved, together with my team, with some training for our colleagues. Therefore, I couldn't say that I missed it so much. I believe that a high-level athlete who has participated in numerous competitions, like me, deserves a break. Therefore, I decided to continue towards a 5th Olympic medal, being one of the few athletes who has this kind of merit and distinction. According to a Cuban saying, 'The easy things can be done by anyone, the difficult things only by those who are trained.' I consider myself as trained to get a 5th Olympic medal and that's why I decided to return to the tatami.
Each of my medals was a step towards our current results. We lived day-to-day and we lived through memorable moments in judo. We achieved great results. Once we achieved them, they are over and then there are new aims, objectives and predictions. Those Olympic medals were high steps towards new horizons, to achieve what we want, including that 4th medal from Tokyo; this was another step towards a possible 5th Olympic medal.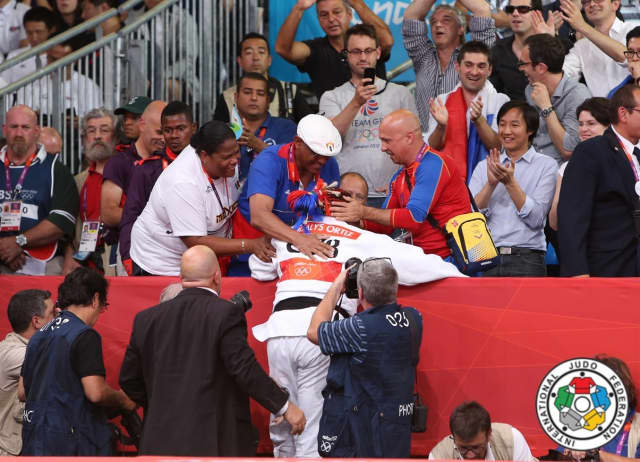 There are lots of factors that influence but the most important factor towards consistency is to know what one wants from life, to set an aim and purpose in life and wish it with all one's heart. Certainly, this cycle is a new cycle and a new version of me as an athlete. I must get back in shape as soon as possible and continue with the competition tour, pursuing new triumphs, goals and achievements. This is what I'm planning immediately. As we know, the more we compete, the better ranking we will get in order to compete well at the world championships, grand prix, grand slams and Masters and then to get, at long last, to the Olympic Games.
In terms of world medals, which is an interesting topic, as I have a plethora of medals of all colours, I would like to have even more! I believe that like in other sports that have records, I would also like to hear a younger athlete say that 'Idalys Ortiz from Cuba had so many medals,' so that in Cuba there could be another athlete to win this many medals or maybe I can be a reference in another country for the new generations who could aim to become like me."
Idalys Ortiz wants to connect with the next judoka coming through, to show them that everything is possible, "It is always good to give advice to the future generations. We must visualise what we want in life and know what we truly want. If we really want it, we will fight for it with all our heart and we will always achieve something good." This is very close to one of the core principles as laid out by Jigoro Kano himself, 'Where there is effort there is always accomplishment' and Idalys is clearly a firm believer in this idea.
"Judo is a versatile sport and we have many opponents. I believe that in combat sports there is no opponent of less importance or value and we must prepare ourselves always as if to be ready to face the best athlete, as a good coach of mine, Professor Veitía, always taught me. In my case, this is what I did. I prepared for all the people I might meet along the way and I think that from now until the Paris 2024 Olympic Games, there might be more rivals, great athletes for whom I need to prepare in order to showcase a beautiful spectacle."
So, preparation is one thing, goals is another. What about the moments that have already passed?
"The other day, I was asked an interesting question, 'What happened in the final at the Tokyo 2020 Olympic Games?' and I answered that I don't know where to begin with an answer for that. It is quite complicated to express so many feelings in so few moments. I simply answered that maybe they should ask this question of Sone Akira, because Idalys Ortiz trained for only two months before the Olympic Games! With this I had the chance to get into the Olympic final and not only that, but it was a golden score match."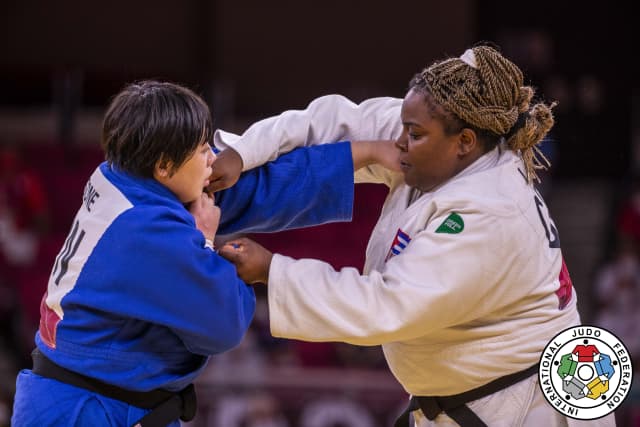 "In Cuba it was a difficult time as we stopped many times the training was not linear. I was affected a lot psychologically and physically because of this. I couldn't train as much as I wanted nor develop for the Olympic Games. In just two months I had to get in shape and as I said before and I reiterate it, two months to get to that Olympic final and get to a golden score. Sone Akira is an athlete who was very stable and linear in her training; she's a great athlete."
We must also highlight that she is a younger athlete; Idalys Ortiz made it to her Tokyo Olympics when she was 31 years old, with Sone being only 20 years of age.
"In my opinion, it was another achievement and merit. With a realistic outlook, I knew that I could be on the medal podium but I never believed that I could make it to that Olympic final. It was certainly a challenge for me as I followed in the footsteps of many athletes like Daima Beltran, a Cuban athlete who was double Olympic silver medallist and like Estela Rodriguez; we are talking about a successful trajectory of almost 20 years.
When I was first part of the Cuban team I was only 14 years old and in my first Olympic Games I was 18 years old. My coach at that time, Ronaldo Veitía, told me that I was in the only division through the cycles which always yielded an Olympic medal and I could not miss getting my medal in each of the cycles following my first participation; I had to maintain the tradition. I have always fought to achieve this great tradition. Really, I do not focus on all the people from my category who could get a title, I just believe that I could get a title."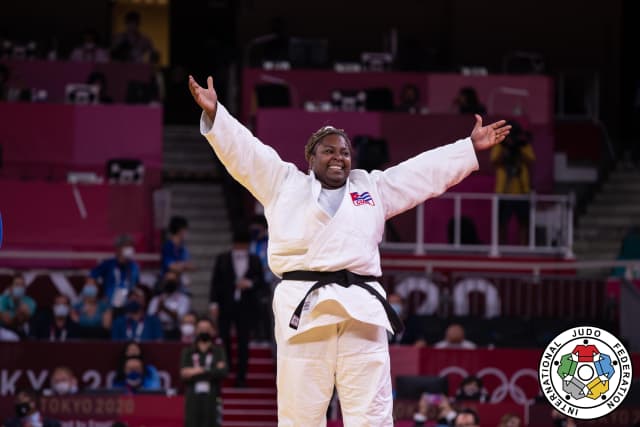 It is really very early to predict the future. When the due moment comes, we will see what needs changing, even during the moment itself, lots of things can change. Currently we have a quite young team, a team which is being initiated now, a team that we need to work with and guide to preserve the results that Cuba always had in the international events. We try to involve this team in training camps and big tournaments in order to have the right feeling and be able to develop. They are young and we have high expectations while being aware that it will be a long-term process, although we might have immediate rising stars in some tournaments. Regardless, I think we should still wait a bit more.
Cuba is a very sporting island. We, the Cubans, are not used to losing and through the years judo has been one of the sports that brought great joy to the Cubans; Cuba is a big judo nation. We also have many fans and critics who agree or disagree; therefore we have to grapple with that. Both cases help for the better. Lots of fans congratulate and praise you on the great results and performances during a certain time, while others tell you that you are old, you have to retire, now you are not doing well and psychologically speaking we have to be resilient and tell them that they are wrong. In our mind we must know we could prove them at any moment. That's why we train a lot and are consistent in our work.
judo has become an essential pillar! I started judo when I was only 9 years old and more than half of my life was dedicated to judo in the mornings, afternoons and evenings. Even at night when I get home, I speak about judo with my family; it is all about judo. I do judo 24 hours a day! Judo turned into a lifestyle, even for my family members who have never worn a judogi, but they know about judo. Judo is very important to me as even after my retirement I will be linked to the sport.
The people from Cuba are very charismatic and joyful and they love to party. We are different and this makes us special. We are a sporting nation, very competitive, but also jovial and even the difficult moments are brought to a viable path for us to develop as humans."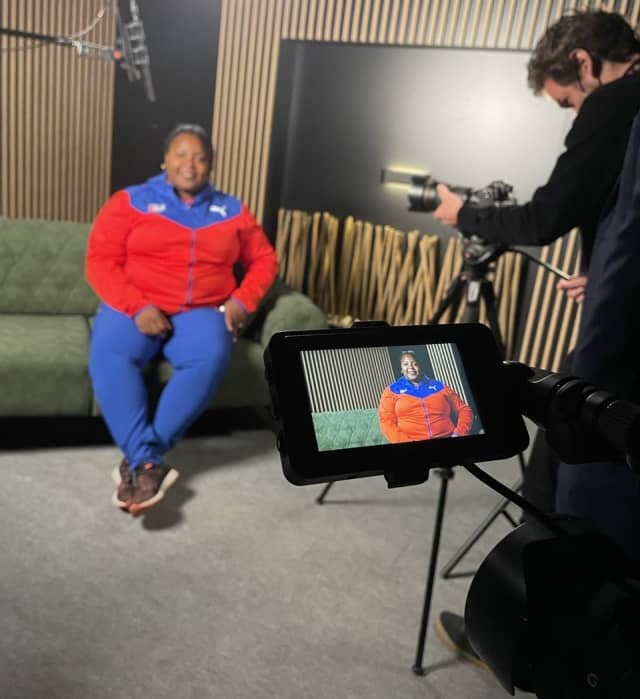 Idalys is clear that she is ready to compete towards Paris. She accepts that it is a big task that lies ahead and also accepts her role in supporting the generations that follow. She's in a good place and that is exactly where a great champion, an icon for her nation and the judo world, deserves to be.