Istanbul is indeed one of the best centres for the IJF Academy practical sessions. 60 students from 25 countries across five continents came to the November liaison in Istanbul. Istanbul was selected because the Turkish Judo Federation is one of the most active partners of the IJF Academy. The Turkish Olympic Committee is also very supportive of our projects. Direct flights from around the world to Istanbul make the city economically feasible too.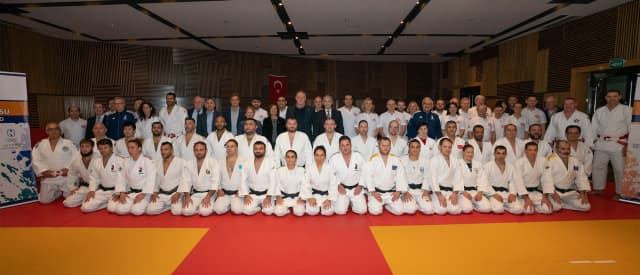 The IJF Academy experts headed directly from Tokyo to Istanbul, after a first historic, successful week at the Kodokan (https://www.ijf.org/news/show/ijf-academy-mile-stone-course-at-the-kodokan). Students from Australia, Austria, Belarus, Belgium, Brunei Darussalam, Cambodia, Canada, Egypt, Ethiopia, Finland, France, Greece, Kazakhstan, Kosovo, Libya, Moldova, Mongolia, Poland, Russian Federation, Rwanda, Slovenia, Turkmenistan, Türkiye, United Arab Emirates and United States of America attended the sessions.

The practical sessions were conducted by Mark Huizinga, Daniela Krukower, Slavisa Bradic, Ramadan Darwish, Mesut Kapan and Kodokan experts Hiroyuki Hirano and Sanshiro Yamamoto. Dr László Tóth, President of the EJU and Vice-President of  the IJF, addressed the students, emphasising the importance of close cooperation between continental unions and the IJF. The Turkish Olympic Committee General Secretary, Mrs Neşe Gündoğan and the President of the Turkish Judo Federation, Mr Sezer Huysuz, also visited the students as the IOC Olympic Solidarity programme also supports our activities. 
The final IJF Academy practical week for 2022 will be held in Dunavarsány, Hungary, at the beginning of December.
The General Secretary of the IJF has already sent out the calling notice for registering for the first course of 2023. The closing date for registration is 12th February 2023 and the Undergraduate Certificate as Judo Instructor (UCJI) course begins on 6th March 2023.