At the end of the preliminary rounds the cheers in the Bercy geared up like engines towards a finish line, louder and louder as the French team leapt closer and closer to the medals. Gahie to her final, Audrey and Chloe Buttigieg to their final and then Teddy to his final.
Teddy Riner won gold at the Bercy in 2008, 2009, 2010, 2011, 2012 and 2013, a 6 year reign that then came to a halt and he stayed away from the Paris Grand Slam until going again in 2019. That year proved to be his 'annus horribilus' as he lost to Kageura (JPN) in front of a silenced stadium.
Teddy's records are all remarkable. For example, he has won 8 grand slams in his career out of the 9 he contested. 6 of those gold medals are Parisian. Clarisse has 6 Paris golds and Teddy seemed destined to surpass that in 2023.
In fact Audrey and Teddy won their 6th and 7th titles respectively, on the final day of the event and offered the passionate arena spectators a very big finish! The crowd created their own light show as an impromptu celebration, switching on their mobile phone lights to shine like a star cloth, twinkling in appreciation of all they were given over the two days.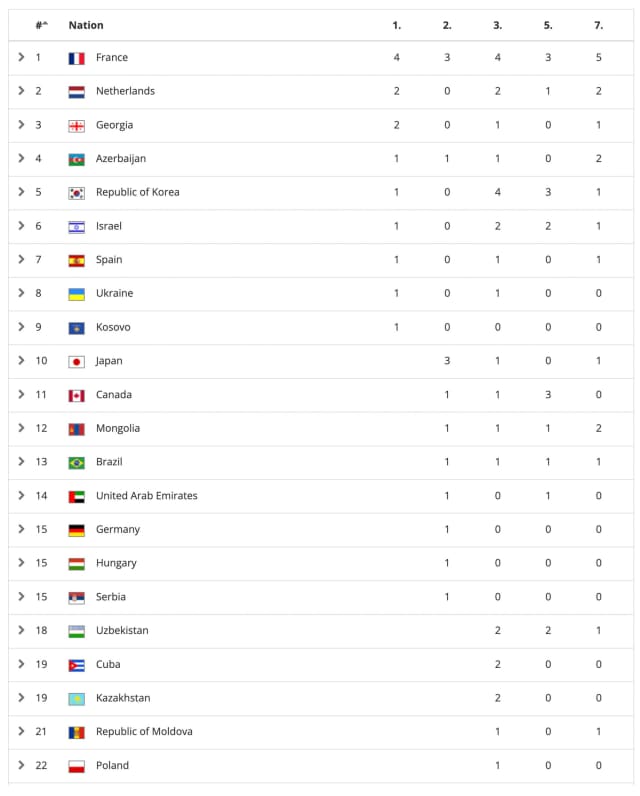 With all contests and presentations complete, a happy host nation can be proud of their organisation, their promotion of the judo values and of the stage they created for the best judoka in the world. France were at the top of the medal table with their 4 golds, 3 silvers and 4 bronzes. Second, after a late surge from Van t End and Korrel, were the Netherlands and third were the Georgian team.
The athletes, whether medal winners or not, gave us drama, emotion, stories, memories and most of all fantastic judo. Results, even when echoed by disappointment for some were met with respect and honour. Records were made, lessons learned and a whole judo family was part of another very special edition of the Paris Grand Slam.