The celebrations for the First Women's World Judo Championships are fast approaching. For several weeks we have invited you to discover the stories of the protagonists of this incredible human adventure. The time has come to pay them a strong tribute, because what at the time might have seemed to some to be simply the first edition of an event, has become a social phenomenon that has deeply impacted the world of judo and the the world of sport as a whole.
Commemorating the exploits of the young women who participated and commemorating the incredible will of Rusty Kanokogi, in the wake of whom dozens of judo enthusiasts did everything to make the World Championship in New York a success, is compulsory.
On Saturday 28th and Sunday 29th November 2020, we will meet for two exceptional webinars that will be informal and fun and to which the International Judo Federation invites you.
Dates Saturday 28th November 2020 at 18:00 CET and Sunday 29th November 2020 at 11:00 CET
Programme on both days • Event begins • Welcome from IJF • Welcome from the Kanokogi family • IJF introduction of the project • 2-3 minutes per panelist to tell us who they are and how life has been in the last 40 years • Questions and answers to explore the panelist's experiences in New York and since then • IJF summary and thank you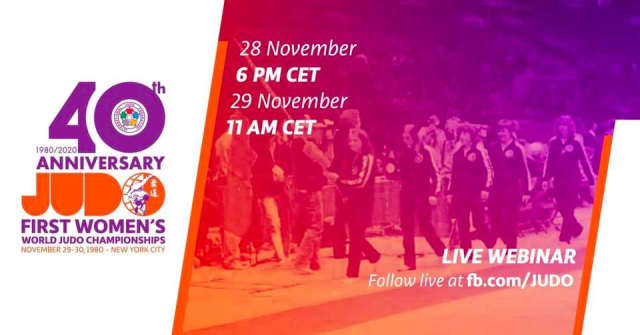 500 free places with login on zoom and with translations will be available for the webinars.
To benefit all the functionalities, Please update to the latest version of Zoom (https://support.zoom.us/hc/en-us/articles/360042414611)
The sessions will be accessible on YouTube streaming in english for the rest without login
Saturday, 18:00 PM: Webinar: Zoom YouTube: Link
Sunday, 11:00 AM: Webinar: Zoom YouTube: Link
Guests SATURDAY Jean Kanokogi Jane Bridge GBR 48 kg Mary Lewis USA 48 kg Monica Guadagnini ARG 61 kg Xiomara Orozco VEN 61 kg Anita Staps NED 61 kg Dawn Netherwood GBR 66 kg Margherita De Cal ITA +72 kg Edith Simon AUT 66 kg
SUNDAY Jean Kanokogi Loretta Doyle GBR 56 kg Karen Krüger GER 66 kg Kerrye Daniels AUS 72 kg Jocelyn Triadou FRA 72 kg Cristina Fiorentini ITA 72 kg Ingrid Berghmans BEL +72 kg and open Marjolein Van Unen NED +72 kg and open
The competition is online and the exhibition is open: https://www.ijf.org/competition/2170/photos