My wife and I have been married for 27 years. Our first date was at a baseball game. This was a feint. She is typically not very interested in sports. Which is totally, totally fine.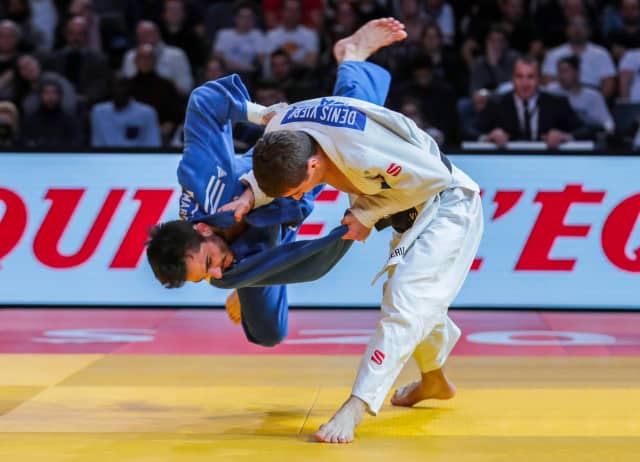 One thing my wife does love is art.
Way back when we met, on the walls of her apartment she had a print from the Water Lilies collection by Claude Monet. This print would go on to hang in what would become our first place — and then through a real house and a home that we made together, through children and school and life itself.
The lilies
At the turn of the 20th century, the incomparable French master would create some 250 paintings in the garden at his home in Giverny. Famously, eight of the compositions are on display at the Musée de l'Orangerie.
In anticipation of last weekend's IJF World Tour in Paris, which I had known I would be covering, I asked my wife if she wanted to come. We are now formally downsizers; the kids are all either in or just out of university. I also said, you know, you can see some judo, too.
First, the lilies at l'Orangerie.
There are eight, on display in two oval rooms, with the advantage of natural light, oriented from west to east on one of the main walkways in the city along the River Seine. Monet's vision was simple and yet profound. He wanted visitors to so immerse themselves that, while there, they not only could but would forget about the outside world.
The light, the flowers, the water, the mix and play of all those elements — these are reminders, first and foremost, of the great gift of life and, next, of the notion that each of us is part of something bigger than ourselves and, moreover, that there is essential truth in searching for and finding connection.
The magic worked on my lovely bride. Transfixed, she said, "It's beautiful."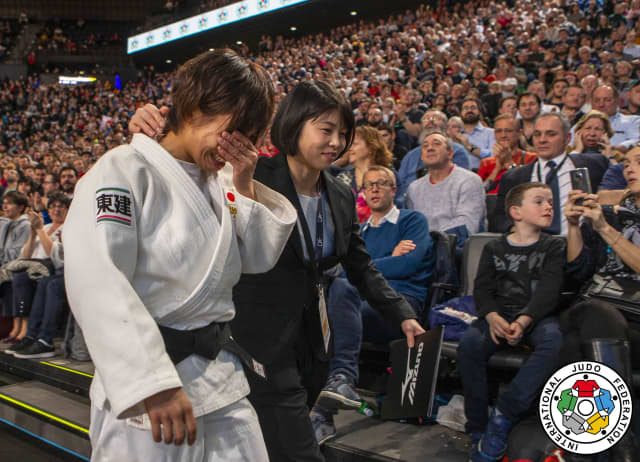 She probably could have happily sat for hours with the lilies.
We have to go, I said gently. Otherwise, we'll be late getting to the arena at Bercy.
Understand that the 2019 Paris Grand Slam was my wife's first-ever exposure to judo.
For emphasis: this was the first time she would bear witness to the sport, the atmosphere, the playing out of judo's ethical and moral code, its genuine universality and humanity.
Purposefully, I had not said a word beforehand about what to expect.
Those of us who are privileged to see judo at its highest levels come to understand very quickly that its performance is, at some level, also art. There is finesse. Power. Strength. There is connection, literal and figurative.
There is also — this is so simple and yet so true — a search for meaning in the doing of it. Yes, everyone wants to win. But to assert that is to ask the fundamental question: why?
To be the very best, you need to be tested. You need something bigger than yourself. You need a scene like the one that closed Day One at the Paris Grand Slam.
Here were two outstanding athletes in the women's under 63-kilo class: Clarisse Agbegnenou of France, last year's world champion, and the Rio 2016 Olympic champion, Slovenia's Tina Trstenjak. Here was a full and knowledgeable crowd at Bercy, chanting, "Clarisse! Clarisse!"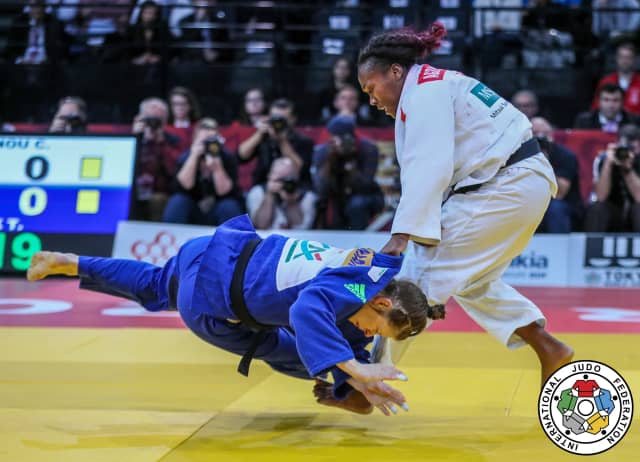 Here was a match that went the full four minutes, and then beyond, three more into golden score, before Agbegnenou finally executed a one-point counter.
For everyone inside that arena, for every second of those seven minutes, it seemed as if nothing else in the world mattered but the display on the tatami of skill and will.
At the close of the match, the two women hugged and held each other's hands aloft, a measure of their mutual respect. They have met many times. In Rio, for instance, Trstenjak defeated Agbegnenou for Olympic gold.
There doubtlessly will be more such moments, more such art, this coming week in Germany at the Dusseldorf Grand Slam.
What, I said to my wife, as we were walking out a few moments later, did you think?
She said, "It was beautiful."