Every year, International Women's Day is celebrated on 8th March. This year, once again, the IJF and the entire judo family are associated with this day that celebrates women's achievements and helps raise awareness of discrimination.
Moreover, the celebration of IWD is also about taking action throughout the year to drive gender parity. As stated on the International Women's Day website, IWD belongs to everyone, everywhere. Our sport family is committed to making the world a more safe and fair place for everyone.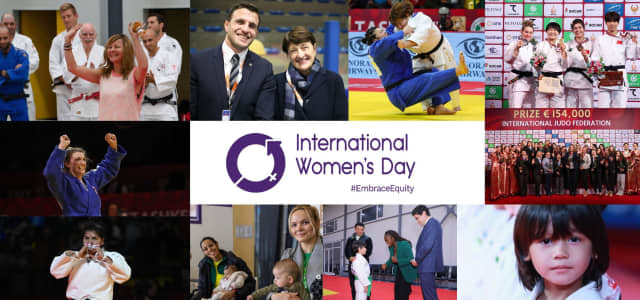 "
On the occasion of International Women's Day, I want to congratulate all women around the world, the ones who are members of our judo family, as well as all women. I encourage them to keep helping us to build a better world. I praise their involvement and the way they drive the development of our sport. I wish all women to promote judo and especially our values inside their families and in their careers.
Marius Vizer, IJF President
Judo was actually created and publicised to be inclusive in a world that might be free from bias, stereotypes and discrimination. If there is still a lot of work to do, the testimonies that we published over the past days prove that it is possible and that we should stay optimistic when we dream and want a world that is diverse and equitable, a world in which differences are considered, valued and celebrated. Together we are stronger, together we can foster the ideals of equality and together we can all #EmbraceEquity.