As the Antalya Grand Prix is ​​about to begin, and just minutes before the official draw of the competition, the IJF, the Turkish Judo Federation and the Turkish Ministry of Youth and Sport have signed a major contract for the inclusion of judo in the programme of 20 schools across the national territory.
It is in the presence of the President of the International Judo Federation, Mr. Marius Vizer, the President of the Turkish Judo Federation, Mr. Sezer Huysuz, and the Minister of Youth and Sport, Dr. Mehmet Muharrem Kasapoglu, that the signing ceremony took place under the eyes of young judoka, who will be the first beneficiaries of this programme. Organized during a sports forum held in Antalya for several days, the event helped to end a long preparatory work initiated between the IJF, the Turkish federation and the Ministry of Youth and Sport.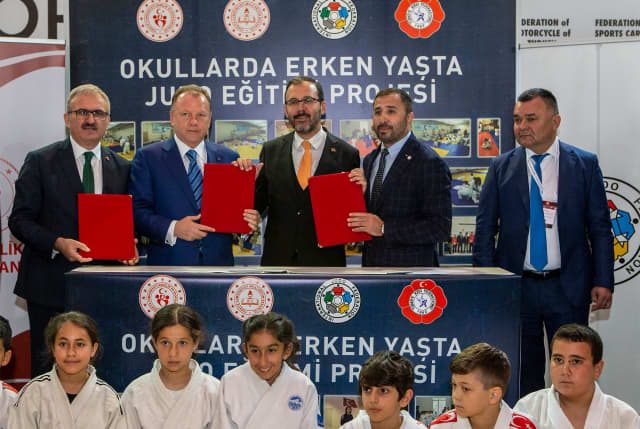 The signatories have the common ambition to set up a programme whose objectives are to open access to judo in and outside school time, to promote cooperation between schools and judo clubs, to strengthen partnerships between local, regional, governmental organisations and sponsors, and to put forward the values ​​of judo for the construction of a more just society.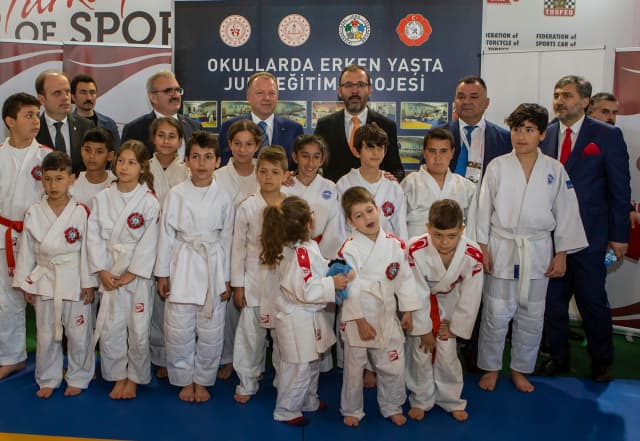 To achieve these ambitious goals, the IJF will provide each of the 20 targeted schools with a training tatami and 50 judogi for children. It will also cover the monthly salary of the coaches, while giving them access to the courses at the IJF Academy, especially those dedicated to judo for children.
The IJF President said: "The IJF has developed and executes the Judo in School programme, whose main goal is to teach children in the age-category 5-12 years social, educational and physical skills through judo. The IJF supports national federations to implement the programme at the national level by providing knowledge, structure, material, advice and finances."
The Turkish Judo Federation president said: "Our federation shares the philosophy of the programme and believes its implementation will foster judo in the country, while providing children with important values. The agreement we signed with the IJF and the Minister of Youth and Sport in Antalya is an important step for the development of judo in this part of the world. Our ambition is to reach every single child in Turkey through judo in order to implement an important social, educational and cultural programme. Today, with the tremendous support of the IJF, we start with 20 schools, but in the future we will invest in 81 cities throughout Turkey. We want to make judo the most ever successful sport in our country."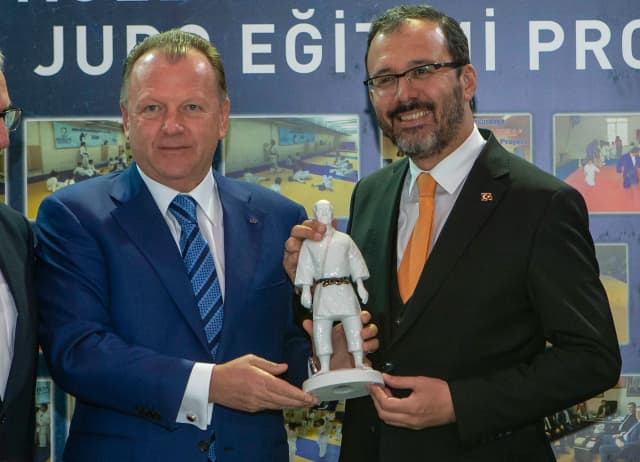 After the signature, President Marius Vizer offered to Dr. Mehmet Muharrem Kasapoglu, a special statue of Master Jigoro Kano, manufactured by IJF official sponsor and Hungary-based company, Herend Porcelain.
Following the Antalya Grand Prix, the IJF will also lead, on April 9-10, a Judo for Children/Judo in School seminar in Antalya (more information to be published soon).