From May 9-13, 2019, the 15th European Police Championships Judo took place in Györ/Hungary. 159 athletes from 16 nations found their way to Hungary's EPC Judo and were welcomed with a solemn ceremony at the Olympia Arena in Györ. For the first time in history a mixed team event was held after the individual competition and Johannes Daxbacher from the IJF Military and Police commission was awarded with a Medal of honor.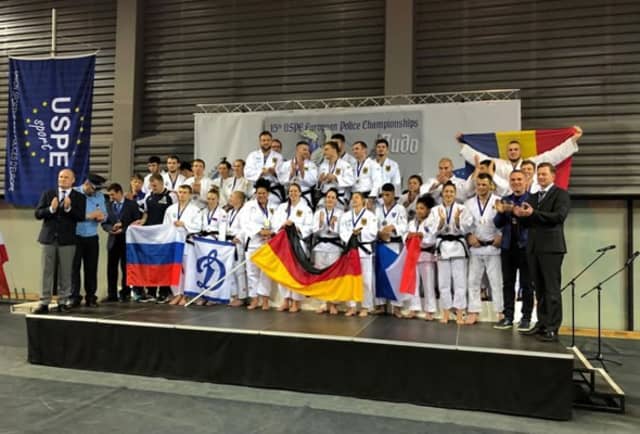 After exciting matches in the individual event, a team competition was held on Sunday, 12th May 2019, for the first time in the history of the European Police Championships Judo.
The team were formed by two women (-63kg and +63kg) and three men (-73kg, -90kg and +90kg). "Due to the fact that less female police officers are in duty than male officers and there are less female Police Judoka than male ones, only two female categories were currently chosen for the mixed team", explained Johannes Daxbacher. 12 nations participated in the team tournament.
For the record, Germany successively won against Romania and France to face Russia, which had defeated Hungary and Austria, in the Final. In the final Germany took the advantage (3:1) to win this first ever mixed team competition. The bronze medals went to France and Romania.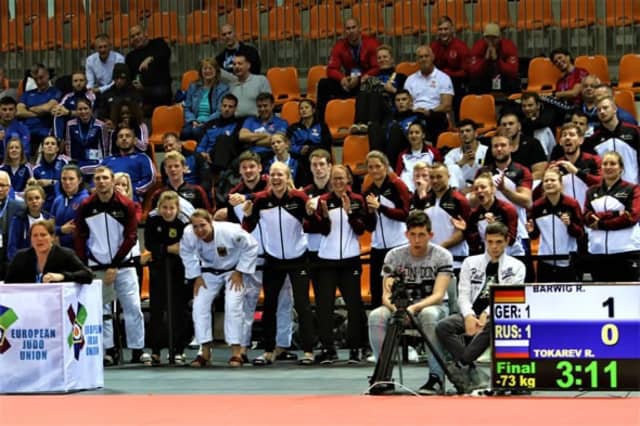 "All participants, officials and spectators enjoyed the team event. It was full of suspense and cheering and this was indeed a great advertising for Police-Judo", said Daxbacher, before adding: "This mixed team competition reflects the daily life of common service of police colleagues, female and male police officers, all over the world. Tactical considerations and common consultations with the Judoka were held inside the national teams, like a police unit that prepares some operations or interventions on the field. "It would be great, if other countries and continents would follow our great experience and success with this 'police mixed team competition', concluded Johannes Daxbacher.
At the end of the competition, two Judoka were awarded by Mr. Luc Smyers, President of USPE and Mr. Andreas Röhner, Secretary General of USPE, with the "medal of honor", the highest award of USPE (European Police Sports Union). Chris Hunt (UK), who has been part of the police for 46 years, competed at the international level until 1990, before he was appointed as British police coach and director of Coaching. A 7th dan in judo, he served as Director of British Judo Association from 1997 to 2003 and chaired the British Judo coaching and promotions commission. He has been also helping developing judo in Barbados since 1994.
Johannes Daxbacher of Germany, was awarded for his dedication to Judo in general and in particular for his efforts and success in Police Judo as well as for his engagement in developing judo and promoting peace in Africa and Ethiopia.