The IJF World Judo Tour has arrived in Germany for the third event of the season and the first ever Düsseldorf Grand Slam and to mark the occasion we asked two judo personalities for their predictions for #JudoDüsseldorf2018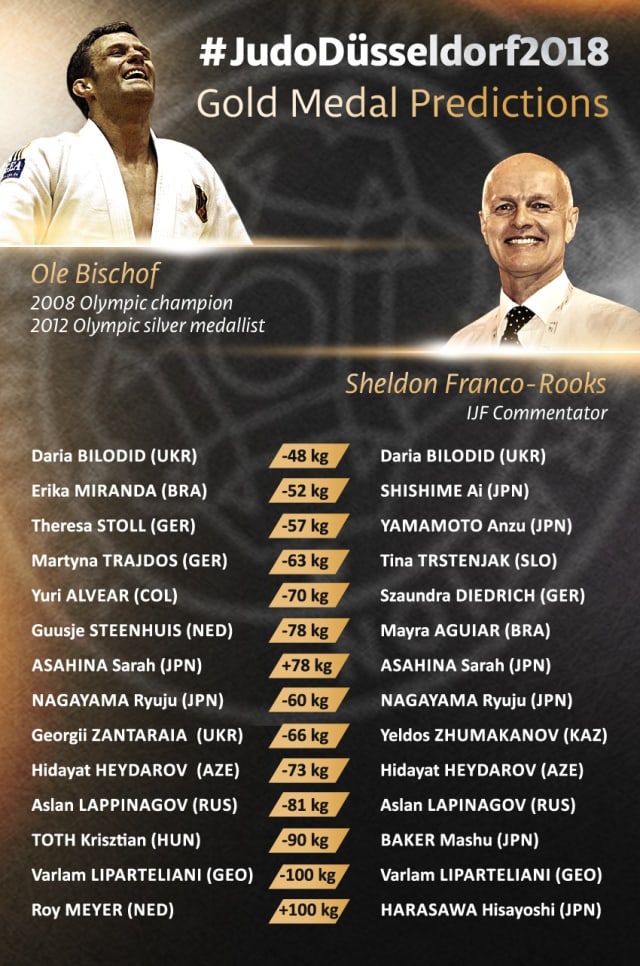 Sheldon Franco-Rooks said: "It is difficult to see any of the field in the -60kg category toppling NAGAYAMA Ryuju (JPN). As for the -66kg perhaps this is the tournament for Yeldos ZHUMAKANOV (KAZ) to win his first ever Grand Slam gold medal. Hidayat HEYDAROV (AZE) may also find Düsseldorf to his liking and improve his Grand Slam record which at the moment stands at a single bronze medal after five attempts in the -73kg. Russia boasts incredible depth and success in the -81kg and Aslan LAPINAGOV (RUS) is my pick here. Düsseldorf sees the return of Olympic champion BAKER Mashu (JPN) in the -90kg. It is quite a bet to pick him to take top spot after such a long time away from competitive judo. There are no such concerns in the -100kg for Varlam LIPARTELIANI (GEO) who is a regular on the IJF World Tour. Fresh from his medal winning performance in Paris and his Masters gold medal, the Georgian talisman is a sound bet. Japan is still looking to identify who it is that may challenge for the heavyweight crown. HARASAWA Hisayoshi (JPN) gets another shot at seeing whether he can rebound after a shockingly early exit from last year's world championships."
For the women's categories, Sheldon continued: "Lightweight wonder kid Daria BILODID (UKR) continues to defy the odds. I am looking to her in the -48kg to take her second Grand Slam gold medal following her win in Paris. Current world champion in the -52kg SHISHIME Ai (JPN) will be hard to beat. All the promise shown over the years by YAMAMOTO Anzu (JPN) will see her as one of the most dangerous unseeded players in the tournament. Definitely not one to be underestimated. Current Olympic champion Tina TRSTENJAK (SLO) rarely suffers back-to-back defeats. Not since 2014 has Trstenjak lost two in a row and she bounced straight back with a bronze medal after a loss to three-time world masters champion TASHIRO Miku (JPN) in Paris. The combination of competing on home soil, a big occasion and an attacking style may perhaps give the Germans an outside chance for an upset with Szaundra DIEDRICH in the -70kg. There should be no surprises for double world champion Mayra AGUIAR (BRA) as should be the case with world Open title holder ASAHINA Sarah (JPN)."
Who's predictions do your prefer? Let us know and send us your predictions on social media using #JudoDüsseldorf2018