While the Junior World Championships are underway in Marrakech and the senior season and Olympic qualification is in full swing, from now on Florin Daniel Lascau will ensure the duties of Refereeing Director, a position for which he joins Juan Carlos Barcos, and for which he will be Jan Snijders' interim, as the Dutch master is currently recovering.
The first words of Florin Daniel Lascau go to his colleagues: "I am happy to join the refereeing team with whom I have been working for years. I learned a lot from Juan Carlos and Jan. While waiting for Jan's return, I am honoured to be able to serve as Refereeing Director, which is a real challenge."
For any connoisseur of international judo, Florin Daniel Lascau is far from a stranger and his appointment seems logical. Making the CV of the 1991 World Champion in Barcelona is a challenge: "I have been active in almost all areas of development of judo. Obviously I was a competitor and I had the chance to become World Champion. But I must say that this is only a small part of my life as a judoka."
Born on May 15, 1969, Daniel for some, Florin for others, began judo at the age of four, in Oradea, his hometown in Romania. Under the leadership of his first teacher, Florian Velici, he climbed the ladder and went from Oradea to Bucharest, then to Germany in Rüsselsheim and Abensberg: "I was lucky to be able to progress in competition up to the highest level, and at the same time I followed a dual education, both in economics and in sport. At the end of my sports career, I held many positions in various sectors, both in sports and in education and administration. All this brought me a great experience both theoretical and practical."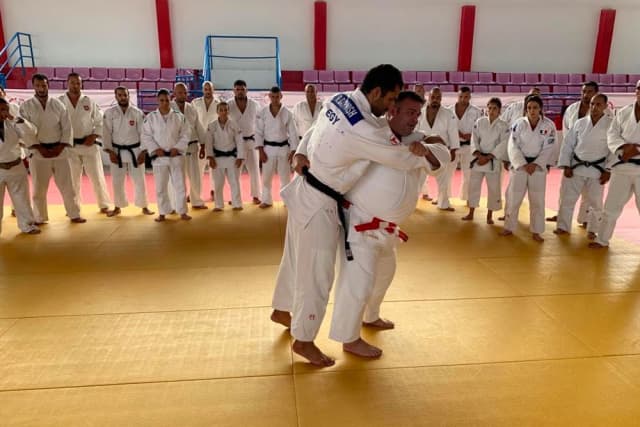 The man who lives for and through judo has a clear idea of his role in his new position: "First of all, I want it to be the continuation of what has been done in the past years. I also want to use my experience, everything I've learned all along my life. The referees are a bit like the tip of the iceberg. We often only see them and we analyse all their decisions. But there is so much to do, to explain, to analyse. Judo is a dynamic sport. Is it a living being. We have the absolute necessity of constantly adapting and that is what I want to do and will do as Refereeing Director. I have a very good contact with the whole judo family and I want to put this at the service of my sport."
Of all the positions he held, Florin Daniel was vice-president of the German Judo Federation, technical director in Sweden, director of performance in Great Britain or director of education in Turkey, not to mention secretary general and president of the Romanian Federation. A multilingual globetrotter, judo lover and connoisseur of all the dimensions of sport, he has also been the director of the IJF Academy for several years: "Everything I could do in the world of judo, all these different positions that I occupied or that I still occupy, are my wealth. This makes me understand judo a little better every day. My work within the Academy and the collaboration with the Kodokan, especially in recent years, have been very rewarding. I am lucky to know a lot of very high level judoka with whom I like to share our common passion."
While this may seem like another function, this assignment of refereeing commission Director, in the light of Florin Daniel Lascau's career, seems more like a logical continuation of his commitment: "Judo is my job. But it is also my hobby and it fills my private life, since my wife herself is a judo teacher and our children practice the sport. For me, it's my way through judo and I'm happy about it."
One must have had the chance to talk with Florin Daniel, to understand what being passionate about judo and others means. Now as part of the refereeing commission in pairs with Head Refereeing Director Juan Carlos Barcos, he will continue, it is guaranteed, to transmit the values that are his to the rising generation of champions and to judoka of today and tomorrow.