Lisa Allan, Dr. Lisa Allan, simply Lisa for the judo family, has become, in a few years, a key figure on the world circuit. Today, as the first female member of the IJF Executive Committee and as the IJF Competition Manager, the Scottish black belt talks about her first steps in the discipline as well as what drives her to travel the world to organize Grand Prix, Grand Slam events and other major international competitions.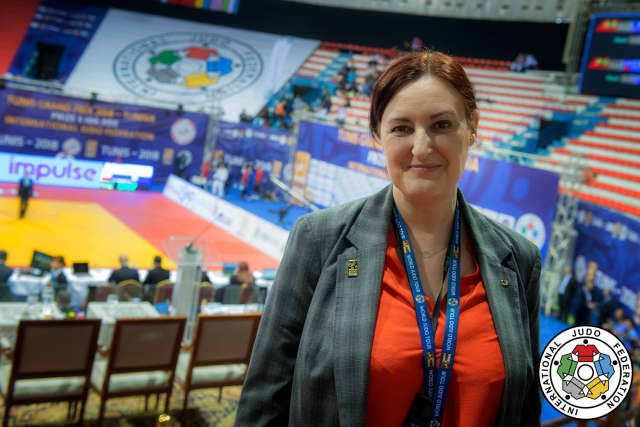 Married and living in her native Edinburgh, Scotland, she likes to say: "I have an understanding 'judoka' husband." And he must be, understanding, when the judo tournaments happen at a steady pace from January to December and when she has to spend a good part of her life away from home.
Lisa was born into a sports family. Her parents are both judoka and her father, Colin McIver, 9th Dan, who has held several key positions in British Judo, is still the Sports Director of the national federation: "It was natural for me to practice judo" she said, "so I started walking the tatami mats at a very young age, and I remember that the first time I entered a dojo with my younger brother, I was impressed by the size of the venue. As I was able to put on my first judogi, I remember that I could not tie my belt properly."
Times have changed and if Lisa still likes to get on the tatami, she is now in charge of running the entire world circuit in coordination with the organising committees and the various IJF commissions. The work is titanic but the passion that animates her is both communicative and effective to mobilise teams whose origins and cultures are very different from each other: "What motivates me above all is meeting people. All my life as a judoka has been guided by this envy to know and meet people from different backgrounds. I must say that as a judoka, I was not really attracted to competition and if I also did a little coaching it was the social dimension that fascinated me. Going to the judo club has always been a pleasure. I also love the educational aspect and the fact that judo is a perfect sport to keep fit."
For her parents it was important that their children were able to learn as much as possible from life experiences. It was also essential that they had the most open education possible. Very quickly Lisa showed mathematical and scientific skills which led her to study organic chemistry. Holder of a PhD in the field, she became a researcher, a mission she held for ten years before the sirens of judo brought her back to the world of sport.
Despite her job as a researcher, she has never really moved away from judo and, on a voluntary basis, she continued for many years to help out at competitions. Thus, in 2005, she went to Italy for the Youth Olympic Festival, where her friend Loretta Doyle (world champion 1982, now commentator on Ippon.tv) took her as a team manager of the British team. On her way to Italy, Lisa did not know yet that her life was going to change forever.
Everything started with a joke with the coaches of the France team. Lisa told us the rest of the story: "The city of London had just been designated as a host city of the 2012 Games. As a joke with the coaches of the France team, I told them that it would be fun to work for the organising committee and they answered me: But you should apply! Without really believing it, I did it on my return to the UK I was so surprised to be selected as a Competition Manager for the London Olympics." Lisa's career suddenly entered a new dimension that brought her body and soul back into the world of judo.
"I gave up my position as a researcher to devote myself totally to what became a gigantic project. We started with a few people and then we had to recruit. It was an entirely new experience for me. At the time of the Games, we were twelve permanent employees and 400 including volunteers and contractors. I learned a lot during these seven years and the International Federation supported me enormously. I went to many events organised by the International Federation and quickly I knew all the staff. It was through contact with all these experts that I learned the difference between a good and a very good organisation. I think that I can say that, based on the resources available to us for the 2012 Games, we delivered a very good Olympic and Paralympic Games. I had an amazing team and the cooperation with the IJF was ideal."
Lisa Allan remembers a day that particularly marked this intense period of her life: "Among the thousands of memories, there is one that has marked me more than any other: this is the sixth day of competition. Russian President Mr. Vladimir Putin was announced, as well as many guests. We were all very stressed and we felt it was total chaos. Yet this day was simply beautiful. The VIP reception was perfectly orchestrated. In front of President Putin, Tagir Khaibulaev (RUS) became Olympic champion, and Gemma Gibbons, whom I knew since she was twelve years old, won an incredible silver medal. It was a memorable day that I will remember all my life."
After the London Games, she quickly became part of the IJF team, first as secretary of the sports department headed by Vladimir Barta, and in October of the same year she was named Competition Manager. In this capacity she is responsible for the planning, organisation and management of the world circuit and she works with the organising committees and the IJF teams which run the machine: "What interests me above all is to continually improve the quality and standard of our events, keeping in mind that we do this primarily for our athletes. I love working with different organisers. It's always a new adventure. The cultures and the people are different but in the end we speak the same language, that of Judo. It is an honour to work on the development of our sport."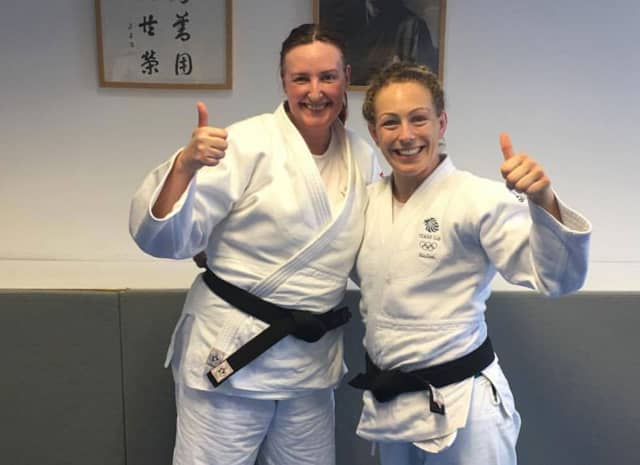 Above: Lisa Allan (left) with Rio Olympic bronze medallist Sally Conway (GBR)
In 2017, on the occasion of the re-election of Mr. Marius Vizer as President of the International Judo Federation, the latter asked Lisa to join him on the executive committee team: "I was very honoured by the request made by President Vizer and I joined without hesitation the management team of our organisation. It is both a recognition of work done and a fantastic challenge for the years to come. That's what motivates me. I do not want to do the same things indefinitely. I like new challenges and I want to progress."
In fact, she was recently appointed in charge of the Gender Equity Commission, which will bring her new challenges. In this regard, she likes to point out that as a woman she has always felt happy in the world of judo, a world that above all calls for competence, beyond any kind of discrimination.
"Judo is an education system, in which it is not conceivable to make differences on the basis of sex or origin, for example. Together we can protect the sport and make a better world."
If Lisa Allan's life is entirely devoted to judo, she can nevertheless get some free time for her family. She loves dogs, crime novels and she works hard to learn French. She also enjoys dancing and music. The least we can say is that her life is very active, but if it means a lot of work, it is also above all a life of passion, a life of challenges, a life of commitment, turned towards others, serving others.