We knew and it has already been announced that Majlinda Kelmendi retired after closing the last page of her incredible career, following the Tokyo Olympics last summer. At thirty, it may seem premature for those who do not know the world of high level sport, but after collecting all the titles possible and imaginable, the Kosovan champion deserved to take a step back.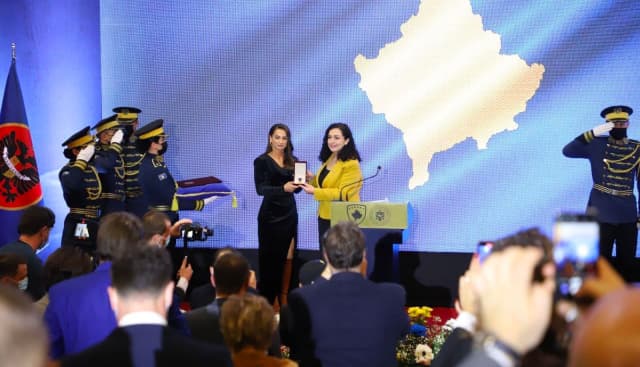 It is, however, a closely related step back, since she now becomes a judo coach within the national team to whom she has given so much.
In order to best celebrate the departure of their national heroine and to mark the transition from athlete to coach, Kosovo, under the leadership of the Presidency of the Republic, organised a big ceremony, which took place at the Institute of History 'Ali Hadri' in Pristina. Around Majlinda, were the President of Kosovo, Mrs Vjosa Osmani, as well as the Minister of Culture, Sport and Youth, Mr. Hajrulla Çeku, Agron Kuka, President of the Kosovo Judo Federation, Mr Driton Kuka, Coach of the Kosovo National Judo Team, Mr Atifete Jahjaga, former President of Kosovo, Mr Gazmend Muhaxheri, Mayor of Peja, Majlinda Kelmendi's family, leaders of political parties, ambassadors accredited in Kosovo, members of the Assembly of Kosovo and other public and sports personalities.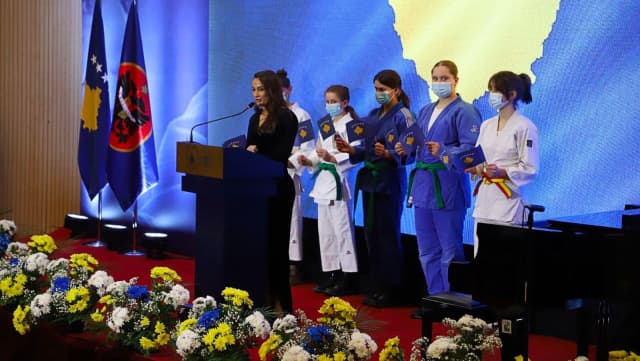 The President of the International Judo Federation, Mr Marius Vizer, who could not be physically present in Pristina, sent a video message to Majlinda, underlining her outstanding career and what she has brought to judo. He then wished her great success and happiness for the future.
President Osmani spoke with her heart, "The dream started at the age of 8. Then Majlinda fulfilled her dream by winning every title. She was not tempted to wear the uniform of any other state but fought for the colours of the state of Kosovo." The President then awarded the champion with the Order 'Shotë Galica' which is given to persons whom have advocated or have performed deeds or acts of courage.
The Minister Hajrulla Çeku emphasised, "This is an important event for the future of judo in our country because Majlinda Kelmendi is taking on a new responsibility, that of coach, alongside her own coach who brought many successes over the years, Driton Kuka. Kosovo has achieved extraordinary success in the international arena through our judoka and this success started with our golden judoka Majlinda Kelmendi, who proved that with dedication and work everything is possible.
Majlinda Kelmendi, with her achievements, has become the icon of Kosovar success and has become an example of our society, overcoming all difficulties and challenges. She has proved to our youth that when we work with dedication and perseverance, success is inevitable."
The President of the judo federation, Agron Kuka, said, "20 years of commitment, sweat and injuries, are crowned with the victories and successes of Majlinda, making everyone respect and honour our team and nation."
Majlinda's coach, Driton Kuka, who took her to the highest level and who will now work with her as a coach, spoke about the experience and feelings he has with Majlinda, "You made me proud, you made my family proud, you made our nation proud. I am grateful to you until the last breath, Majlinda."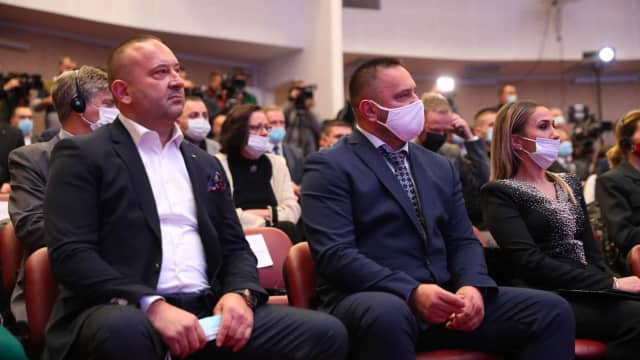 From now on Majlinda Kelmendi will continue to be actively involved in judo to pass on her experience to the new generation, which is already growing in the footsteps of their role model. She concluded her eyes full of tears, "Thank you very much for my country, for my people, for being my inspiration. It was a great honour and privilege for me to represent Kosovo."
We will all now look at the other side of the tatami and watch coach Kelmendi. It's going to be different, of course, but there is no doubt that she will be as successful their as she was on the mat. Thank you Majlinda for all you have brought to our sport so far and good luck for the new chapter of your life, which is now opening.