TEL AVIV — Yanir Shvartz is 11 years old. He lives in a kibbutz in central Israel, called Nahsonim, that in 2018 had a population of 399. Yanir loves judo. His great hero is Sagi Muki, who in 2019 became the world champion in the men's under 81-kilogram category.
World champion! An Israeli!
To say that Yanir loves judo and Sagi Muki would probably be one of the great understatements, and in which order is uncertain, because it is the nature of things that 11-year-old boys and hero-worship tend to go hand in hand. "I like him so much," Yanir, a little nervous, said. On the sidelines of the 2020 International Judo Federation season-opener here, the 2020 Tel Aviv Grand Prix, in a tent in which a food truck had been set up that was serving hamburgers good enough to have drawn a long, long line, Sagi Muki — himself! — could be found Thursday and Friday with a stack of pictures and a pen, there to sign and talk to all the boys and girls and moms and dads. And, of course, take pictures. Selfies? Sure.
Yanir, who had taken the train to Tel Aviv with his dad, Ronen, 46, had something to show Sagi. Well, two things, actually. There was Yanir's green belt. And then there was the smartphone video that Yanir had made that stitched together all of Sagi's ippons during the 2019 season.
"How did you do this?!" Sagi said, amazed. "How can I ever thank you? Can you send it to me?"
With this, Sagi Muki — world champion, medal favorite at the 2020 Tokyo Olympics — turned over one of the pictures in the stack and, on the back, wrote out his email address for Yanir.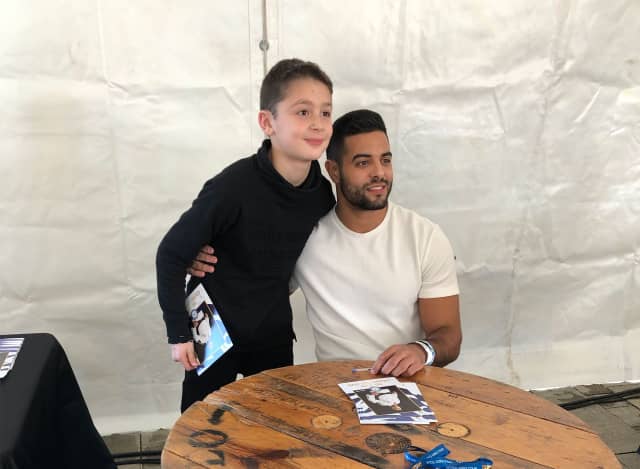 All sports need heroes. Young people want — they crave this — to be inspired. Every sport, every nation, should have a Sagi Muki. He and another Israeli judoka, Tohar Butbul, who competes in the men's under-73 category and was a bronze medalist in 2017 at the Paris and Abu Dhabi Grand Slams, sat not just patiently but willingly and happily for an hour each day and said, graciously, to everyone who came up, "Shalom!" — the Hebrew greeting for "hi" — and made not just small talk but real talk.
How are you — they asked, and meant it.
They said, particularly to the children, tell me about yourself.
"These guys," Moshe Ponte, president of the Israel Judo Association, referring not just to Muki and Butbul but his entire team, "they are not only champions — they are respectful, humble and beautiful people.
"This," he said, "is representing Israel."
Let us step back for a moment and recognize what is what. Sagi Muki is world champion for a reason. He can turn it on. His coach, Oren Smadja, has known Muki since Sagi was 4. Smadja is himself an Olympic bronze medalist, at the Barcelona Games in 1992; to complete the circle, Ponte was Smadja's coach.
"Sagi is human," Smadja said, searching for the right words in English, his second language. "He is warm. He looks very nice. Very quiet.
"But inside," that is, when Muki steps on the tatami, "he is a killer.
"When he goes to fight, he is a killer. He is one of the best in the world."
Back to the tent, where Sagi was human — warm, nice, quiet. Some athletes go through these meet-and-greets and — you can tell from their body language — can't wait for them to end. With Butbul and Muki, it was just the opposite.
They reached out to embrace the kids, especially, drawing them in, holding them around the shoulders for pictures — paying extra attention to the ones who were maybe a little shy.
"It's very sweet," Butbul said. Referring to the opportunity, he said, "And I appreciate it."
Every sport, too, in the Olympic landscape should have a scene — to be blunt, other sports are desperate for this connection — like the one in that tent Thursday outside the Shlomo Center.
Judo is hardly perfect. No sport is. But the values that are at its core were so vividly on display in the interchange between, on the one hand, kids and parents, and on the other, these two Israeli athletes who understood that they are, in fact, role models.
Itai Chaplin, 7, started doing judo when he was just 3. On Thursday, he wore a grey hoodie that said, in big blue letters on the front, "Judo."
He came with his mom, Inbal, 48, from a town near Netanya, about an hour north. She said he had been counting down the days until he could come to Tel Aviv for the Grand Prix. A first-grader, he didn't go to school Thursday or Friday, she said — because he was at the judo tournament instead. "He's very excited," she said with a smile.
He echoed, after posing for pictures with Butbul and Muki, "I'm excited!"
Tomer Stein, who is 11, got one of those handshakes from Muki that makes a perfect cupping sound when two people — in this case, two excellent dudes — do it perfectly together. OMG. "I want to be like him when I grow up!" Tomer said.
Yakov Shuily, 10, said, "I love Sagi. He is my idol." He also said, "He is the world champion. He is Israeli. I want to be one day, also."
Ariel Ulianieski, 11: "I love him. He is so good at judo. I want to be like him!"
And then, Ido Eldan, 8, asked what it was like to meet Sagi Muki, summing it up: "Everything!"
"I tell you," Muki said, during a brief pause in the signing and picture-taking. "This is the best part of my world."
Referring to the kids and parents, he said, "They are with me in the good times and the bad times. When an event like this is in Israel, I feel very [strongly] that I don't disappoint them.
"I will" — and what more in our broken, fragile, imperfect world could you want than these words from someone who totally, totally understands — "do all my effort to give love and get love back."