In December, just one month ago, the Royal Spanish Federation of Judo and Associated Sports (RFEJYDA) held a very special gala dinner to celebrate some of the many achievements of their athletes, organisers and close friends.
In an historic moment for Peruvian judo the President of the Peruvian Judo Federation, María Martínez Murciego, was applauded as her 7th dan was presented. Born in Spain but a Peruvian citizen for most of her life, she has been Peru's national coach all the way up to the Olympic Games and while now spearheading the federation she is also the CEO of the Peruvian Olympic Committee.
Peru has had a number of high grades through its history but this is the first time a woman has been promoted to 7th dan and it is an important marker for the women in judo in Peru, to be shown that with work and perseverance it is possible to push at the ceiling and participate on an even playing field. This, therefore, is not just a grade, but a social comment, a display of possibility.
At the 2022 VIP Sports Awards Gala, held in the auditorium of the Alfredo Goyeneche Pavilion of the Spanish Olympic Committee, Maria was surrounded by friends, stars of judo's past and present and the warmth with which she received her grade is testament to the high esteem in which she is held by all.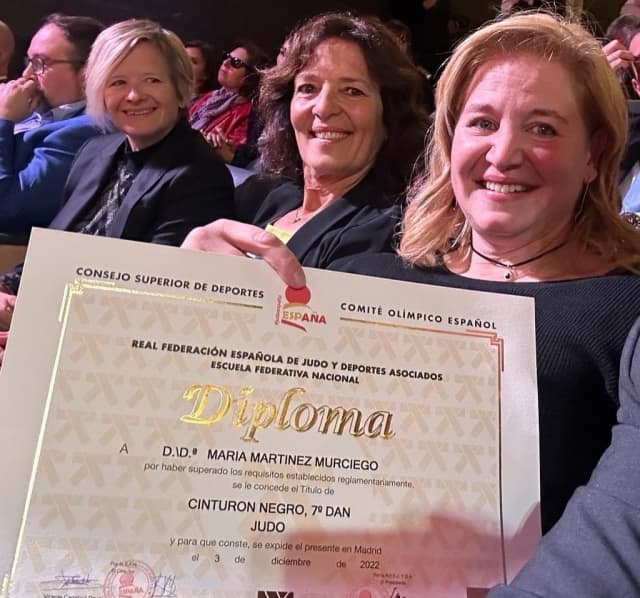 Maria said, "I am very grateful to Mr Juan Carlos Barcos and the Spanish Federation for this promotion to seventh dan because it was more than a demonstration of knowledge and merits. To be able to rise we must take exams every day, be an example on and off the tatami and above all, give our life for judo. This award is not only mine, it is also from my family, my federation, and my coach, José Antonio Terán, who instilled in me the value of continuous learning. In that sense, I reaffirm to all of Peru that I will continue to strive to bring Peruvian judo forward, with us doing this work together."