All the interviews talk in the present tense because when these trailblazers take themselves back, for our benefit, they relive it, as if they were there again. It's a joy to travel with them through time, recording the tiniest of details, that guided the march to today and the ever-improving equality in which we live.
Margherita De Cal was born in Venice, Italy in 1950. Having enjoyed volleyball and athletics growing up, when the 'Venice 69' dojo opened its doors nearby, our heroine, a natural sports enthusiast, wanted to have a go.
"In September 1969, at 19, I began! I had a teacher who was a girl, one of the first black belt women in Italy. In fact she was a 2nd Dan; very rare in those days. I was lucky."
Italy was way ahead of most countries when it came to the participation of women. Margherita's training, albeit at a fledgling club, was aimed at both education and competition. Recent articles have shown that women from all over the world had to push hard against the status quo, to be allowed in the dojos at all and to think about competition and the possibility to compete without barriers, seemed impossible in the 1960s and 1970s. Not in Italy, though. A handful of countries had open doors for women and this was a compass for Margherita.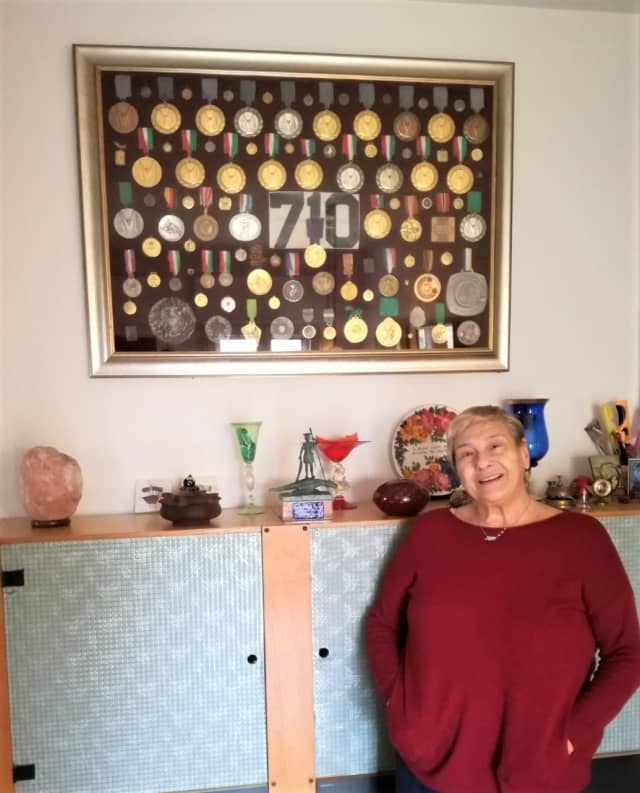 Going back to her family life, pre-judo, thinking about why it was so easy to take up a combat sport, as a woman in the late 1960s, we are painted a picture of strict but progressive parents. Italy was ahead of the equality game, in sporting terms and so were Margherita's parents, unorthodox, encouraging independence and self-sufficiency. Margherita grew up taking everything in her stride, solving each conundrum and challenge. Judo values backed it up in adult life, but her parents' influence undoubtedly led her there.
"I do love food. I eat everything except fish. I know, I live in Venice but I don't like fish. I always like to try new things and I especially like German cooking. In 1966 I was in England, just 16 years old." Margherita speaks casually as if this were a normal, common occurrence. "My father presented me with a ticket and sent me for one month. 'Try to speak English.' I thought I was to be completely alone but afterwards I found out there was someone looking out for me. The first dish I ate in London was oxtail. With my little English I understood it as cow tail. The waiter tried to explain to me. 'Do you know what is the tail? Moo!' My father spoke English, Spanish, French and German. He worked in the best hotel in Venice, maybe even the best in Italy and was a true citizen of the world. For him it seemed simple to go around the world. For me it's become important to have had an education in this free way. The first time my father had money in his pocket he helped me to buy a home and said 'go to live your life.' It wasn't full of affection or sentiment, but my parents were always present when I needed them. I was physically alone a lot, but this was an upbringing of real education. My mother hoped for a wedding and grandchildren but my father said I don't need it and that I should help myself."
A pause. We rejoin the judo story for a different kind of nostalgia, "I began to practise with her, my coach. She helped me to learn not just technical judo but also how to fight in judo. She was a competitor. I was one of the first students in the dojo. She was in the first Italian team of women ever, in 1968." With a familiarity in the unfamiliar, being the first in any context wasn't a problem. She was poised to be a trailblazer, even though she didn't see it as a big deal.
I was in the second generation Italian women's team for an international competition, in 1972. Germany, Sweden, Great Britain and a couple more nations attended. I was a green belt and I saw all the black belts and thought, 'my goodness, they will kill me!' I was with the team because I won the Italian championships against 1st, 2nd and 3rd dan judoka, so I went to the international."
Margherita didn't think about the political situation too much, nor the major sporting goals that most athletes held, "I'm just a happy girl. I enjoyed my life a lot, always."
That doesn't mean she wasn't a hard-worker, but it seems that hard work was an integral part of Margherita's life and character and so she juggled all the things she enjoyed, in order to be able to continue to enjoy them all. That in itself was a challenge and also a quiet mission.
"I became a PE teacher and worked with disabled children. To get to that point I had to go to university and at that time there were only 3 cities offering 'physical education' in Italy. I chose Bologna and as soon as my degree began so did my actual teaching. I had to ask permission from the school to go to tournaments but it wasn't a problem and they almost always gave me two days before and one day for the return. I loved my job, so I was happy to be able to do both."
There is something missing from that account of the beginning of her working life? Training, how did she manage to train? "I was training at home in Venice and so my week included several day returns to Bologna for my studies, plus teaching; there was little time to play judo. I did just a 2.5-3 hour session, 3 times per week. Other ladies trained much more than me, but I preferred my way. Judo was not my job, it was my extra passion."
Margherita's life continued happily that way for many years and when the first world championship for women became a reality, she was an obvious member of the team.
"I had a good season and was Italian and European champion. I did a lot of competitions in that year, 1980. New York was supposed to be the last big one as I was 30 by then. I went there hoping to have a good competition but I didn't think it was a need to win it. I hoped to arrive at first place, as everyone did, but really I just wanted to have a good time."
"Back in those competitive days judo was not my whole life. I had so many things I enjoyed. To win a world championship was of course something special. When you win a tournament, though, you are champion for only that moment and for me it was almost the last step. When I won anything I never cried or became emotional; my mother always told me not to cry, ever! In NYC I cried, so it meant something. It was not a normal day. It was part of my life education not to show my emotion. We are north Italian, with an Austrian influence and so we have a particular way that is different and less emotional than the south, but I was happy then and I couldn't believe what I had achieved and so I showed it. It was a good moment."
I remember just before the world championship final, Rusty said 'you are waiting for the last fight. I can see Paulette, the French one, is nervous or maybe even angry.' She told me that she knew I was quiet and calm; I was actually a little sick before the fight but my upbringing told me to not show anything.
I did do two more Europeans after that though. I felt I was tired at that time. It was difficult to live my civilian life and play judo. Every activity needs a particular energy and when we give to one thing we take from the other. I broke one shoulder in training in 1982 and I said that was it. I was 32 years old then. 'Ok, I will stay with the team if there is an Olympics,' I thought, but that didn't come until '88, so I was finished. I went to Paris in 1982, but for the first time I accompanied the team as an official."
Margherita won 6 European medals in all, including being champion twice, alongside her world championship gold. That's quite a career, by anyone's standards. Then onward into coaching, still insisting that judo was not her whole life. Yet,
"When I finished playing judo I opened a new university judo club in Venice at CUS (Centre for University Sports), with my coach and my training partner. From 1984 to 2018, I was teaching judo there to children aged 6-11. Even though it was based in the university, it was open like a normal club. I took in many disabled children too. Really the purpose of judo in the community is to enhance that community and provide education for all."
Throughout Margherita's recollections there is a reluctance to accept that judo has been a true vocation. Judo hasn't been everything in her life, but it has played a part in every scene. She remains humble, while wearing a red and white belt, a neatly knotted symbol of her dedication and experience. We can understand, even if she doesn't say it directly, that her in-built commitment to living a good life is intertwined with judo.