French Paralympic champion Sandrine Martinet claimed gold on her return to the mat at the 2021 International Blind Sports Federation (IBSA) Judo Grand Prix in Warwick, Great Britain, on Saturday 19th June.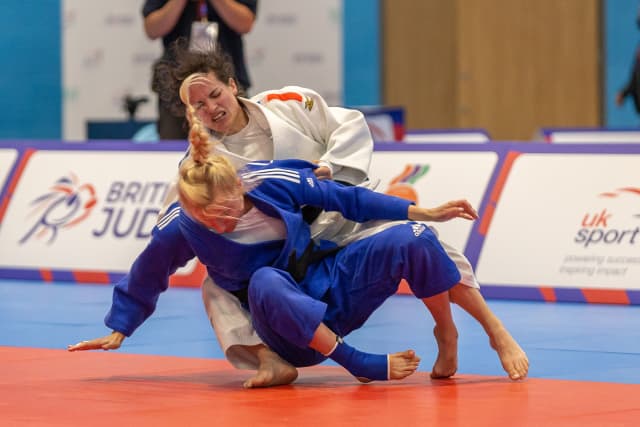 Martinet, the title holder from the women's -52kg, missed last month's Grand Prix in Baku, Azerbaijan, but showed no signs of rustiness having not competed since September 2019.
A gruelling match against Ukraine's Yuliia Ivanytska ended with Martinet holding down her opponent for ippon.
Rio 2016 silver medallist Ramona Brussig of Germany won her bronze medal match against Brazil's Giulia Pereira by ippon. Uzbekistan's Lobar Khurramova took the other bronze.
Full results can be found by clicking here. All the action can also be watched back on IBSA's YouTube channel here.
Georgia's Giorgi Kaldani impressed once again in the men's -73kg category, rounding off a great day of action at the University of Warwick.
Kaldani turned the tables on Uzbekistan's world champion and top ranked judoka Feruz Sayidov. Sayidov was leading with under 10 seconds left and looked in control, but Kaldani managed to force him into a mistake for ippon, managing to turn him over.
Kaldani has made quite a splash since making his debut in 2019, most recently winning gold at the IBSA Judo Grand Prix in Baku, Azerbaijan, in May.
Spain's Alvaro Gavilan Lorenzo and Ukraine's Rufat Mahomedov completed the podium.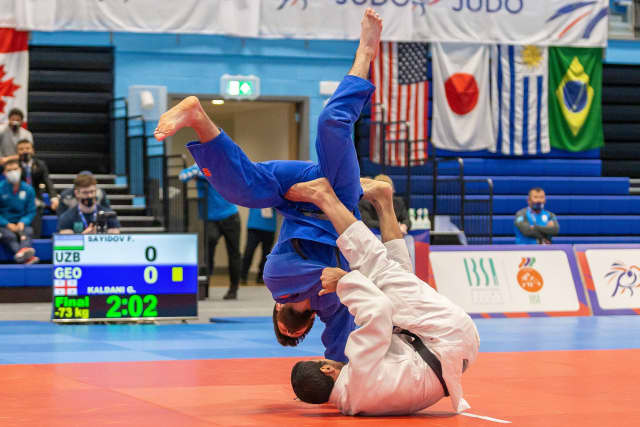 Women's Uzbekistan's Asian champion and Paralympic bronze medallist Sevinch Salaeva needed the golden score period against Azerbaijan's Basti Safarova in the women's -52kg, to triumph in the end, executing a perfect hip throw to secure gold.
Germany's European silver medallist Ramona Brussig claimed bronze after Canada's Priscilla Gagne withdrew from the match due to injury. Ukraine's Nataliya Nikolaychyk, currently ranked 14th in the world, showed great technique to win her bronze medal against Brazil's Karla Cardoso, the world No.5.
Brazil's Lucia Araujo just edged to gold in her match against Argentina's Laura Candela Gonzalez in the women's -57kg group. After a close contest that went to golden score, even a video review saw a throw of Araujo's as borderline, but after careful consideration it was awarded the waza-ari.
Belarusian Elena Bogdanova and Kazakhstan's Dayana Fedossova were the bronze medallists.
Men's With one minute on the clock, there was still no score, despite the best efforts of both judoka in the men's -60kg final. Venezuela's Marcos Blanco showed great resistance to the attacks of Georgian world number 2 Zurab Zurabiani and kept coming back for more, launching his own attempts in response. In the end though, Zurabiani was the victor as he held Blanco for ippon.
Uruguay's Henry Borges was delighted with his bronze medal against Spain's Borja Pahissa. Spain had better luck in the other bronze medal match thanks to Luis Daniel Gavilan Lorenzo.
Uzbekistan's Uchkun Kuranbaev proved too strong for Spain's Sergio Ibanez Banon in the men's -66kg gold medal match, taking the win.
Marcos Jose Falcon Tovar took just eight seconds to grab Venezuela's second bronze. In a great day on the mat for judoka from the Americas, Puerto Rico's Luis Jabdiel Perez Diaz took the final place on the podium.
At the end of the day Esther Stam, commentating live at the event, said, "The top judoka was Kaldani of Georgia in the -73kg group. Every contest he was behind and could still come back in the last minute. He even defeated the current world champion. He just stepped up to the -73kg weight in Baku and has won each match since. Besides that, Pan-America did exceptionally well, with the biggest surprise coming from team Venezuela, with 2 medals and some very technical and attractive judo."
The 2021 IBSA Judo Grand Prix continues in Warwick on Sunday 20th June, concluding with a further eight medal events.