For several weeks the Zambian Judo Association (ZJA) has been criss-crossing the country, successfully distributing thousands of masks to underprivileged people.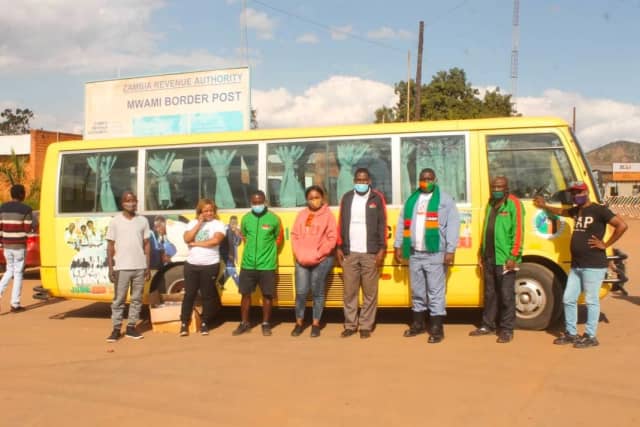 This initiative, launched by ZJA President Alfred Foloko, has been actively supported by the International Judo Federation, through the online donation platform that was set up in April this year and which so far collected more than US$24,000. The ZJA also received strong support from the Norwegian Olympic and Paralympic Committee.
Willing to help as many people as possible, keeping in mind that a one dollar mask often corresponds to a one-dollar-a-day salary, the ZJA decided to go beyond borders and over the weekend they met with the Malawi Judo Association to offer them masks as well. This gesture was not only a show of compassion, it was a strong message to the entire community. If Covid-19 doesn't know borders, so it is the same with friendship between nations. So, over the border, 500 masks were donated to the Dzaleka Refugee Judo Club of Malawi.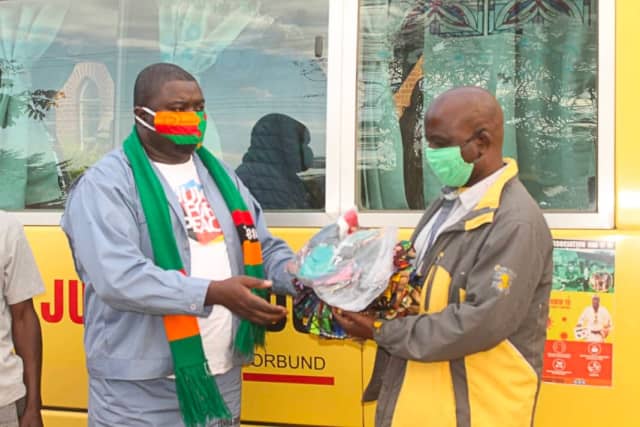 Speaking when he presented the donation, Alfred Foloko said, "The virus is not only in Zambia but it is a global pandemic that blindly affects everyone of us, hence the need to cross the border and help our judo counterpart in Malawi. Their underprivileged can not be left alone to fight Covid-19. Not doing this would be against our philosophy. Especially, we don't want to discriminate against our refugee judokas, as we are one family. We started our national tour offering masks to our bothers and sisters in Meheba refugee settlement in North Western province of Zambia. Today our yellow bus stops here and we are doing it for the Dzaleka Refugee Judo Club."
Alfred added that plans and discussions exist to proceed with other affected African countries.
The General Secretary of Malawi Judo Association, Osbourne Panda, who was present at the border, thanked the leadership of ZJA, "We are very happy to be here. This is a surprise. We have been following updates online on what the Zambian Judo Association has been doing in their own country to curb this virus. It feels so good that today we are one of the beneficiaries. This will go a long way for our judoka in Malawi.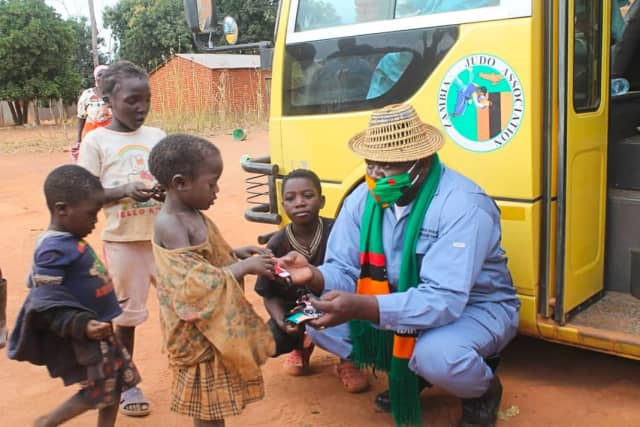 We are here on the border to receive a donation of 500 masks under the friendship and leadership of President Foloko, who is also the president of the Southern African Judo Confederation and of the Zambian National Olympic Committee. Those masks will be used by our athletes, to safeguard them from contracting the Covid-19 virus."
Mr Panda continued, speaking warmly about the uniting of these countries through sport, "We are very thankful to the Zambian federation for considering us to be part of this donation scheme. Our Zambian friend thought it was wise to share with us in Malawi. Today Zambia and Malawi are one country, despite the borders. This is because we share the same vision, especially when it comes to developing our sport.
The Zambian Judo Association received donations from the Norwegian National Olympic and Paralympic Committee and had massive support from the International Judo Federation and the entire judo family. Sharing with us is a good gesture.
The spirit of sharing in Judo is what is guiding us everywhere. In judo we have values such as courage and friendship. With this donation, our Zambian friends are just showing what the judo value of friendship really means.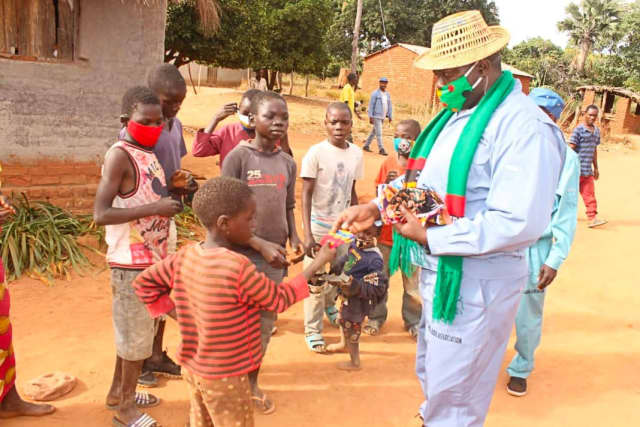 These masks will be shared with our athletes at the Dzaleka refugee camp, near the capital city Lilongwe, where we have an ongoing Judo for Peace programme that we share with Zambia and South Africa. We are engaging refugees to practise judo so they can learn our values and have a peaceful coexistence. As you know, refugees are coming from different countries and have gone through difficult situations."
Mr Panda is clearly moved by the plight of all refugees, from his country and from all countries, "I'm mainly talking about the psychological trauma they have to face when they think about their past. It's important to share a piece of the cake with them. We will also share some of the masks with all our judoka in Malawi. This is a human gesture, in the spirit of judo, one judo, one Zambia and Malawi, one Africa."
So far the ZJA has covered most of the provinces in Zambia with Western, Northern, Muchinga and Luapula remaining. Having delivered masks over the border, this will surely remain one of the strongest messages of the crisis. You too can help spreading the message and the judo values by donating at https://donation.ijf.org