He has it thought through, he has it planned, he has even dreamed it. It is the dream of a lifetime. He lives for that, he says it loud and clear. And, when he ends, he repeats it one more time, so that there are no misunderstandings. It is Fabio Basile's dream.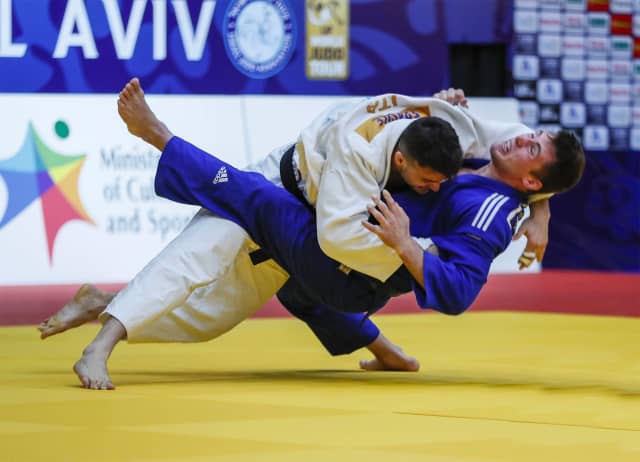 What can we say about Fabio that hasn't already been said? He is Italian to the core, friendly, funny, a showman in all his splendour, on and off the mat. He spreads passion and, when we talk to him, there are no changes. He speaks bluntly, openly, without restrictions. He is sincere and not afraid to show his feelings.
"I give you the title of the article," are his first words. "Write it while I explain it to you." And Fabio explains.
"First, I want to say that I had a very bad time. I broke my left arm ligaments in the European championships, in my contest against Orujov".
The doctor assured him that he needed surgery because the injury was severe, and to observe a long period of convalescence to recover fully.
"It is the most important decision I have made. I looked into his eyes and said: if I have surgery, I say goodbye to the Olympic Games. The answer is no".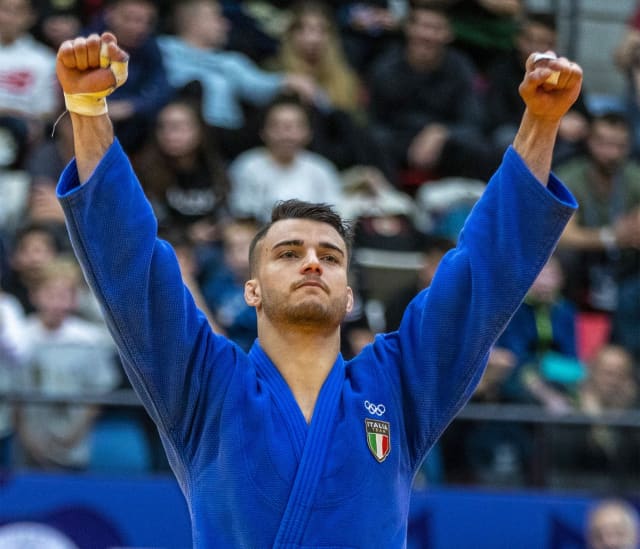 To not talk about the operating room, to not talk about convalescence or to watch the biggest sporting event on the planet on television. The Olympic champion wants to be there and has very serious reasons for that.
"I don't want to give up my gold back number. It is too beautiful. I smile every time I look at it. And then there is Ono".
Four years ago, in Rio de Janeiro, Fabio won the gold medal, but that was in the -66kg category. Now he fights in -73kg, the category of Ono Shohei.
"He is the best". We told you that Fabio is honest. And the Italian adds that he wants to become a legend.
"Imagine the situation, Tokyo, cradle of judo, the legendary Budokan and Ono in the final. I want to win against the best, the one I respect the most, executing a gold-flavored de-ashi-barai."
Fabio stares at us and in his eyes, we read determination. He does not speak to say nothing, he is convinced of what he wants.
"After giving up the operation I started training as I have never done. My days debut at half past six in the morning. To defeat the best, you have to train very hard".
For now, the Italian is on the right path. In the first even of the season, here in Tel Aviv, he won the gold medal by showing that he is already reaping the fruit of his work. The crowd enjoyed it and made Fabio its idol of the day.
"I love Tel Aviv. The stands are full, and the atmosphere is extraordinary. I would like Tel Aviv to organise the World Championships".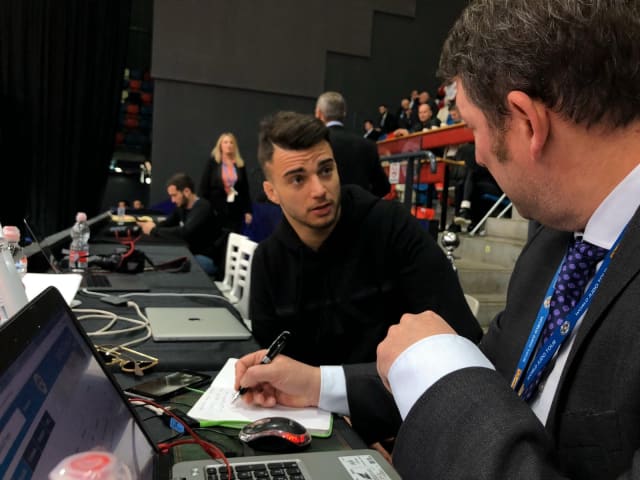 Fabio confesses that Tel Aviv and Paris are his favorite places because he connects with people immediately, and people return it to him. For skeptics about his excessive behavior, Fabio also has an answer.
"Rules and principles of judo are the first thing. But you can show respect and make people enjoy with a few grams of spectacle. I don't see anything wrong with it".
Fabio says goodbye but insists. "Don't forget, I train at maximum every day because I have a dream. Right now, I just think about that. Tokyo is my goal and I have an appointment with Ono".
In Japan we will see if the dream comes true. For now, Fabio dreams and trains.