Some judoka just have it! One in particular commands respect and demands your gaze, not via volume or clever marketing, but due to their dynamic performance style, which led to an equally high-profile coaching life.
From two world medals of his own, Kanamaru Yusuke is now one of the most watched coaches in the world, being Ono Shohei's national coach. Ono (JPN) is often referred to as the 'pound for pound' king of the tatami, with a reputation for being unshakable. As his coach, Kanamaru sensei carries a responsibility that most could never imagine.
How many of us would like to sit with Kanamaru sensei, picking his brains for all the stories, tips and experience he has to offer? This week he has given young judoka from all over the world the chance to do just that. Children from all continents sent us questions and here Mr Kanamaru has taken the time to answer some of them. From training ideas to philosophy to his time with Ono, Kanamaru sensei is put on the spot, but he doesn't disappoint.
Rei. Hajime!
Conan Thiedeman, 13, Australia: What are your favourite warm-up drills and exercises?
"Before every training session I like to do hokyo ne-waza drills, even if the training will have a tachi-waza focus. These solo drills are sport-specific, of course, but pose little risk and really promote co-ordination and mobility."
Luke Davies, 15, Great Britain: What has been your favourite moment of coaching matside, so far?
"Easy one! Working with Ono when he won the Olympic final in Rio."
Yuiko Morita, 14, Japan: I get nervous before competitions. How did you manage your nerves when you were competing?
"Two important factors helped me throughout my career and now I use the same mentality when coaching. First, establish a routine and go through that routine every time before stepping on the mat. Second, it is essential to be prepared for the competition through training and studying opponents. Correct preparation for the task is key to calming the nerves."
Andi Sabau, 9, Romania: How do you think you became so good at judo?
"I never gave up! For me it has been to be stubborn. When I was young I was not a good judo player, always losing, but this gave me an opportunity to build the 'never give up' mentality. I tried to keep this in my heart for my whole career."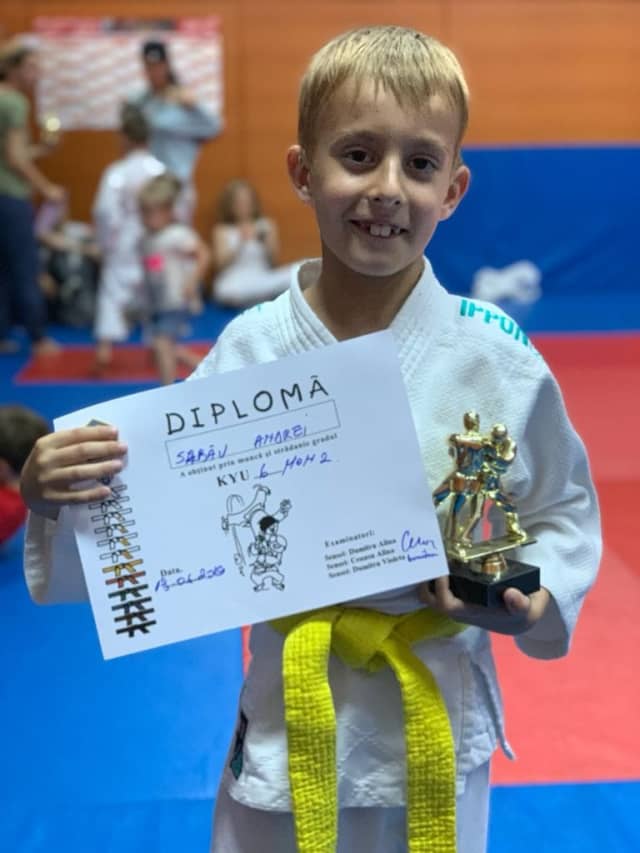 Thuy Lien Dekarz and Thanh Danh Dekarz, 9, France: How does it feel now, with some time passed, to be the coach of a world champion?
"Now as a coach of the national team, I am a coach for many high level athletes, many with world and Olympic medals, so there is not much to teach them technically. However, I pay attention to the little details such as scheduling and management. I focus on getting the last 1% of everything around them right. I feel motivated to continue to do this well."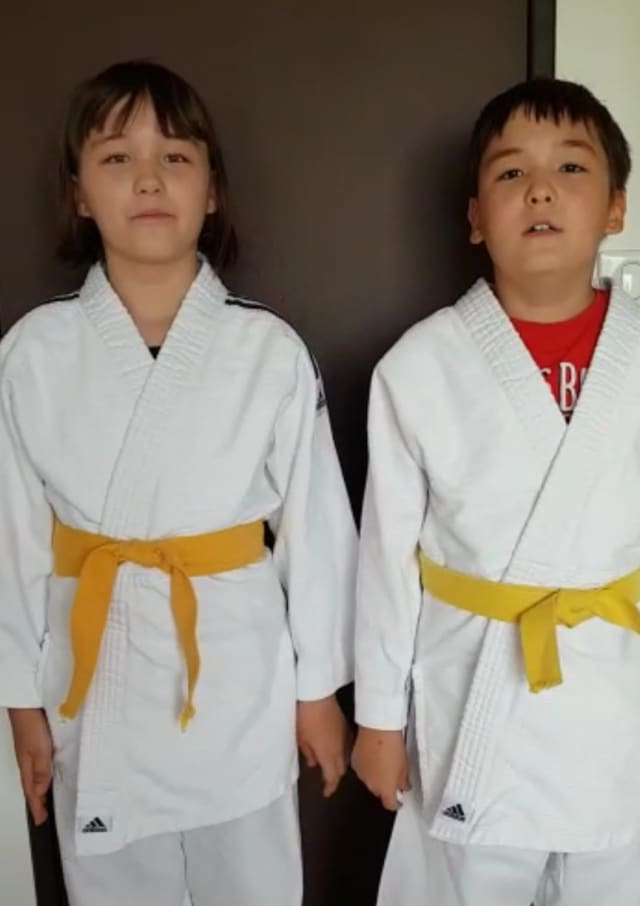 Stefan Josipović, 14, Slovenia: Why did you choose and stay with the sport of judo?
"It is a never-ending quest of learning. There is always something new and it's intriguing. Judo is like a sea; when you see it you want to go swimming and it's so vast and you want to try to get through all of it but you never will."
Lucio Tavoletta, 13, Italy: How does Kanamaru sensei manage Ono's tension and any possible fear of losing a contest?
"Ono has his own routine before stepping on to the tatami. I think a lot about what I say to Ono before competing. I'm always thinking about the best thing to say just at that last moment. I never felt like I made a mistake. Maybe as a coach I'm thinking about the right thing to say but maybe he isn't listening completely. He just needs something from me as part of his routine and so if there are words then it is not wrong."
Andrew Vermaak, 13, South Africa: If you could change a rule or make or new rule for contest judo, what would it be?
"A personal and fun opinion only. When I first learned judo we still had leg grabs and maybe it would be fun to have some back for a while. Honestly, I like the current rules. It would be fun, though, for young athletes to have the chance to feel all parts of judo, to play with the techniques that have been taken out of shiai."
Kris Samuel Bartolo, 15, Malta: How many months or how many training sessions did it take for Ono to perfect his O Soto Gari and Uchi Mata? Do all techniques take about the same amount of time to perfect?
"We should ask Ono if he feels these techniques are perfect yet! He has invested a ridiculous amount of time and repetition for each individual technique. For any waza it's always evolving and, for example, Ono in no way thinks his osoto gari is a finished product. As rules and analysis move forward, the techniques will continue to evolve too. None are ever finished."
Jayda Fulp, 13, USA: I have had a series of ankle injuries and would like to know what judo exercises you would advise I do for my upper body, while I have a cast on.
"Exercises to encourage range of motion and power for shoulders. Manage flexibility and control around the scapula. Functional and efficient movements should be focused on."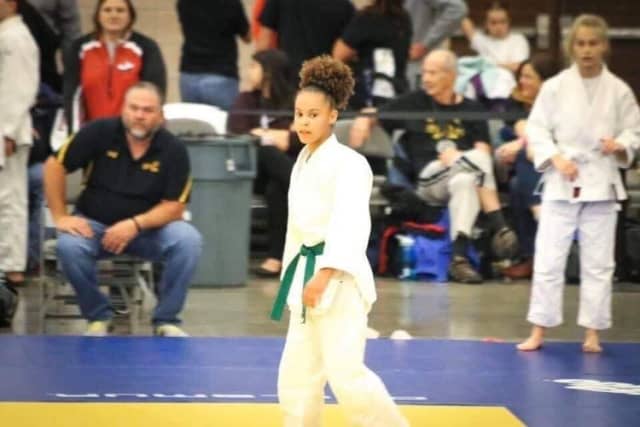 Kris, Charlotte & Mitchell Hollings, 12, 10 & 7, NZL: How do you keep motivating and inspiring individual players, especially when things become challenging, on and off the mat?
"On the mat, the athletes I work with already have their own goals and ambitions and so there is not much that is my remit, in terms of motivation. I just look after their environment. Off the mat I advise to relax and forget about judo. Judo on the mat, no judo off the mat. Ono likes to have a beer and sometimes we do that together."
Madalena Andrea Carrilho, 10, Portugal: How can I keep myself motivated and focus to reach the level that you reached as an athlete?
"Repetition and stubbornness!"
Kelemen Bendegúz, 8, Hungary: What was your favourite competition in judo and why?
"The final of the 2001 world championships. That whole event is my best memory. It was a fantastic experience and the most memorable. My goal was to win but it was really a great fight."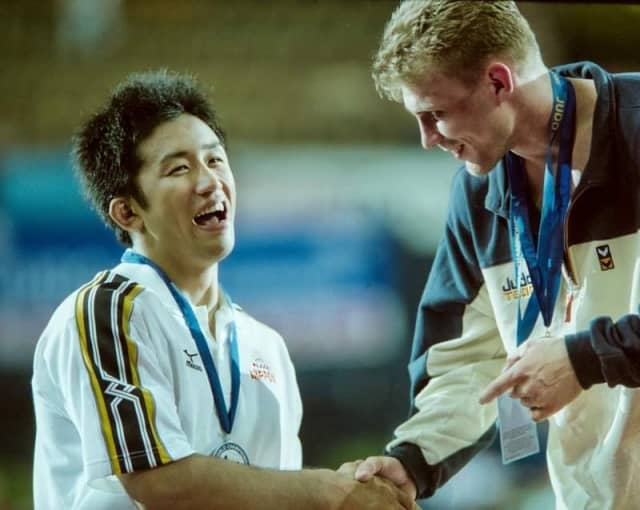 Malik, 7, Uzbekistan: how did it feel in the immediate moment when you realised your student became Olympic champion?
"I wasn't so happy, elated like everyone would think. I was relieved! It felt good to be finished, to have completed that goal. As an aside, I want to tell you that on the morning of Ono's day at the Olympics, when I woke up, I saw an owl. In Japanese tradition, to see an owl is lucky. It's a lucky bird."
From some seemingly simple questions, young judoka from around the world have opened the door to some special moments and ideas. Kanamaru sensei's calmness in his current role is a polar opposite to the vibrant whirlwind we saw in his competitive career. It seems that Kanamaru sensei is a chameleon of the judo world, always having the knack of bringing exactly the right energy that is required, regardless of the task.
Thank you sensei.
Soremade