Within a week, two continental unions, Africa and Pan-America, proceeded with their respective elections and designated the new teams to lead the destinies of the two organisations.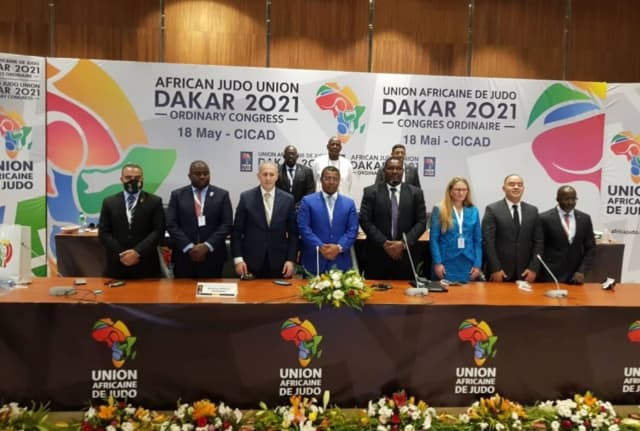 AFRICA The first election was held in Senegal on 18th May 2021 and Mr. Thierry Siteny was elected president of the African Judo Union for the next four years, under the motto 'Africa Judo United.' He succeeds Mr. Habib Sissoko of Mali.
After his election the new president has revealed his vision to all the African countries for the development of judo on the continent.
The new executive committee of the African Judo Union: • Mr. Randriana Solon Siteny - President - Madagascar • Mr. Maluki Shadrack - Chairman - Kenya • Mr. Mohamed Meridja - Vice-president- Algeria • Mr. Foloko Alfred - 2ème Vice President- Zambia • Mrs Estony Pridgeon - Secretary General - Botswana • Mr. Chafik Elkettani - Treasurer - Marocco • Mr. Alain Kingué - Sports Director in Chief - Cameroon • Mr. Youssouf Abdouramane- Sports Director - Niger • Mr. Abakar Ngom - Referee Director in Chief - Senegal • Mr. Anwar Khaled - Referee Director - Egypt • Mr.Raguib Faissal - Education and Coaching Director in Chief - Djibouti • Mr. Josian Valère - Communication Director – Mauritius
PAN-AMERICA Mr. Carlos Zegarra was elected as the new president of the PJC, unanimously, by the Pan-American countries, on 26th May. He succeeds Mr. Manuel Larranaga of Mexico.
The election was carried out via Zoom, with a participation of 31 federations of the 34 that make up the Pan-American Judo Confederation.
The new executive committee of the Pan-American Judo Confederation: • Mr. Carlos Zegarra – President – Peru • Mr. Mike Tamura – General Secretary – Canada • Mr. José Porfirio – General Treasurer – Puerto Rico • Mr. Ovidio Garnero – Refereeing Director – Argentina • Mrs. Katiuska Santaella – Education Director – Venezuela • Mr. Amadeus Dias de Moura Jr - Sports director – Brazil • Mr. Rafael Manso – Development Director – Cuba • Mr. Jose H Rodriguez – Administrative Director – USA
In his first words as president of the CPJ Carlos Zegarra said, "Following in the footsteps of our friend and companion for life, Mr Manuel Larrañaga, is a very special moment for me, for my family and for my friends. We are going to work together in this new executive committee. It is a great challenge because we are in a very complicated health situation, but having dared to hold events and having dared to continue in our duties only speaks about the pure love that we all have for our sport. I not only offer promises, I also have convictions and we will work as a team."
Both new continental teams will be in action at the World Championships in Hungary, to work hand in hand with the IJF and we are looking forward to working with them for the continued development of judo worldwide.