Led by the IJF and the Zambia Judo Association, the Meheba Refugee Settlement programme has been running in northern Zambia for more than 3 years, with a strong support of local authorities, UNHCR, government as well a significant input of the Norwegian Olympic Committee (NIF) and of the Judo for Fred (Judo for Peace) committee of Norway. Recently the Judo for Fred representatives were present in Meheba and delivered a judo masterclass to enthusiastic young judoka.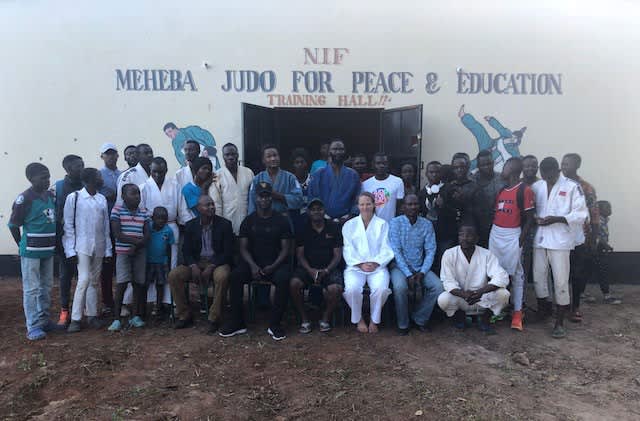 At the end of 2018, NIF financed the construction of a dojo inside the camp. It was inaugurated by the Judo for Peace commission in December 2018. The facility is located between 2 schools, offering the possibility to an important development. The judo activities are led by Faustin, a young black belt refugee of Burundi.
Birgit Ryningen from the Judo for Fred Committee, explained: "I had a 'hit-and-run' visit to Meheba as we only stayed there for a very short, but I had we had a great judo training session. I could meet Faustin and the sports coordinators as well as the camp manager from UNCHR."
The programme started three years ago with a few judoka only, but today they are more than 130 young people regularly training in Meheba: "A few girls also started judo and we are now working with the Zambia Judo Association so they can have a female coach to help them", said Birgit.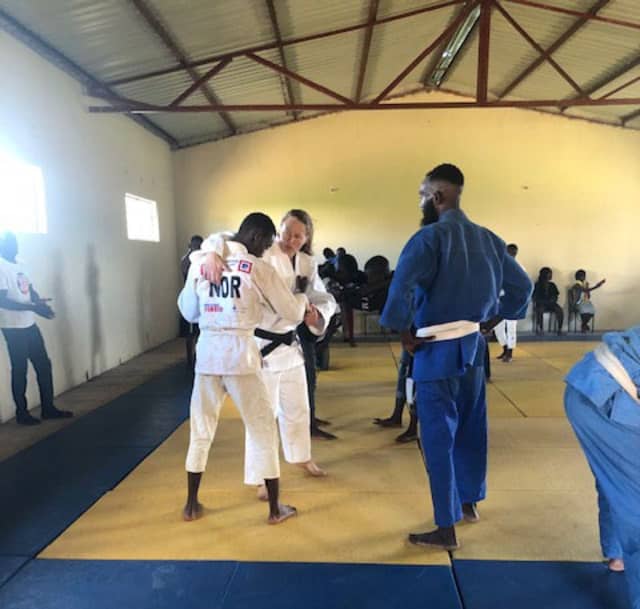 Currently two coaches, who are themselves refugees, are taking care of the judo classes on a daily basis: Faustin Nzosaba (BDI) and his assistant, Chiza Ngoyi of the Democratic Republic of Congo: "I had a training session with more than 30 young judoka and I can say that It was obvious that they had trained quite a lot, even if some of them didn't have judogi", explained Birgit.
During the meeting that followed the practical session, the UNCHR representatives explained that the judo project was the best initiative that happened in the camp so far and that they would like to have regular training in another location within Meheba. They are also really keen on developing other refugee programmes at least in two other refugee camps in Zambia, which is a goal for the Zambia Judo Association before 2021.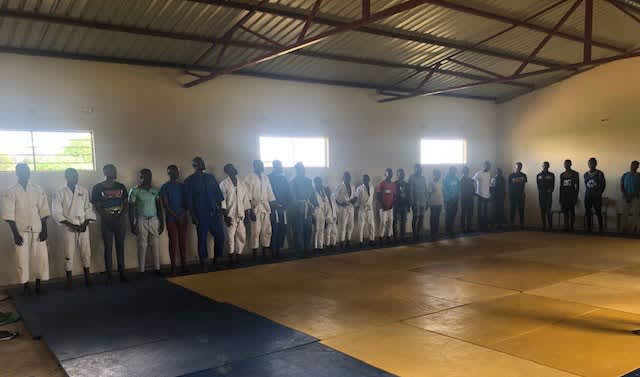 Meheba today gathers more than 20,000 refugees (50%) and settled refugees (50%), mostly coming from DRC. They get 18 months of help before they are supposed to be self-sustained. Judo step by step becomes a recognized activity to help people to live together despite the differences and the trauma that some of them witnessed.
Traveling to Meheba is not easy and the road to the camp is long from the capital Lusaka. Nevertheless the Judo for Fred trip was very successful: "Unfortunately, on my way to Meheba, my luggage was lost. I had two bags with judogis that I wanted to deliver to Faustin. But ZJA promised to follow up and to make sure that the bags are delivered to Meheba when they arrive. We had so little time on spot, that I decided to focus on being a coach and to talk to the judokas and the UNHCR people. The ZJA has a new Judo for Peace chair person within its committee and it will help a lot", conduced Birgit Ryningen.