The future of judo will be associated in 2021 with the beautiful city of Olbia in Sardinia, Italy. It means a bright future for the next generation of judoka, as the International Judo Federation President, Marius Vizer, recently signed an agreement to organise the Junior World Championships in 2021.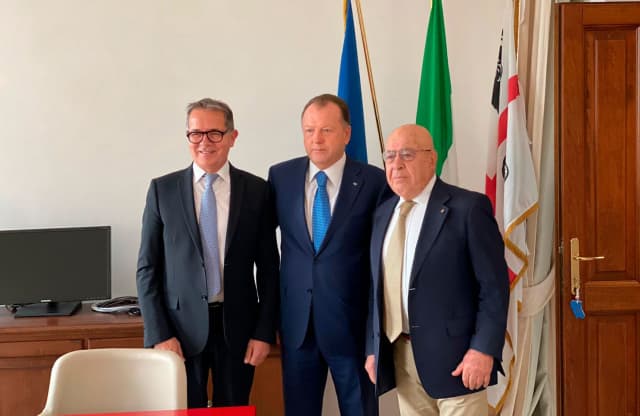 In two years time, the budding champions will travel to Italy, more precisely, to the beautiful island of Sardinia. The event will take place in Olbia as it was announced in a press conference by Marius Vizer and the crème de la crème of local officials. During the press conference, Mr Vizer exchanged with the Mayor of Olbia, Settimo Nizzi, as well as with Gavino Piredda, President of Sardinia Fijlkam, and Efisio Mele, Head of Judo in Sardinia.
Maris Vizer declared: "I am really happy that our Juniors will gather together in 2021, in this beautiful place, for the Junior World Championships. This event is not just a competition. It is on the occasion of the Junior worlds, that we can detect the future world and Olympic Champions. I believe it's also a wonderful opportunity for all the delegations to discover this gorgeous place, which is Olbia. I am convinced that everyone will come back from here full of souvenirs et emotions."
Settimo Nizzi declared: "This is a great honor for us to welcome the IJF and its President in Olbia. Your organisation is prestigious and we know that together we can make the Junior World Championships a memorable competition for all the participants. They will discover our lovely city and region, they will enjoy the nice weather and the hospitality of our people. We are really looking forward to welcoming you all in Olbia."
The venue will be located at the Geovillage, a well known touristic complex with experience of organising all kinds of international events, not only in sport.
With this deal the IJF shows its vocation of universality by promoting judo all around the world and by bringing the judo family in the most attractive places to combine the passion for our sport and the beauty of Sardinia. The most important criteria is the commitment of those who wish to present their bids, to judo and the younger generations.
Olbia has demonstrated its engagement capability and will welcome all delegations with a promise of professionalism and legendary italian hospitality.
It is not possible to ignore the excitement the 2021 Junior World Championships will bring: A great event in a great place in the middle of the Mediterranean. It is here where the next champions will start their march to the senior circuit.
Watch all IJF events free here on the IJF website live.ijf.org