Roberta Chyurlia is an IJF 'A' referee. We see her at the world championships, at the Paris Grand Slam, on live streams around the world, but we probably don't remember her presence in the contests she referees, because she is extraordinarily good at her job. She blends in and while executing the finest snap judgements, in front of huge crowds, with life-changing importance balanced on every decision, she also enjoys every single second of it!
Roberta hails from Puglia in southern Italy, from a judo family. Her father was also an IJF referee and is undoubtedly her role model, maybe even her hero.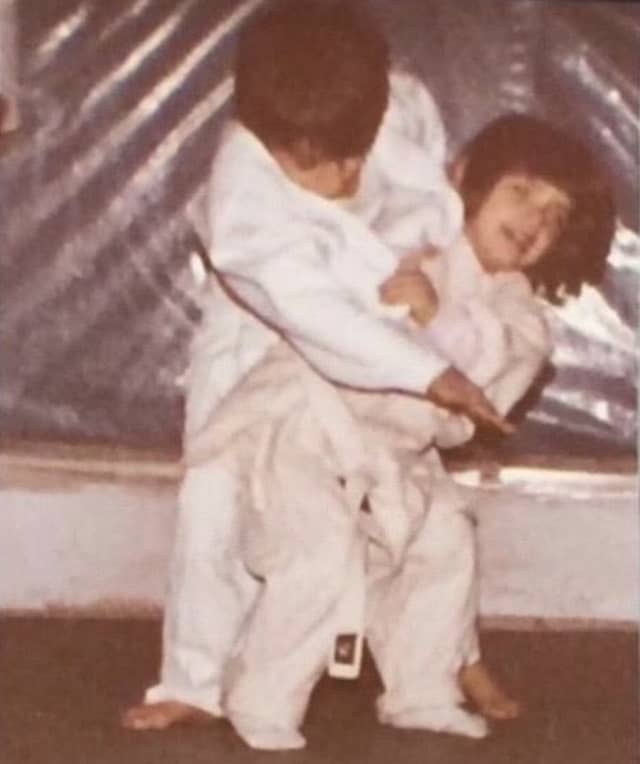 Now, though, life is more still. No adrenaline rush, no scrambling for boarding passes, no excitement landing in new cities to meet old friends and hundreds of colleagues. No live record-breaking. And it's hard!
"I enjoy it. It is something in my life that I feel I do well. I love judo. I watch all the competitions on the internet and follow the champions. It is a gift to be on the mat with them and I am always happy on the mat, anywhere in the world.
Training to be a referee has brought some interesting situations because I can be emotional when watching judo from home and I have had favourites, as we all have, our judo idols. At the beginning it was a little strange to have to learn to control this and to only see the judo in front of me, rather than the faces inside the gi. It is continuing to be a wonderful career and I know I am a better person for the contribution this sport has made to me."
In Italy now many can go back to work and some freedoms are returning. Covid-19 still pervades daily life but to a lesser degree every week. There are still judo restrictions, but maybe also as soon as next week, normal judo training may resume. For now the streets and gyms and shops are awash with masks and gloves. Stringent, visible cleaning strategies are everywhere and are accepted, for restaurants and supermarkets and all public places. "Normal is creeping up on us though," said Roberta. "We can also begin to travel a little, even to other European countries."
The lockdown came very suddenly in Italy and had an immediate effect, causing life to change in ways that could not have been anticipated.
"I returned from Düsseldorf in February and within two days there were reports of corona virus from China and also in Italy. We felt something strange was happening. I went to Poland for the European Open and the day after I came back it was an immediate, full lockdown.
At the beginning I thought it would be temporary, just a short while to let the imminent dangers pass and I looked forward to Russia and Rabat, both due to go ahead in March. I thought maybe we would lose a competition, but then get back on the road. Just one day before Russia we were told 'no!' So I moved my thinking and thought, you know, maybe one month of being careful.
Then we realised it was a pandemic, a global situation and I started to understand that life is different now. I was a little lost, no projects and no calendar. We were waiting for a great IJF Academy education camp with all the referees on the long list for the Olympic and Paralympic Games, to be held between Tiblisi and Antalya. At that gathering we were supposed to tighten the team and analyse exact moments from the last competitions, to ensure the level is as high as possible before the Olympic Games. We would also practise judo together and stay in touch with the feeling of the mat under our feet; 6 hours of judo study per day and a total immersion in the gokyo. We would take exams too. It's intense but so positive. It's so hard but I really enjoy it."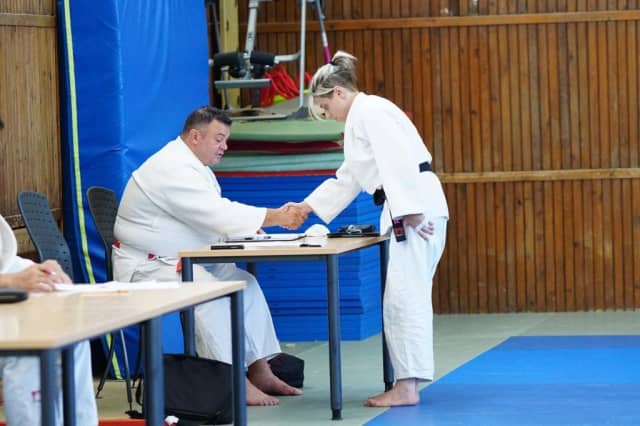 The first camp of this kind, under the tutelage of Daniel Lascau and all of the IJF referee supervisors, was in 2018 in Budapest. Roberta wondered if it was really necessary to participate so much. Would it have an enhancing impact on everyone? It did! "The relationships between all are so respectful and so mutually understanding. Sharing knowledge and experiences in this way has given us so much, personally and professionally. Jita Kyoei."
Now there are no face-to-face courses and no tournaments. It can be understood clearly that referees, as with athletes, need regular practice, familiarity with the intensity of the competition arena. Staying sharp must be a primary concern.
"I am watching videos of the competitions all the time. I look for the situations that have caused controversy and I study them more, but I really miss the sensation of standing in the arena. When we attend competitions frequently we can feel relaxed and familiar and prepared. These days we can use a lot of technology to keep our level of knowledge high but the feeling of compettion is another thing altogether. We will come back to that fast, as soon as we are allowed, but we will have nerves and excitement, just like the athletes."
When asked how she feels about the world opening up again, she almost cut off the end of the question with her energy, "I really need it! For most local people their lives are here, at home. For me, with travel and with Judo, for all of the referees and international judo community, we are used to managing our lives from one country or continent to the next. Juggling people and places was normal, variation all the time. Adrenaline. I have had to learn to live at a different pace and to appreciate my surroundings and immediate environment. My family is also in judo so to spend time at home can be nice but really my life was so different. It has been very hard to find motivation to do normal things. It feels like there is only an abstract purpose to things.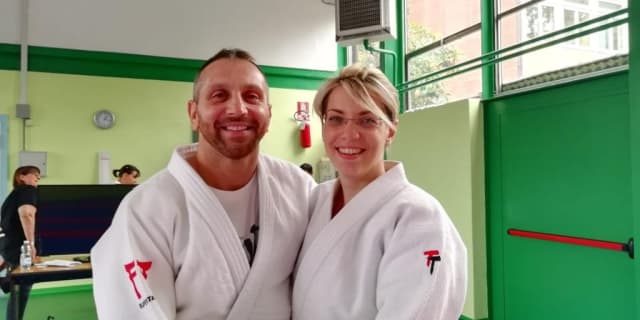 Now that I can see some relaxation of the lockdown here and in some countries there is a clear return to normal life, I can feel the anticipation, that I will really be able to get back to doing what I love soon. I need to referee, of course, without any doubt! I feel like the carpet was pulled out from under me and I have had enough of missing it. I want to be on the mat, where I feel most at home. I don't even feel truly nervous about restarting the world Judo Tour. Let's go! It's time!"
The question so many sporting communities have been asked is how the postponement of the Olympic Games affects everyone, but it's fair to say that umpires, judges and referees may not come to the top of your list of those affected. There are years, even decades of dedicated focus on the general rules and later the minutiae, the details, alongside their investment in development and it is not seen. Sometimes it is at great expense to their personal lives, with sacrifices and huge life choices, only to be judged themselves and sometimes to be accused of a lack of understanding or passion or maybe they're accused of carelessness.
"The final list of referees was due to be decided immediately after the World Judo Masters in Doha, the same as the end of qualification for the athletes. This is now in limbo for us and it is quite stressful to have to wait for the new programme. We have a ranking list like the athletes do but even with that in place, there are no final guarantees. The extra time of uncertainty is difficult to think about.
Work, postponing our lives and having to re-orgainse this, as we are not full time, professional referees. I am a criminal lawyer. Life can be very challenging. My work is 24/7 with calls and urgent, unexpected moments and sometimes this is very difficult to manage when travelling so much. In the final run up to the Olympic Games I had to slow down with work and find ways to take time out to focus on my important, time-bound sporting tasks. I have to be at my best for judo and for my work and running both together gives the potential for either to be not at 100%. Now with the Olympic Games moved I have to get back into the swing of work, knowing that I will have to let them down again in the near future, almost repeating the most fragile part of the selection process. It's tough, but so are judoka, so I will manage."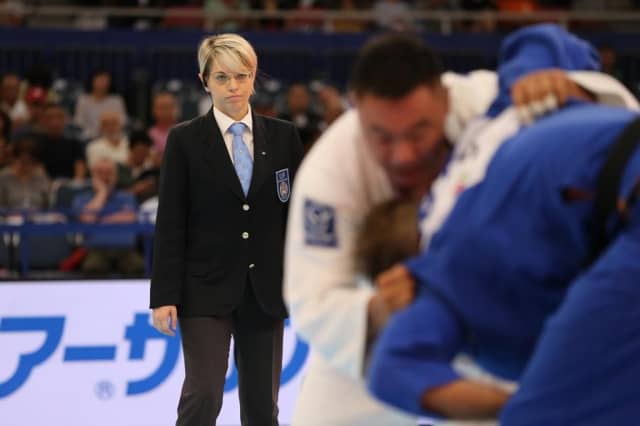 Roberta's passion for judo and for its people is tangible. She sparkles when asked about what she looks forward to and she is emotional when discussing what and whom is missing from her status quo.
"I didn't really understand at the beginning that 'judo family' has a deep truth. I really do understand now and I miss this family so much. We travel, eat, share disappointment, enjoy great victories and we do it together."
While speaking with Roberta I had the feeling that I was in conversation with one of the many Musketeers who work hard to keep our sport safe and fair. We might not see them flipping tyres or breaking cardio PBs, but they are working just as hard to ensure when they come back they can continue to be the guardians of fair play and they will be doing this silently but with a passion that bursts from them when the cameras are off.