After an event and especially after a world championship, what we remember above all are the medalists, the performances of the outsiders and sometimes the poor performances of the favourites. That all makes sense. What we often forget is that, without the involvement of the organisers, a competition cannot run properly. In 1980, Peter Perazio was a young man in the shadows. He was in the shadows of the organising committee and in the shadows of a woman, Rusty Kanokogi, the main organiser of this first women's world event.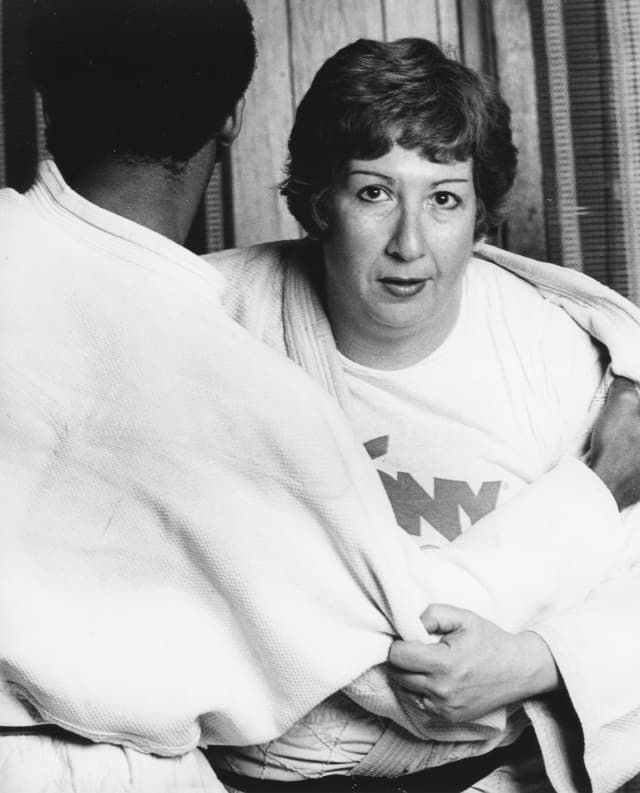 To say that he was in the shadows is not pejorative; on the contrary, because to be under the spotlights was not his objective. What he wanted more than anything else was to ensure that athletes from around the world had an extraordinary experience, one that would remain etched in their memories forever.
At that time, Peter was sort of the right hand of Rusty Kanokogi, in areas of administration and secretarial work. He explained to us with emotion the adventure of a lifetime.
"The first thing that really comes to my mind, as I think back to that time, is Rusty's kitchen. It's like an alcove, in which the heart of the World Championship beats. We spent hours there. What am I saying? Days and weeks to organise everything. It must be said that this first world championship was really born in her mind and could only see the light of day thanks to her iron will."
It is always fun to go back to memories of forty years ago to see how things unfolded, "We had rustic means and I can say that even talking about rustic means is a bit exaggerated. The image I have kept in mind: a table in the middle of Rusty's kitchen, a manual typewriter sitting in front of me and Rusty, for whom failure was not an option. Of course, we had strong support, including that of the IJF, who were decisive, but without this lady and her unwavering will, nothing would have been possible."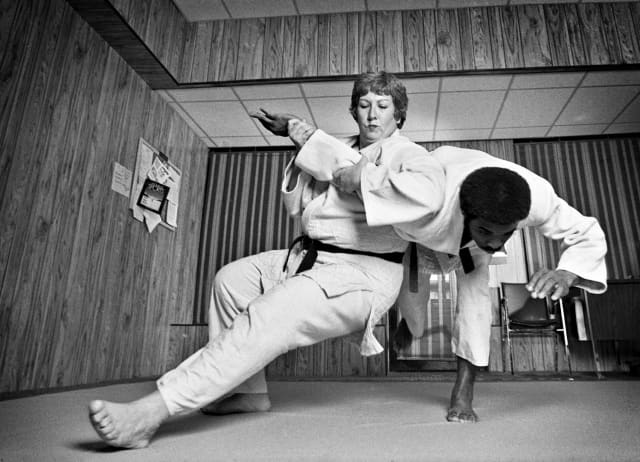 We have already had the opportunity to talk about Rusty Kanokogi, her involvement in developing women's judo and her vision for a more equal world, where fairness is the rule. It is not possible to comment on her action without seeing her as a unifier of talents, one who surrounded herself with people devoted to her cause, "We can say that we have managed to organise the championship with almost nothing and that we made up for the lack of resources with the hours of work. It's a miracle that all of this could happen. We believed in Rusty so much and in her ideas, that nothing could have stopped us."
The least we can say is that the obstacles were numerous and that a small grain of sand could have been enough to stop the mechanics, "The world championship took place in the magical Madison Square Garden. Everything has to be paid for in America. At that time, while many thought the event was a joke, we had to pay a high price for everything. As if that might have prevented Rusty from achieving her ends!" Peter scoffed. "When we received the estimate for the use of the gallows to raise the flags for the medal ceremonies, we fell from our chairs. It was impossible. We had to find a fallback. Rusty's husband was teaching in a merchant navy officer school. So we asked them if they could help us with the ceremonies and it was finally young cadets in ceremonial clothes who carried the flags of the medalists. Frankly, it looked really great, but then some accused us of having organised things to a minimum. It hurt me because I knew where were coming from."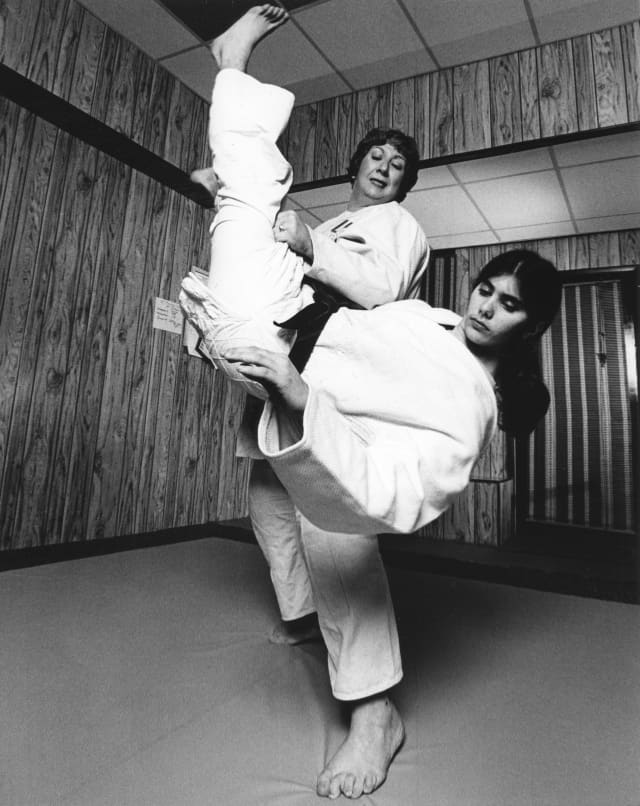 To understand how dedicated Peter was to Rusty, you have to understand that he started judo at the age of 12, in the working-class neighborhood of Brooklyn, New York, "I started in a YMCA and then when the club moved, I followed her. Little by little, I became the secretary for all the events Rusty organised, from the local level to the world championship. I did that until 1983, when I moved to France, where I have lived ever since.
Working with Rusty Kanokogi was a challenge. Honestly she was wonderful and the sweetest person you can imagine, but like all people with a specific goal in life, she was asking a lot. I often fell asleep on the typewriter around midnight, when we had already spent hours working, but she was my sensei and I would have followed her anywhere. I was 24 in 1980, but I started working for her when I was a teenager. It was a fantastic adventure. She had a strength of soul and spirit that made us do everything in our power to make the event a success."
Once again, many years later, it is easy to say that this first female global event was successful and paved the way for what we know today, but nothing was easy, "We had to recruit volunteers who would help us run the competition. The day before the championship, one of the volunteers, who helped us with the printing of official documents, came to bring us an invoice. It was exorbitant. Rusty told the volunteer that she didn't understand. This person had heard that we had supposedly received a lot of money and that we had to pay. It made me very angry and luckily my colleagues and friends held me back because I don't know what might have happened. These accusations were totally false and unfounded. Later, the athlete forms disappeared. We had to manage to find solutions. I was no longer sleeping and soon I was nicknamed the 'Zombie.' But we held on and we made it."
The most important thing in all of this is undoubtedly that the delegations lived through an extraordinary moment, "All the athletes with whom I was able to interact during the championship were happy and I did not feel any dissatisfaction; on the contrary. We were focused on our task and nothing could distract us from our goal."
This first world championship was part of a more long term plan, "For Rusty, New York was only a step. Her objective was to achieve equality between men and women and for women's judo to make its debut at the Olympics. It took a few more years, but without our involvement in 1980, it wouldn't have been possible. So in the end, the few negative comments weren't very important. As soon as Rusty organised her first local championship, she had this idea of expanding in mind and she followed her dream. We followed too and her dream became ours."
At the time Peter was already moving towards a career as a professional photographer, "I was an assistant to a great photographer, Jack Mitchell, who along with Rusty Kanokogi were the people who influenced my life the most. Naturally, I found myself working on the logo for the world championships. Once again we had to find solutions. Rusty asked me to take a series of pictures. So I arrived at the dojo with some equipment. The background that I  had planned to use was a little too large and we couldn't deploy it completely. Two judoka were designated to pose and finally, it was a photo without the background which was chosen and which was transformed to become the logo of the competition. The graphic designer was another judoka student of Rusty. It all stayed with the family."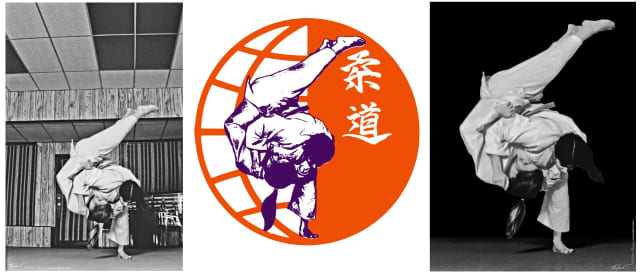 When he arrived in France in 1983, Peter wanted to continue judo, "I could not see myself stopping. Judo occupied such a large part of my life. I enrolled in a club (Racing Club de France), but to resume my judo training in France was a bit difficult considering that I had to settle down and devote time to my family and professional life. I eventually moved away from judo, but I kept in touch with Rusty until the end of her life and I still have contact with the people who worked during the New York championships. Both on the tatami and outside the dojo, Rusty Kanokogi has been a role model for me. All these years have been formative and helped me to become the man I am today. Jack and Rusty are my two mentors."
In conclusion, Peter made a point of emphasising something important, "It is obvious that the fight of Rusty and all those who followed, was aimed at giving equal rights to women on the tatami, but I think it went even further. She fought a permanent battle for judo, in all its dimensions. I remember one day, during a local competition, a rather small surface had been installed. There was nothing illegal about that, but Rusty stepped in to say that it was ridiculous to offer the smaller area, when it was possible to do bigger. She couldn't have had the competitive career she would have liked but she was really wholehearted with the competitors, whatever their gender and their background. She was there for everyone."
Peter still lives in France today and he remembers every day that, without Rusty and the organisation of this memorable championship, without the lack of sleep and the challenges he had to face, he would not be the same person, "When I look back at those 40 years, I tell myself that it was and is unforgettable. Sometimes it's good to stop and look at how far we've come. It is a real source of pride."