For two weeks already Sabrina Filzmoser (AUT) has been on the road, a bumpy road that will take her from sea level to the top of the world, to the summit of Mount Everest, within the next three months. Her Forever Everest expedition is more than just a feat though. As in judo, if the goal is important, the most crucial point is the way and on her way Sabrina spreads the judo values, promotes peace and helps to save the environment. Between two rides, she gave us some insight into this incredible adventure, as she was approaching the Mount Everest region.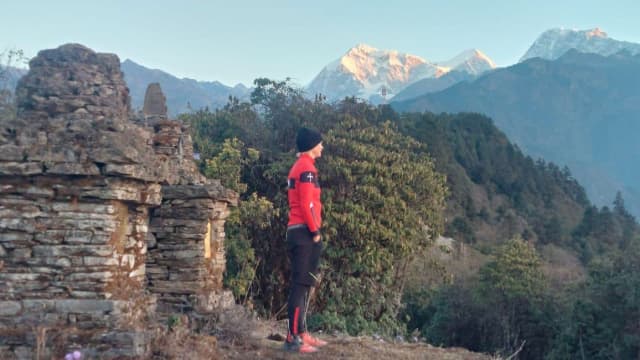 "I don't know how many times I woke up last night; every hour I was looking at the clock. I'm only 2300m high now and I've spent the last 2 days on 3000m high passes, so it can't really be because of the altitude.
It can't be because I'm on the internet either as most of the time we don't have wifi. Luckily I have tea and dhal bat (traditional meal), electricity and hot water. A thousand things are running through my head; am I dreaming? Is it all real?
300 metres above me is Lukla, the entry point to the Khumbus, the Everest region with one of the most challenging airfields in the world.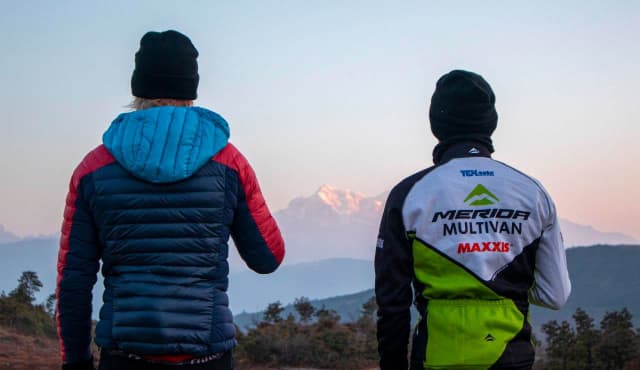 I wanted to stay overnight here simply because I wanted to spend some time with my pilot friends. I can tell you that the helicopter and plane approaches, early morning when it is cloudless here, are exciting. Unfortunately two weeks ago, lightning struck Dudh Kosis hydroelectric power station and there is still no electricity and there are not enough generators in the surrounding areas. So yesterday before the sun went down, after almost 12 hours on my feet, I had to stay in Surke, just 300m below Lukla. This is a small place with 36 houses directly on the smaller helipad, where the helicopters land when the fog breaks in or the cloud cover does not allow them to land in Lukla.
Yesterday evening I found shelter here on the helipad of Surke, the birth place and residence of the first Nepalese woman on Everest, Pasang Lhamu, who passed away in 1993.
I met with Angelu Sherpa, an experienced mountaineer, who stopped working on Everest after the extremely tragic Khumbu Icefall accident in 2013, where 19 Sherpas who were all his friends and relatives, were buried by an avalanche in front of his eyes, while ensuring the route through the Khumbu Icefall. Now he is a mountain bike trekking guide and friend of Laxmi (XCO MTB Asian champion) and Harka (XCO MTB National champ), my two very good Nepalese friends who have been mountain biking with me for the last 12 days from the West Bengal Sea in Digha to Bubsa (Solu-Khumbu at about 2200m). Without their local knowledge and preparation I would probably not have made it so quickly.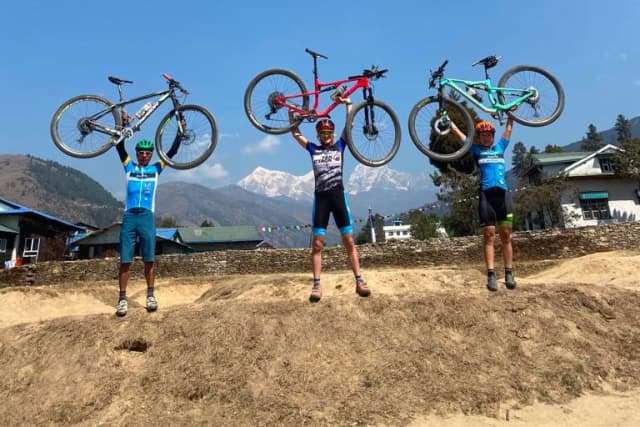 All the paperwork work and all the officials in India and Nepal work at a very different tempo from mine. There were issues to be solved as well, concerning the countless boxes that I prepared beforehand, the cargo freight for all the collected material, such as judogi, sports equipment, climbing gear and winter gear for the schools. Thanks to good contacts within the embassy and honorary consul, after the small incident in New Delhi, this is now working.
So let's go back a bit in time, just a couple of weeks. For many people, the intention to go from sea level to the top of Mount Everest without additional oxygen, is in itself a big goal, but for me it's actually the journey that counts, the stops at all the judo schools, the work with the judo-kids in my two Everest judo schools. Over the past days I noticed so many signs of joy and optimism and I am now in the firm belief that tourists are finally returning to this beautiful and extremely impressive place, one that has been hit by the crisis and badly hit by the pandemic.
As an extra pressure, while I was arriving in Kathmandu, Nepal, the war in Ukraine broke out. As chair of the IJF Athletes Commission, my entire focus was suddenly on the many emails received from the athletes. Our goal was to do everything to at least be on the side of the athletes mentally. Our Judo For Peace campaign gave me a meaningful understanding of the values our sport stands for and I quickly realised that the goal of my mission should be to support this philosophy. It was received with great enthusiasm and support in both India and Nepal.
As an IJF Climate Ambassador I came here to also promote a better and safer environment. The plan is to collect and separate rubbish with the help of young judoka, to plant trees and find local solutions to improve climate protection. With the current situation in Ukraine, this took a back seat but I don't see it as a disadvantage in the slightest. Throughout the first days of my expedition, I have experienced some really terrible conditions in India, like the catastrophic air pollution and the sometimes unbelievable living conditions in the cities, where it's just about survival. I was faced with the essential question right from the start, what is it actually about for me?
When I landed in New Delhi, the airport police asked me questions I was not expecting, especially when they noticed that I had a satellite phone that I had borrowed from Gerlinde Kaltenbrunner. It was taken away because such devices are not allowed in India due to terrorism mainly and are strictly forbidden in Jammu and Kashmir. Thanks to the Austrian embassy, a lawyer and a hearing the next day, I was not charged but communicating from inaccessible areas on Everest falls flat. Luckily I still have my Garmin InReach live tracker.
The actual question of the meaningfulness of this journey doesn't even make sense to me. It's difficult to explain because it always depends on the day-to-day situation and this changes several times a day.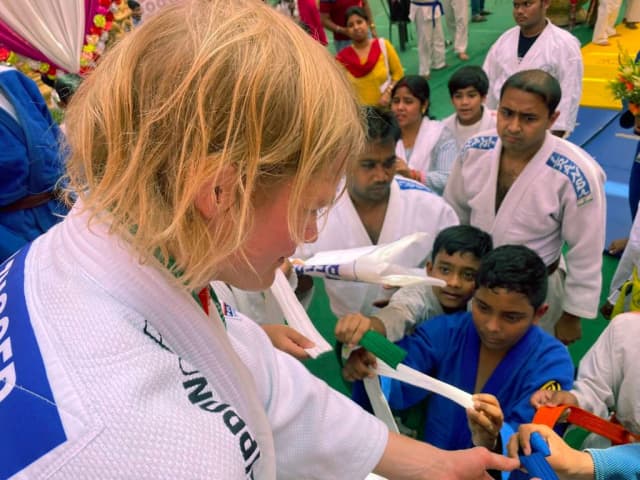 We were welcomed warmly in both small and large towns, provided with tea and biscuits. We received the traditional Nepalese welcome scarves and were asked by school principals if we could bring judo mats or bicycles. Every time my heart almost broke when we had to say we have to keep going, we still have a few kilometres and metres of altitude ahead of us.
When I sit on the bike again, my thoughts go crazy with simple values such as freedom, peace, equality in society and always definitely friendship, run through my brain.
My two Nepalese comrades-in-arms on the bikes were definitely the best friends I could have wished for in the last few days.
I learned so much! It was a demonstration of power with horizon-broadening, deep insights into an infinite number of different cultures, living conditions. I have reflected on the feeling, which can always be recognised freshly, of reacting as patiently and tolerantly as possible to local conditions.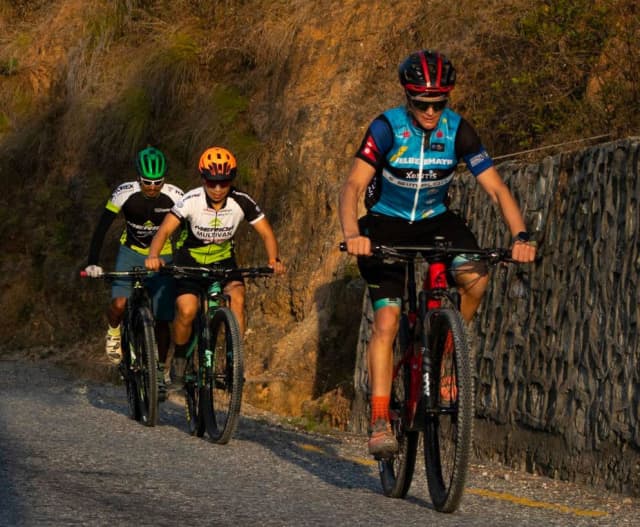 We covered 1081km and 9953m elevation gain from Digha, in 11 days of cycling, which may not sound like much, but due to the traffic and the outside temperature (37°C) in India and the trails weaving around every hill on a single track up and down mode in Nepal, it was more than challenging.
At the border from India to Nepal we lost a whole day because the immigration office was closed on 8th March, due to International Women's Day. We joked around and thought they probably had to dust off the stamp anyway.
Well, the next day reality caught up with us and it was actually exactly like that. In the immigration office, the new fingerprint and iris scan devices still had to be connected to the power supply. Then three officers sat in front of the PC and tried to decode the new software while the other two watched. Handling the stamp was really the funniest thing I've ever experienced at a border. First, the three of them desperately tried to set the correct year and month on the stamp and I was then allowed to explain to them where the stamp should actually go in my passport, because I have a multiple entry visa for Nepal.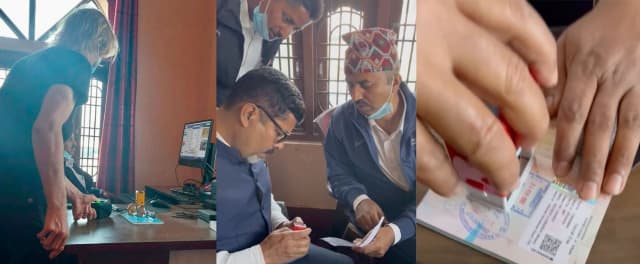 After a few more hours, the matter was settled and I was the first foreigner since the beginning of the pandemic to cross the border. It all ended with a proud group photo in front of Biratnagar immigration office.
Eventually our bike tour ended, just yesterday in Bubsa. I said goodbye to Laxmi and Harka, our most loyal support and supply vehicle with Laxmi's brother Ganesh as photographer and the driver Rajkumar.
Over this first part of the journey we also had visits from local TV and media crews who documented our struggles excitedly.
I was very happy with the small local MTB clubs, where riders always accompanied us or invited us to visit their new tracks and trails. There was even a pump track in Phaplu at 2400m.
I'm trying to support Laxmi and Harka with the Nepalcyclingschool. If others would like to support as well, there are two Gofundme projects that can receive donations: Nepal Cycling School and Everest Judo Scholarships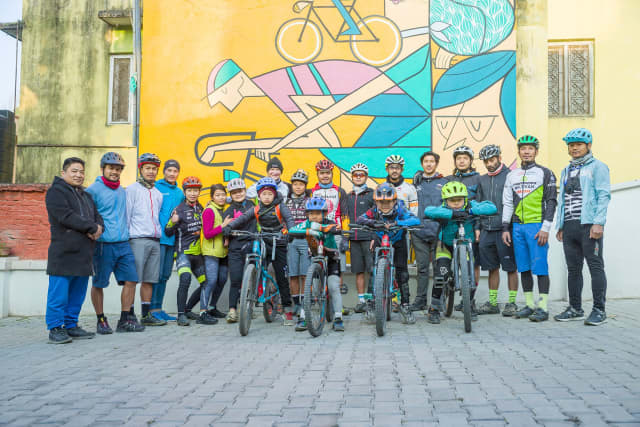 There is so much to say about the first phase of my expedition, which, surprisingly for me, is already more than a small success. We weren't the very first to fight our way through Digha from sea level, but we were the ones who solved it most directly and quickly and the ones who made it all the way to Bubsa on the bikes.
When I left Laxmi and Harka and said goodbye to my new bike (which after only 11 days didn't look new at all) it got sentimental for a moment, because I donated it to the Nepalcyclingschool. This actually felt pretty easy for me. It felt right.
The remaining, lonely thousand metres of altitude and further endless curves and ridges to Surke gave me enough time to review the first part of the journey and gear up to and look forward to the second part, namely the work ahead in my Everest judo schools in Monjo and Khumjung and the preparation for the important acclimatisation phase over the next few weeks up to Everest Base Camp."
As Sabrina mentioned, there is so much to say, to explain and to share. What she already did with her friends is amazing. In the upcoming days she will hike to reach the vicinity of Mount Everest. Phase 2 of her adventure is already launched and we can not wait to learn more about the landscapes that are unfolding in front of her. We are also excited to discover more about what lies behind the physical endeavor, namely the human adventure. More than ever the judo values are in good hands with Sabrina.