The IJF World Judo Tour has settled in Asia for the penultimate event of the season as the eighth and final edition of the Qingdao Grand Prix will feature Olympic and world medallists from Friday 18 – Sunday 20 November at the Qingdao Guoxin Stadium.
The Qingdao Grand Prix was first held in 2009 and is one of the longest-running events on the IJF World Judo Tour. Qingdao's top sports event has been an annual leg of the tour since then but this year marks a farewell as China's judo showpiece will move next year to Hohhot, the Capital of Inner Mongolia in North China.
Since the Rio 2016 Olympic Games, the IJF World Judo Tour has visited Croatia (Zagreb Grand Prix), Uzbekistan (Tashkent Grand Prix), and the U.A.E (Abu Dhabi Grand Slam) and will culminate in December in Japan with the Tokyo Grand Slam from 2 – 4 December.
The Qingdao Grand Prix 2016 draw took place on the eve of the competition at the Diamond Hall within the Qingdao Guoxin Stadium as the coaches had an early opportunity to familiarise themselves with the venue which will host 15 nations and 155 judoka (87 men, 68 women) over the next three days.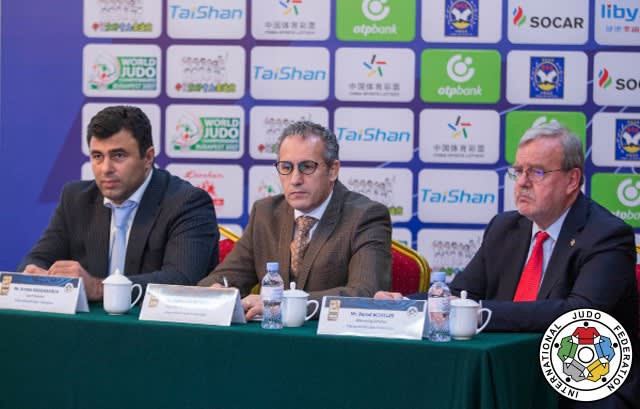 From L-R: Mr. Armen BAGDASAROV, IJF Sports Director, Mr. Mohamed MERIDJA, IJF Education and Coaching Director, Mr. Bernd ACHILLES, IJF Referee Director
Mr. Mohamed MERIDJA, IJF Education and Coaching Director, made the opening address on behalf of the International Judo Federation.
"Dear guests, dear judo friends, ladies and gentleman, on behalf of International Judo Federation and our President Mr. Marius VIZER, I express my warmest welcome to Qingdao Grand Prix 2016, the final Grand Prix of the season. I thank the Chinese Judo Association, they have been great partners for us in terms of this event and have staged successful editions of Judo Educational Journey. We are very satisfied with the development here and I wish good luck to the officials, coaches and athletes."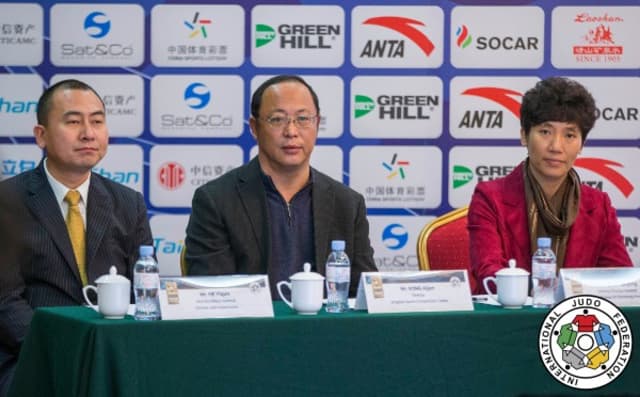 From L-R: Mr. HE Yiqun, CJA Vice General Secretary, Mr. SONG Aijun, Qingdao Sports Competition Centre Director, Mrs. QIAO Yunping, Sports Bureau of Shandong Province Deputy Director General
Mrs. QIAO Yunping, Sports Bureau of Shandong Province Deputy Director General, made the welcome address on behalf of the local organising committee.
"Distinguished guests, good afternoon, please allow me on behalf of Shandong Sports Bureau, to welcome all the athletes, officials and coaches from all over the world. I would like to thank the IJF and CJA for giving strong support to Shandong judo. With your help, the Qingdao Grand Prix has gradually grown into an integral event for the promotion and development of Chinese judo. I am confident that this Grand Prix will be a great success."

The official draw of the Qingdao Grand Prix 2016
Mr. Bernd ACHILLES, IJF Referee Director, provided on refereeing matters for the 15 delegations present at the draw.
"We saw a really successful Olympics because most players fought in the centre of the tatami and took the grip and developed throwing actions. This was very successful and we hope to see the same here in Qingdao. Everyone should take care the dress code with the judogi very seriously as referees will encourage players to fix their judogi every time it is not meeting the required standards. We lose time adjusting judogi and I urge you to please advise your players."
WOMEN
-48kg
Tashkent Grand Prix winner Mariia PERSIDSKAIA (RUS) is looking to make it two Grand Prix victories in a row as the top seed in the -48kg category in China. PERSIDSKAIA will double her IJF World Judo Tour medal tally on Friday if she can medal on day one while former Pan American Open bronze medallist LI Yanan (CHN) will fly the flag for the hosts.
-52kg
Taipei Asian Open winner CHEN Chin-Ying (TPE) is the leading name in the -52kg category as the number one seed. The 24-year-old lost her opening contest in Qingdao a year ago to eventual winner NISHIDA Yuka (JPN) and will be relieved to be spared from Japanese opposition in 2016 as their eight-strong team does not feature a -52kg representative. Orenburg European Cup bronze medallist Galiya SAGITOVA (RUS) will make her second Grand Prix start for Russia in as many months after a first round exit in Uzbekistan.
-57kg
Asian Championships bronze medallist YAMAMOTO Anzu (JPN) is a talent far greater than her world number 47 ranking suggests. YAMAMOTO, 22, finds herself in one of her country's most competitive divisions and has seen international duty limited with Rio 2016 Olympic bronze medallist MATSUMOTO Kaori (JPN) and Tyumen Grand Slam winner YOSHIDA Tsukasa (JPN) both ahead of her. Tashkent Grand Prix winner Anastasiia KONKINA (RUS) is the top seed and will surely win her second Grand Prix medal as 17-year-old Ulaanbaatar Grand Prix winner LKHAGVATOGOO Enkhriilen (MGL) has the same goal in China.
-63kg
World Judo Masters bronze medallist YANG Junxia (CHN) finished seventh at the Rio 2016 Olympics after defeats to eventual winner Tina TRSTENJAK (SLO) and Yarden GERBI (ISR) who went on to win bronze. YANG makes her competitive return to action in her home country and will start as the favourite to retain her Grand Prix gold medal from 2015. Former world bronze medallist TSEDEVSUREN Munkhzaya (MGL) is one of the most experienced judoka in her country's 16-strong team in China and will look to lead by example. Lucy RENSHALL (GBR) won the European u23 Championships last weekend in Israel and that should spur her on to win the first senior IJF medal of her career. Budapest Grand Prix winner NABEKURA Nami (JPN) competes outside of Japan on the IJF World Judo Tour for the second time and the 19-year-old will hope for the same result after victory in Hungary in the summer.
-70kg
Abu Dhabi Grand Slam bronze medallist Katie-Jemima YEATS-BROWN (GBR) arrives in China a week after taking silver at the European u23 Championships in Israel and could turn her top seed status into gold on day two. YEATS-BROWN, 21, has been one of a number of young Brits to make an impression post-Rio 2016 and will feature alongside a host of international prospects. Ulaanbaatar Grand Prix winner IKE Erina (JPN) is also a raw and untapped talent to look out for on Saturday. IKE, who finished fifth at the Tokyo Grand Slam last year, will be competing in her third Grand Prix.
-78kg
Tyumen Grand Slam winner TAKAYAMA Rika (JPN) is the top seed in the -78kg category and will be expected to maintain her 100% record of winning medals on the IJF World Judo Tour. The world number 14 has won two Grand Prix bronze medals in addition to her standout Russian victory and could top the podium on Sunday ahead of the Tokyo Grand Slam in December. Former Almaty Grand Prix winner Anastasiya DMITRIEVA (RUS) is best placed to challenge TAKAYAMA and has to go all the way back to 2013 for her one and only win at this level which came in Kazakhstan.
+78kg
World champion YU Song (CHN) won bronze for the hosts at the Rio 2016 Olympic Games in her country's favourite weight category. YU will receive a superstar reaction at the Diamond Hall as he she fights for the first time since the Olympics. The home star will be challenged by domestic and international opposition as World Judo Masters silver medallist MA Sisi (CHN) will look to outperform her teammate and steal the show on home soil. Zagreb Grand Prix bronze medallist Sandra JABLONSKYTE (LTU) has medalled at her last three international events and will be in contention this time around in Asia.
---
MEN
-60kg
Former world silver medallist DASHDAVAA Amartuvshin (MGL) finished a disappointing fifth at the Tashkent Grand Prix last time out and will start in Qingdao as the number one -60kg seed. Casablanca African Open silver medallist Islam YASHUEV (RUS) has had his share of IJF World Judo Tour outings this year but has not been a factor in the final block yet but that could change on Friday. HAYASHI Kohei (JPN) makes his IJF World Judo Tour senior debut having finished fifth at the Junior World Championships in 2014 and the 21-year-old will no doubt make the most of his opportunity for Japan.
-66kg
Tashkent Grand Prix bronze medallist DOVDON Altansukh (MGL) competes in China for the first time on Friday and will be the number one seed. The two-time Grand Slam bronze medallist is ranked fifth in the world and will move closer to category leader AN Baul (KOR) if he can win the Qingdao Grand Prix at his first attempt. The second Tashkent Grand Prix bronze medallist Andraz JEREB (SLO) is also present in China and will also be making his bow in the country. Zagreb Grand Prix winner JEREB has already won three Grand Prix medals this year and should be wearing his fourth on Friday evening. Tyumen Grand Slam silver medallist Anzaur ARDANOV (RUS) last graced a Grand Prix medal podium in 2014 in Jeju, South Korea, and is overdue a medal on this stage if he is to remain in the plans of Russian Team Manager Ezio GAMBA.
-73kg
Baku Grand Slam bronze medallist SAIYINJIRIGALA (CHN) knows what it takes to win a Grand Prix having topped the medal podium at the Ulaanbaatar Grand Prix last year. The ippon seoi-nage specialist is the number one seed at -73kg ahead of teammate and two-time Grand Prix bronze medallist SUN Shuai (CHN). Tashkent Grand Prix bronze medallist Uali KURZHEV (RUS) has never won a Grand Prix and has his best chance to do so in China as one of the top seeds.
-81kg
Ulaanbaatar Grand Prix winner NYAMSUREN Dagvasuren (MGL) has had the best year of his career and will be a contender in the -81kg category on Saturday. The Mongolian fighter was fifth at the invite-only World Judo Masters in May and took bronze at the Almaty Grand Prix having already won the Asian Championships in 2016. Two-time Grand Prix bronze medallist Nick DELPOPOLO (USA) will officially move up to the -81kg on category which has been a long time in the making. The double Olympian, who finished seventh at Rio 2016 in the -73kg category, will compete in Qingdao and Tokyo at -81kg and is the only American in action in China.
-90kg
Glasgow European Open winner Max STEWART (GBR) is the number one seed at an IJF World Judo Tour event for the first time in his career. The 23-year-old finished fifth at the Abu Dhabi Grand Slam but his career is moving in one direction and that is up as he has been a consistent performer for Great Britain. Ulaanbaatar Grand Prix silver medallist GANTULGA Altanbagana (MGL) is part of a 13-strong Mongolian delegation in China and could star for the hosts' neighbours.
-100kg
Abu Dhabi Grand Slam bronze medallist Philip AWITI-ALCARAZ (GBR) could become a force to be reckoned with in the -100kg category and is the highest ranked judoka in the category in Qingdao. The Enfield Judo Club product won bronze at the Budapest Grand Prix in June and should win his third IJF senior medal on Sunday. Four-time world medallist Kirill DENISOV (RUS) will fight at -100kg for the first time as the Rio 2016 Olympian considers a full-time switch from -90kg to the heavier weight category.
+100kg
Tyumen Grand Slam winner Andrey VOLKOV (RUS) took silver last time out at the Tashkent Grand Prix and will be fancied to win his third medal in a row on the IJF World Judo Tour. VOLKOV needs to win in China with London 2012 Olympic silver medallist Alexander MIKHAYLIN (RUS) coming out of retirement at the age of 37 to fight at the Tokyo Grand Slam next month. VOLKOV will have Asian youth to contend with in person in the form of former Junior World Championships winner ULZIIBAYAR Duurenbayar (MGL) and Tyumen Grand Slam silver medallist OGAWA Yusei (JPN).
---
COMPETITION PROGRAMME
Friday
12:30 Preliminaries on two mats
16:00 Opening ceremony
17:00 Final block on one mat
Women: -48kg, -52kg, -57kg
Men: -60kg, -66kg
Saturday
12:30 Preliminaries on two mats
17:00 Final block on one mat
Women: -63kg, -70kg
Men: -73kg, -81kg
Sunday
12:30 Preliminaries on two mats
17:00 Final block on one mat
Women: -78kg, +78kg
Men: -90kg, -100kg, +100kg
Location: Diamond Hall