They have to undergo massive changes, their lives turning upside down as the transition from a competitive life to a normal life becomes necessary. Their love of judo is never in question. Their next steps, though, with retirement from the World Judo Tour, are not so obvious.
For some elite judoka the innate desire to stay in touch with the highest level of sport and to contribute to the history of judo in a different way, comes to the fore. We are fortunate to have the expertise and experience of some of our greatest champions with us still, in warm-up areas, in dojos and in our sights, as they take up positions as coaches.
I asked ten short questions each of 3 household judo names, to get an insight into their thoughts, as coaches.
The Questions:
1. What is the most memorable throw you have ever seen?
2. What type of training do you most enjoy in your coaching role?
3. What is your usual breakfast on competition day?
4. Who is your favourite judoka ever?
5. Who is your favourite sportsperson outside judo?
6. Where would you still like to visit?
7. Why have you chosen to became a coach?
8. Describe your feelings as you walk into the arena with your athletes.
9. What is your happiest moment in your coaching career so far?
10. Is there an athlete you would have loved to coach?
Lucie Decosse - Olympic Champion and 3 Times World Champion - coaching the French team
1. My loss to Tanimoto (JPN) in the Beijing Olympic final. I felt it, I didn't see it, until much later. When I saw it on video with all those years behind me, with the distance, I just thought 'wow!'
2. Technical sessions - you tell athletes to do something and make repetitions and more and more they increase the level. It's amazing to see the progress in front of your eyes from the beginning to the end of a session.
3. Bread and ham, like a sandwich. Not much. I cut it into small pieces and eat slowly because in general I don't eat much in the morning, but I know my competition days are long so I must.
4. Ilias Iliadis: a good judoka! At the 2011 world championships in Paris he was due to compete in the -90kg final against Nishiyama (JPN) and he was speaking with him like a friend, so relaxed and happy and friendly. Always so cool. I was always so stressed before my fights and so his manner really struck me. On the mat he was so strong but so cool everywhere else, calm.
5. Michael Jordan - when I was young I enjoyed watching basketball. He had great style and determination. Always gave of his best in performance.
6. Lebanon. Yes, really, Lebanon. I am told by friends that it's a beautiful country. I want to see for myself what my Lebanese friends talk about. The news gives a different impression and I want to explore my opinion.
7. I want to share my passion, it's like transmission. My experience and competitive ability are something to offer younger judoka. When you are a champion, if you feel like sharing then you must. I had coaches who were champions and so I continue the cycle.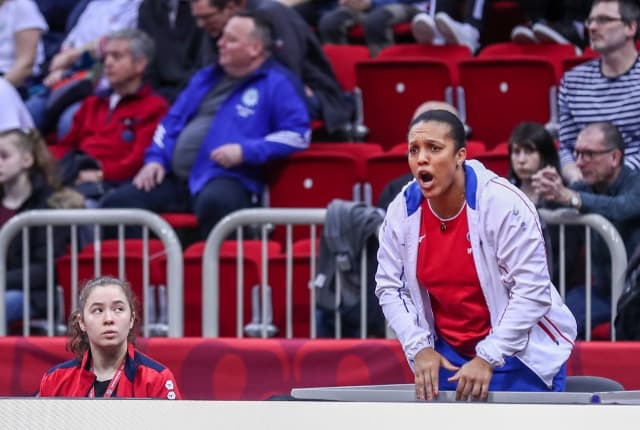 8. I'm distant from the tatami and I try to stay professional, thinking about strategy and analysing my judoka. I'm calm. If a player is going to win a worlds or Olympics with me in the future maybe I will explode but for now I control these emotions. There is much more emotion when I am in the spectator seating.
9. Working with Melanie Clement when she won bronze at the 2019 Qingdao Masters.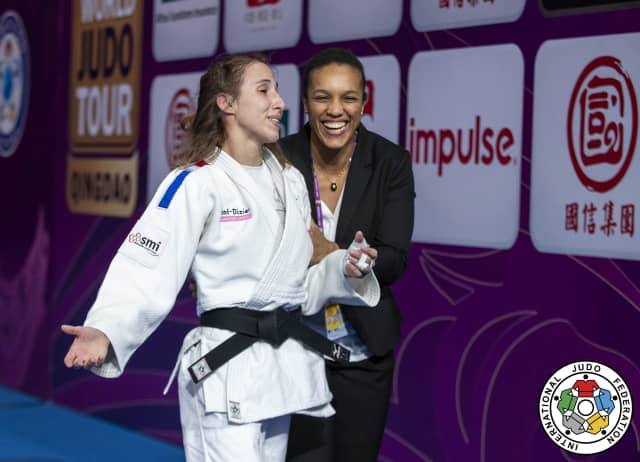 10. My friend Barbara Harel -57kg. I made my career with her and she was two times 5th at the Olympics and also 5th place at the worlds. I would love to have been able to give her some extra energy for those medal fights.
Tomoko Fukumi - world champion - coaching Uta Abe (JPN)
1. The -63kg Olympic final in Beijing: Tanimoto (JPN) v Decosse (FRA). I remember because each has real genius on the mat and the match was fought with instinct. Very special.
2. Randori: as a coach I am learning so much from randori.
3. Just coffee! It's fine. Sometimes I eat something but coffee is essential. I prefer rice and miso soup but it's hard to find when travelling abroad.
4. Lucie Decosse. I don't know if it is true but she seems to be enjoying judo and we can see this, as spectators. Despite the hardship of not winning the Olympic title in 2008, she still always seemed to enjoy the judo.
5. A Japanese speed skater called Nao Kodaira, an Olympic medalist. I like the way she thinks about sport. She has a great, positive attitude.
6. I have to say Vancouver, Canada, because my husband is from there and I have never been. I must go soon.
7. It is hard to explain in a precise way. The purpose of judo is to contribute to humanity. What I have achieved in sport can be given back and I must.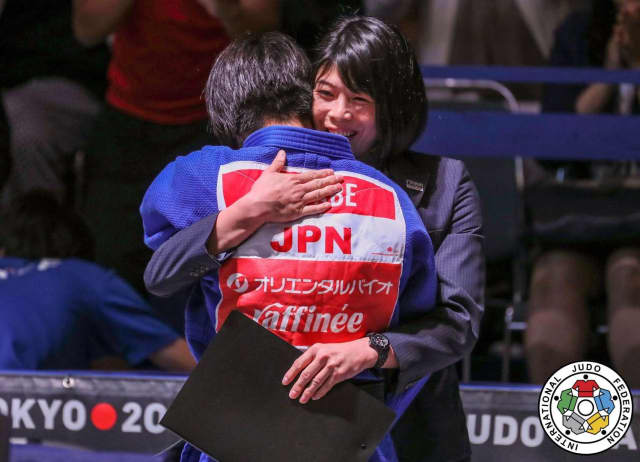 8. As we come through the tunnel I prepare for us to fight together. The athlete, their coach. We do it together, a true team.
9. Any time I can feel the athlete improve and grow, I am happy. When athletes overcome challenge and perform something that has been practised. Sometimes they lose but the detailed improvement is relevant.
10. I would like to coach myself as a younger player. I think I was difficult to coach. I would like to go back and help me; it's very interesting to think about how I maybe able to use my later experiences to help.
Ilias Iliadis - Olympic chanpion and 3 times world champion - coaching the Uzbek team
1. Roberto Meloni (ITA) in the bronze medal match at the 2007 Rio world championships. He did right ko-uchi gake and without a breath followed with left ko-soto gari. It was incredible. I love ashi-waza!
2. Everything is important, even mental training. I can't choose one because I enjoy to give everything that is needed.
3. I am too full of emotion, I can't eat breakfast, not even coffee!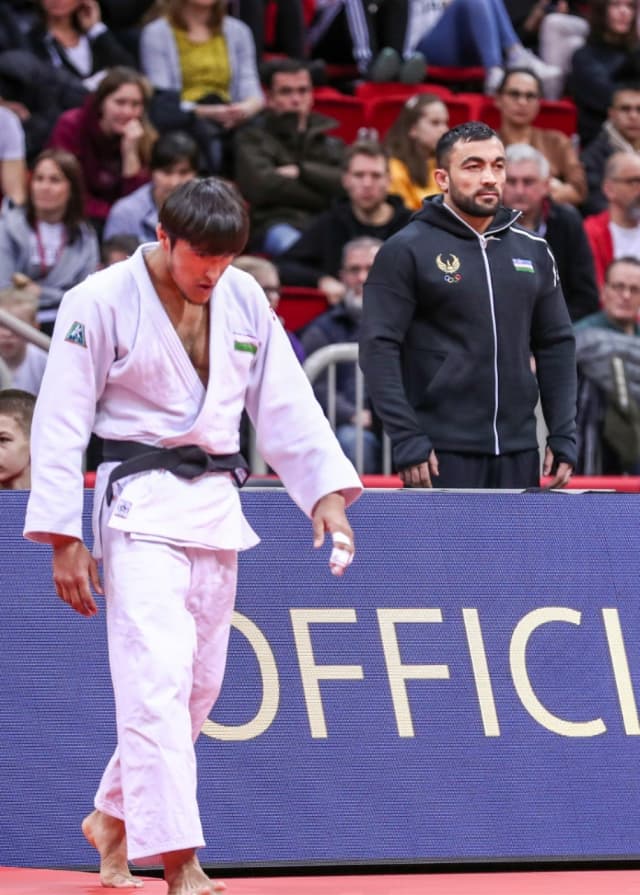 4. Tadahiro Nomura. He's a legend, really, wow! Three times Olympic champion. Also he was a good example for me. Nice judo and nice man. Good person.
5. Mohammed Ali for mentality and Michael Jordan is a real inspiration. Mike Tyson for motivation. I can't choose just one.
6. New Zealand. I want to learn about the traditions and mountains are my favourite places and in New Zealand they look so beautiful.
7. I want to stay in judo and give my experience. I like this job. Actually, it's not my job, it's my life. Judo is my best friend.
8. I'm so proud and so so nervous for them. It's almost overpowering.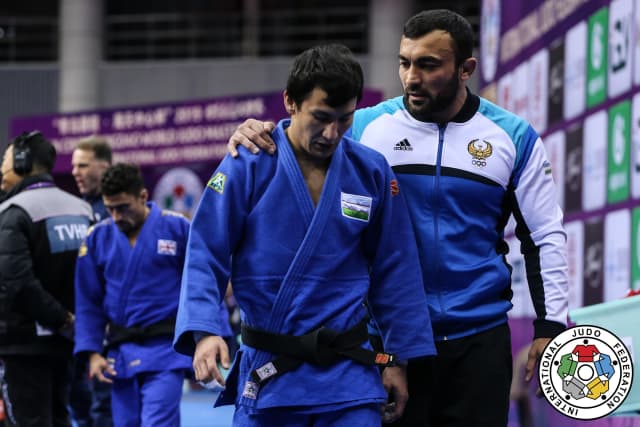 9. I am always happy simply when my athletes are feeling good, not just the athletes but the whole team: our doctors and trainers and all athletes.
10. There is no person I can name. I want to grow up with a player from the beginning and for them to become a legend, with me as their coach. I really want to experience this whole career with a young judoka.
It is a privilege to listen to each of these coaches speak about their philosophy and their lives in judo. Each has had an incredible competitive career and their genuine love for the sport and it's people is projected from them on to every judoka with whom they work.