The world liaises at the Accor Arena Bercy each and every year. Judo clubs from all over Europe, federation presidents, journalists, French TV, icons of judo's history, all plan their travel months in advance to ensure that no matter what incredible moments present themselves, they can say 'I was there.'
It begins with the draw. At 2pm on the afternoon prior to the lightweight competition a taste of what's to come goes public. Now run exclusively online, it is during the draw that we can first be teased by the line-up, the first round anomalies and the thought of which judo superstars have to earn their stripes in the early rounds. We think about what it really means to have Riner and Bilodid unseeded.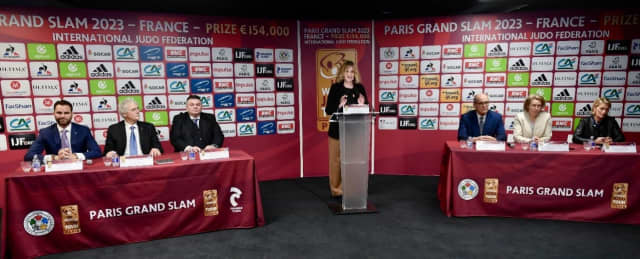 Dr Lisa Allan, IJF Events Director, opened proceedings, "Dear judo family, welcome to the draw for the Paris Grand Slam 2023" and with that the guests from the French Judo Federation were introduced: Mrs Magali Baton, French Judo Federation Vice President and General Secretary, Mrs Frederique Jossinet, French Judo Federation Vice President of High Performance and Mr Mohammed Zouarh French Judo Federation Vice President of Culture and Dans. They were joined by IJF General Secretary Mr Jean-Luc Rougé, IJF Director General Mr Vlad Marinescu and IJF Head Referee Director Mr Florin Daniel Lascau.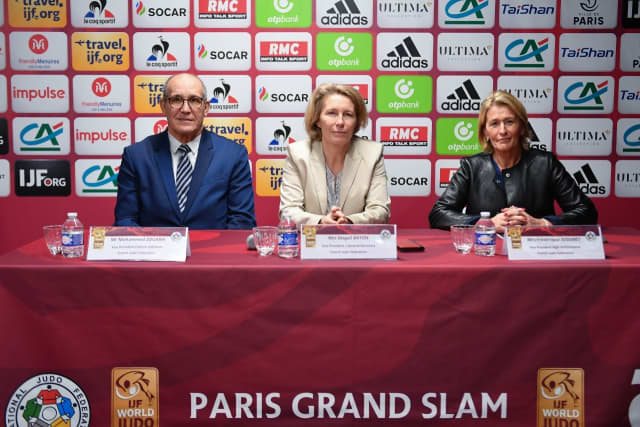 Mr Rougé, France's first ever world champion, gave the first 2023 Paris Grand Slam welcome address, "On behalf of the IJF President Mr Marius Vizer, it's a great pleasure for me to welcome all the delegations here for the Paris Grand Slam 2023. I wish a lot of success to everyone after the long period of Covid. With 82 countries present we can now say we are out of it! Good luck to those athletes and referees seeking Olympic Games qualification. A medal here is important. Our sport also looks for respect and for the spirit of judo to be on display at all times and we are sure this spirit will find you here in Paris."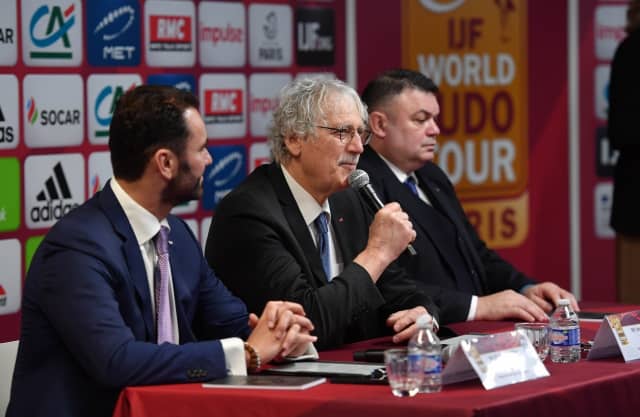 Mr Marinescu continued, "Dear colleagues, IJF staff and all our judo family, we are very excited to be in Paris at the first grand slam of the year. We started excellently in Portugal but we are now here with more than 50 years of history, 50 years of fighting for these gold medals, 50 years of this crowd of judo aficionados. Paris is always seen through the cheers and the happiness of the crowd. Be sure to follow us on all platforms and watch on live.judo.org, savouring every moment with joy."
On Behalf of the French Judo Federation, Mrs Baton responded, "Dear Vlad, Jean-Luc and all judo friends, we are delighted to welcome you to the 52nd year of the Paris Grand Slam and thank Mr Vizer for the confidence given to allow us to bring you all to our event again. This event brings us closer to the Paris Olympic Games and so for judo lovers, broadcasters, organisers, we welcome you and wish you good luck."
Dr Allan continued, "Thank you for all the organisation and collaboration. Now that we have the new IJF Sport and Organisation Rules, we ask that everyone familiarises themselves with the updates. Also, please check the sustainability guidelines for this event. Remember that your accreditation must be worn at all times and as this is a big venue we ask that you take care of your belongings.
The competition begins at 8am each day with our opening ceremony taking place at 4pm on Saturday. The break before the 5pm final block, each day, will bring an exciting animation for spectators and at 3:30pm on Sunday we will also share the winners of our IJF Annual Awards.
Please remember that the weigh-in is now before judogi and backnumber pre-control, with the official weigh-in taking place 4-4:30pm."
With the logistics and general competition information passed on, the mechanics of the draw then went ahead, with Florin Daniel Lascau directing the run of play, "For Paris the IJF Referee Commission made a selection of the best referees, to ensure fair play and consistency of quality.
Now, for the draw of this fantastic event. We have 82 countries present, registering a total of 315 men and 205 women. Let's begin."
The draw ran smoothly and quickly. Category after category threw up tantalising early matches and ideas for potential quarter-finals for later in each day. World number ones present and therefore holding pole position in their respective weights are: -60kg Yang Yung Wei (TPE), -66kg Denis Vieru (MDA), -73kg Lasha Shavdatuashvili (GEO), -81kg Tato Grigalashvili (GEO), -48kg Shirine Boukli (FRA), -63kg Lucy Renshall (GBR), -70kg Barbara Matic (CRO) and +78kg Romane Dicko (FRA).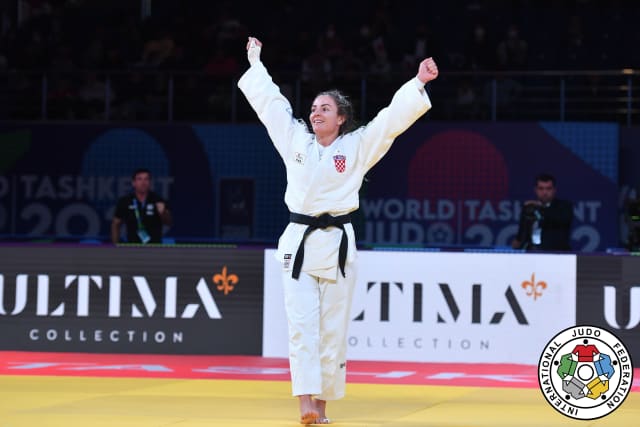 We noted a number of points from a first glance, such as Chile has a seeded judoka in Paris, with Vargas Ley as the number 5 at -48kg. This is not a usual occurrence especially at such a well attended event. At -57kg the -48kg double world champion and teenage phenom Daria Bilodid (UKR) continues building into her new category but right at the beginning of her Paris campaign she will face one of the hot favourites, Mimi Huh (KOR). One of them is going home early and neither is keen.
-63kg world bronze medallist Deketer (FRA) will have the support of the crowd but despite being on the podium in Tashkent she arrives in the Bercy without seeding and that means there's no easy day for her ahead. The Japanese also continue to pose problems for the seeded judoka, due to their lack of appearances in recent tournaments. Nabekura offers a challenge at -63kg while at +100kg 2018 world champion and 2021 Olympic silver medallist Guram Tushishvili (GEO), the number 1 seed, has to battle with Ota in his first contest. Also in that category, is Teddy Riner, ready to delight the thousands of expectant judo fans in the arena.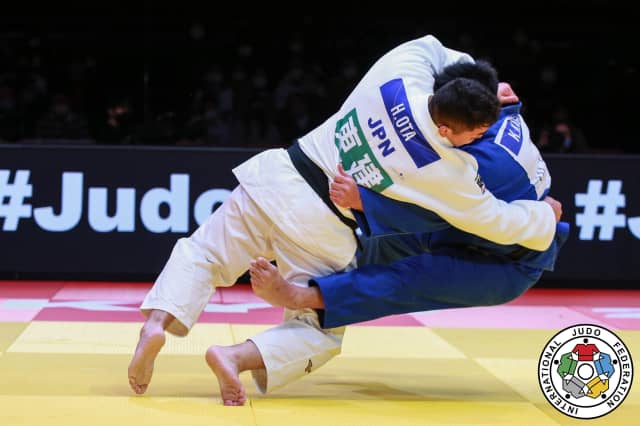 At -70kg Gahie and Pinot find themselves in the same quarter for France and are likely to meet. The only upside for them is that they can still both reach the podium. For spectators it's excitement and is bound to get loud! We notice more home crowd fun at +78kg, with the top 3 seeds all bring from the host nation.
The draw is now online, the first weigh-in is done and in just a matter of hours the Accor Arena Bercy will begin to fill. Paris is ready; are you?