Rosi Campos has been watched and admired on the world stage as both an athlete and a coach. In every role undertaken she has given her whole self to the task and shown what it really means to live a life guided by passion and loyalty.
Her final role for Brazil has been a step away from the coaching chair, leading technical aspects of the sport her her beloved team, as CBJ's Technical Co-ordinator but in Tokyo Rosi was already making the difficult decision to retire from elite sport altogether to concentrate more fully on supporting her family, specifically her mother who has been unwell for some time.
This is her official announcement of retirement, in effect from 14th December 2021. We leave you with her words.
"It all started with an innocent escape from church school classes to attend judo training at the Ren Sei Kan gym. I was 10 and really didn't like the church classes, but judo I did! That period seems like only yesterday, but today I conclude another cycle of my life.
For 37 years I was at the service of the Brazilian judo team. At the age of 15 I made my first international trip to represent our country and proudly wore the judogi with the emblem of Brazil on my chest. I was so proud then and I still am today.
I didn't imagine that at that time I was starting a relationship that would become the passion of my life. I was an athlete from 15 to 31 years old, represented our country and Clube de Regatas Flamengo at 2 Olympic Games, in Barcelona in 1992 and also Atlanta in 1996.
In 2000, my retirement as an athlete came and I was invited to join the coaching board at the Sydney Olympics. In 2001 I took over the under 18 team. In 2002 I moved to the under 21 team. In 2005 I began one of the most challenging phases of my life, being the coach of the senior women's team.
Migrating from athlete to coaching staff, was a path of tension and of many trials. Without the collectivity and support of some people, family, club, CBJ, it would not have been possible to remain in place."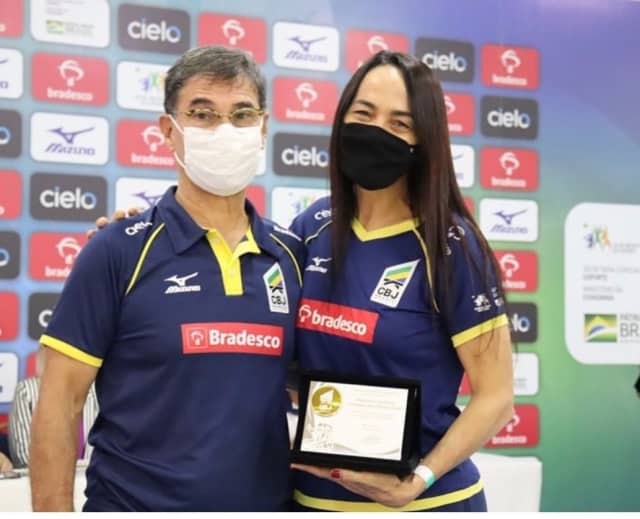 "The challenge was not just for working within an emerging female judo, but also for being a woman myself, a woman in a sport which took a long time to recognise the professional potential of women, accepting and her skills in the definitive conquest of space and respect, with autonomy of independent actions.
The path was not easy. Resistance to having a woman at the head of the national team came from several sides: coaches, athletes, officials. As no-one gets anywhere alone, we fought together for this space: me, Ney Wilson and Roberto Perilier. Along the way the results showed that the choices were right. We conquered the Americas and then the world.
Having public recognition and honour in receiving the Brasil Olímpico Award for best individual sports coach in 2011 crowned a job that was really just beginning. At that time, some goals were achieved: 7 medals at the Pan American Games in Rio (Dani Polzin, Erika Miranda, Dani Zangrando, Danielli Yuri, Mayra Aguiar, Edinanci Silva, Priscila Marquês, working with our physio, Roberta Mattar), our Olympic dream being realised through beautiful Ketelyn Quadros and her medal in Beijing in 2008 and the door to the worlds opened in 2010, with the first world conquest of Mayra Aguiar and Suelen Altheman."
"After so many unprecedented achievements came the Olympic gold from Sarah Menezes in London in 2012, the world gold from Rafaela in 2013 and many other Olympic and world medals, alongside others that came very close, like my Portelinha! (Maria Portela)."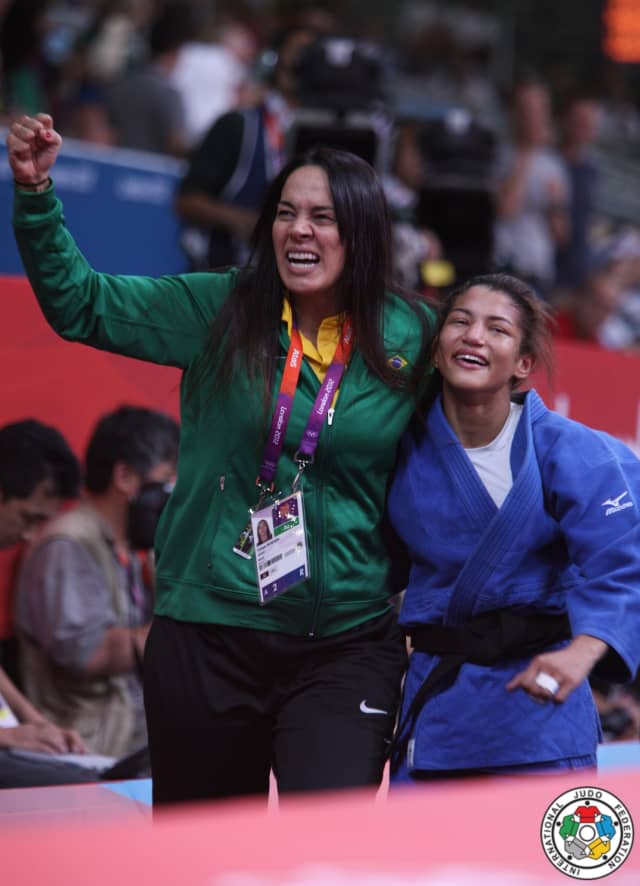 In 2013 I won my personal gold medal, as I decided to become a mother and I was blessed with the Gemini, Ana Clara and Matheus. Being a mother in the middle of an Olympic cycle was part of one of the main achievements, where we proved, in practice, that women have all the necessary credentials to occupy these positions. Now, all the women who are arriving and will arrive will already have the certainty that it is possible to be a mother and be successful as a coach.
The closure of this stage of my life has already been thought out, together with the people who have always supported me and today I am at peace for having done what I would have liked to do. Every step I have overcome, every path taken in my career is part of the history of women's judo. Watching the transition of this management team into the experienced people they are, capable of continuing everything we've built, makes me even more certain that I would do it all over again.
I am proud to be one of the most highly graded women in the country, holding the grade of 7th dan and also that I have played such an active part in winning so many world and Olympic medals.
The cycles start and end and in this cycle I helped to write the history of women's judo with honesty, loyalty and determination. I made it my life purpose. I accepted criticism, all of it answered with work.
I already miss them, that is the joy and the athletes and the team and above all, the feeling of accomplishment.
I want to thank everyone who gave me the opportunities I have benefitted so much from. Without the athletes the goals would not have been achieved. My parents Dona Delza and Mr. Campos gave me the opportunity to practise what I liked. To my husband Edmundo I offer gratitude for accepting the challenge of being a father and mother in my countless absences and to my family as a whole, to professor Betão, who guided me throughout all these years at our Flamengo club, from my arrival at 15 until my transition to being a trainer in 2001, I am so appreciative of all.
Life is unpredictable. We plan the future, but the result we never foresee. I leave happy with the fulfilled duty of having progressed the cause of women's judo.
Brazilian female judo will now continue to be very well represented.
I wish success to my friend Andrea Berti, who pioneered and paved this road with me and to our remarkable little Sarah Menezes as she takes over as the women's coach. We started our walk together when she was just 15 years old. It's all about love, surrender and purpose!"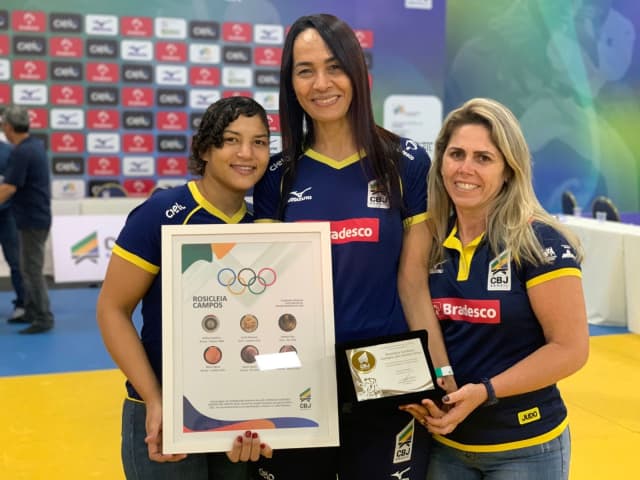 "So come on, let's go, women! Vamos que vamosssss!"
In Rosi's customary style we see an emotional departure from the public eye and from her official roles but what she says about the pioneering path she walked is all true and her contribution is simply mammoth. She gave the judo community permission to really feel their sport and to celebrate and commiserate with equal presence. She will be missed, of course, but most of all she will be remembered and learned from.
Thank you Rosi, obrigada.