The latest chapter in one of judo's greatest rivalries was written at the International Blind Sports Federation Judo Grand Prix in Warwick, Great Britain, on Sunday 20th June.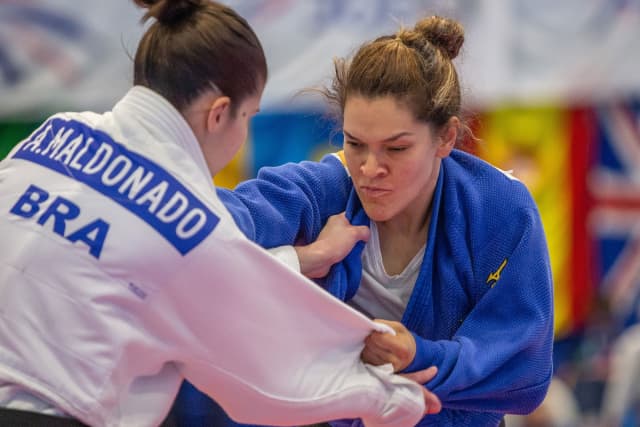 Paralympic champion Lenia Ruvalcaba of Mexico and Brazilian world title holder Alana Maldonado faced off once again in the women's -70kg final, to give fans a taste of the action to come at the Tokyo 2020 Paralympics.
Maldonado had the advantage, coming in to the bout fresher. Ruvalcaba had endured a gruelling 3 minutes of golden score in the semi-final against Vasila Aliboeva, which only ended when the Uzbek was taken injured.
Both Ruvalcaba and Maldonado had their chances in normal time in the final but neither could land a score. As the clock ticked into golden score, it was the Brazilian with more energy but unfortunately for Maldonado, Ruvalcaba managed to dig deep and grab the deciding point.
The win clearly meant a huge amount to the Mexican after missing out on the podium at the Baku Grand Prix last month. Ruvalcaba celebrated in tears in the arms of her coach.
Georgia's 2021 debutant Ina Kaldani grabbed her second consecutive Grand Prix medal of the year with bronze. Aliboeva recovered enough from her earlier injury to round off the medallists.
Italy's world bronze medallist Carolina Costa forced Brazil's Meg Emmerich into a mistake in the women's over 70kg category. After Costa registered a score, a few moments later Emmerich tried to turn-in but lost her footing and landed on her back. Costa took the opportunity to make sure of the ippon, with just eight seconds left on the clock. Brazil's Rebeca Silva and Ukraine's Anastasiia Harynk took bronze.
Ukraine's world silver medallist Iryna Husieva executed a huge ippon to claim gold in the women's -63kg category against Nafisa Sheripboeva (UZB).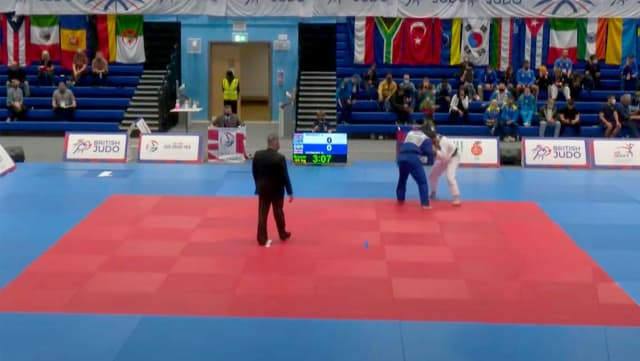 Relative newcomer Liana Mutia showed once again why she could challenge for the podium in Tokyo, winning her first Grand Prix bronze. That followed on from her fifth place finish in Baku and her Pan-American title at her continental debut, in 2020. In Warwick Mutia faced Sweden's European medallist Nicolina Pernheim, beating her by ippon. Spain's Marta Arce Payno completed the podium.
Once the men's categories were underway France's Helios Latchoumanaya enjoyed a great day on the mat in the men's -90kg, showing great form with just over two months until the Paralympics. He overcame Kazakhstan's Zhanbota Amanzhol, himself buoyant having beaten Ukraine's world champion Oleksandr Nazarenko earlier in the competition.
Nazarenko did however finish the day with a bronze, beating Uzbekistan's Shukhrat Boboev.
There was an all-British face off between Cameron Bradley and Elliot Stewart for bronze. A tough fight ended with world bronze medallist Stewart taking the podium spot and the pair sharing a hug and a smile.
Georgia's Revaz Chikoidze forced Cuba's Rio 2016 bronze medallist Yordani Fernandez Sastre to tap out in the final of the men's over 100kg. Having lost out to Fernandez Sastre in the semi-final, South Korea's Gwang Geun Choi, the Paralympic champion at -100kg, secured bronze. Brazil's Wilians Araujo ground out a win against Jack Hodgson to take the other podium spot.
Azerbaijan's Kanan Abdullakhanli overcame Uzbekistan's Sulaymon Alaev for gold in the men's -100kg category.
Great Britain's world bronze medallist Chris Skelley came back from disappointment earlier in the day to claim bronze with an impressive throw against Alaev's teammate Sharif Khalilov. Germany's Oliver Upmann secured the other bronze.
South Korean world champion Jung Ming Lee did not get to face Paralympic title holder Eduardo Avila Sanchez in the final of the men's -81kg division. Lee took the gold by default after Avila Sanchez withdrew due to injury. The situation was the same in one of the bronze medal matches as Great Britain's Daniel Powell was also injured, handing Kazakhstan's Galymzhan Smagululy the win. Ukraine's Dmytro Solovey did however get to fight Cuba's Gerardo Rodriguez Reyes for the other bronze, winning by ippon.
The 2021 IBSA Judo Grand Prix in Warwick ran from 19th to 20th June. It was the last chance for judoka to grab world ranking points to qualify for the Tokyo 2020 Paralympics.