Nothing is easy in this time of global pandemic. The economy is slowing down and the world of sport has been seriously affected. It is perhaps even more marked in countries like Rwanda, where judo was in full development mode before the health crisis put an end to the momentum. Like other sports, judo has therefore stopped functioning since last year, but Covid didn't take into account the obstinance of Christian Bishyika, the young and dynamic president of the Rwandan Judo Federation. He explained to us that despite the restrictions in place, the activity of his federation has continued to flourish.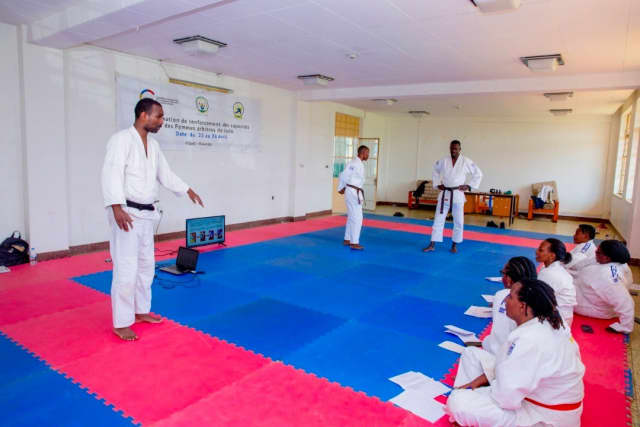 "We look forward to the resumption of judo. Like many sporting activities in Rwanda, we are not yet allowed to practise and it is important for us to respect government protocol. Top athletes can train in bubbles, but we do not yet have a sufficiently strong national team for that. Despite everything, I have two athletes who will participate in the African Championships soon and we were able to organise something for them. They now live with their coach and can train on the tatami that we were able to install at his location. We have to be innovative, but it works. Since most activities are organised in schools, the rest of the judoka have to wait patiently until we can resume."
Despite the limitations imposed by the pandemic, Christian remains motivated and optimistic, "I teach in a school. Students and teachers are tested regularly and we will start judo again as soon as possible. We are taking this opportunity to prepare, with the resumption of judo on one hand and the judo development plan in Rwanda on the other. I have a very good team around me, including only the most motivated, passionate and competent people. It is not easy to build a team and for years I have been working hard on it, but now I feel that we are getting there. This has allowed us to organise an important and very interesting training camp, which fits perfectly into our development plan and is a tangible sign of progress and success."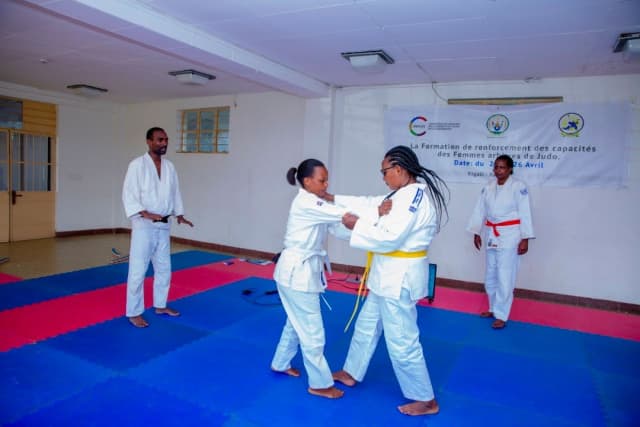 The camp was held at the Peace Stadium from 22nd - 26th April 2021 and during those few days five female judo players participated in a training course organised in collaboration with the Rwanda Judo  Federation, the Ministry of Sports and the French-speaking Association 'CONFEJES,' to increase their knowledge of the sport.
The course was delivered by two experts, Vianney who is a black belt judoka from Burundi, now a refugee in Rwanda living in the Mahama refugee camp and Alain Rugambwa, General Secretary of the Rwanda Judo Federation. Mr Rugambwa spoke with energy and excitement, "The idea of this camp was to support women, to help them to have access to sport and particularly to judo. This is something we really want to develop in the years to come and we are putting a lot of effort in to achieving that goal. The main issue we had was that most of the women who practise judo are young schoolgirls, so we searched around us, for those who would be eager to join our judo family. We found five women, Clarisse, Eline, Elysée Fabrice, Françoise and Gemma, who had done taekwondo, but who were motivated to know more about judo and they really loved it."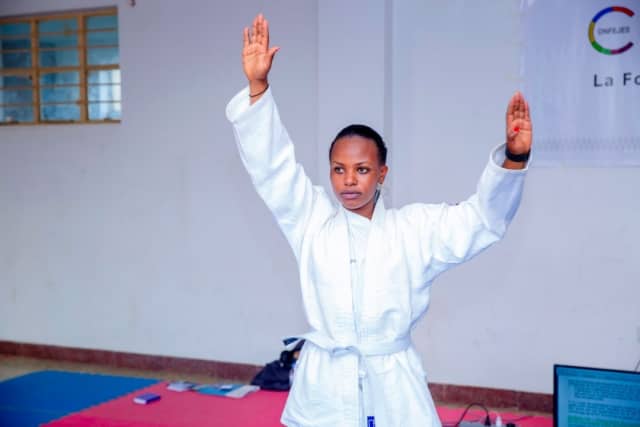 The training camp was divided into practical sessions that were allowed with a restricted number of participants, with special permissions and then included online conferences with additional experts. "Our ultimate idea is that in the future we will have women being technical officials, referees and leaders of our sport in the country."
During the official opening of the camp, Habyarimana Florent, representing the Ministry of Sports, told the participants that they are capable and should make good use of the knowledge they will gain from their peers, "Women here are capable. It has been seen in other areas in the country and in sports it is what is needed and it will be achieved. This is a training course to help you so that you too can help others. We want judo to grow, to have more women, and for our team to be balanced in terms of gender, women being equal to men."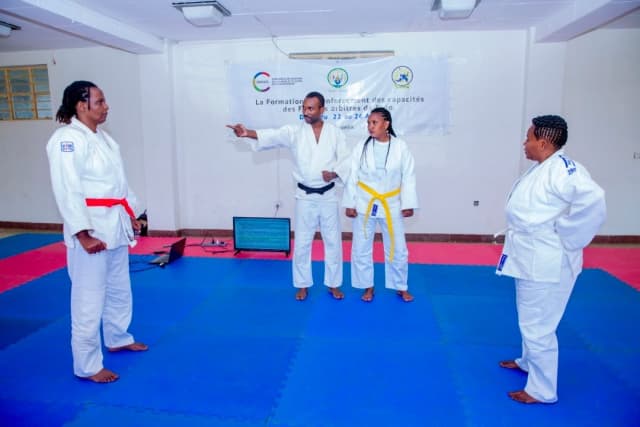 "As we couldn't ask international experts to come to Rwanda, because of the health crisis, we asked our local experts to continue with teaching the course. One of them is a level 1 IJF Academy graduate," explained Christian Bishyika, who was himself also supported by the IJF to follow the IJF Academy management course. "We showed them the basic principles of judo. We talked about the history of the sport and we watched videos so they can become familiar with the rules. It's a first but important step and I'm confident that it's only the beginning."
The fact is that judo is still a very young sport in Rwanda. After the genocide that devastated the country in 1994, judo totally disappeared from the landscape, but following the development of judo in neighboring Burundi and with the support of the Burundian Judo Federation, Christian, who was himself a taekwondo player, fell in love with judo and relaunched the activity in Rwanda. "Today we only have two tatami in the country. It's difficult to develop many clubs, so we decided to focus on the school system, where the children are, of course, numerous. One of the shools we are working with was able to bring a few girls to help our trainees. This was very much appreciated.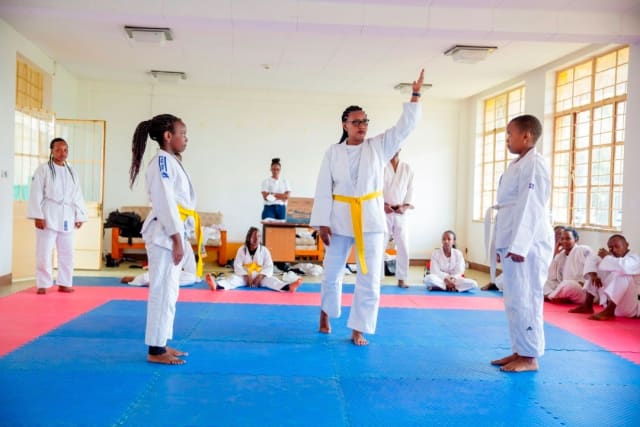 Clarisse, one of the participants, said that it was good to discover more about judo and that it can help them defend themselves, "It can be a self-defence tool when necessary, but what I want to say is that as a woman I have the right to practise it. Judo teaches us to be polite and to know how to use our energy properly. It has nothing to do with losing our culture."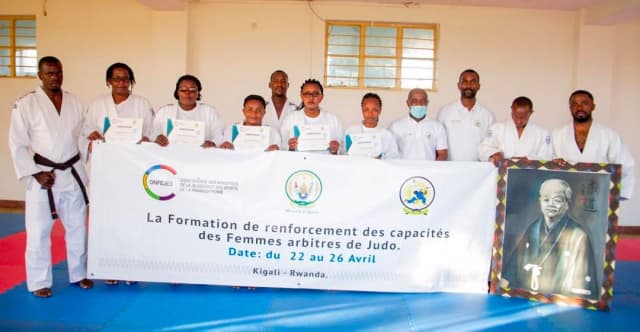 How pleasant it is to note that despite the difficulties, which can be numerous, the hope for better days is always present! Christian and these five pioneering women proved, for a few days, that anything is possible. We wish them luck. They are only at the very beginning of their judoka life. They still have so much to discover, but what is certain is that now they are an integral part of the great judo family. 
Welcome!