The Basques say that they are born where they want. They do the same thing with food. Sugoi Uriarte is waiting for us in a restaurant. We arrived dreaming of paella but Sugoi asks for fideguá. Spain is different and it is still raining buckets.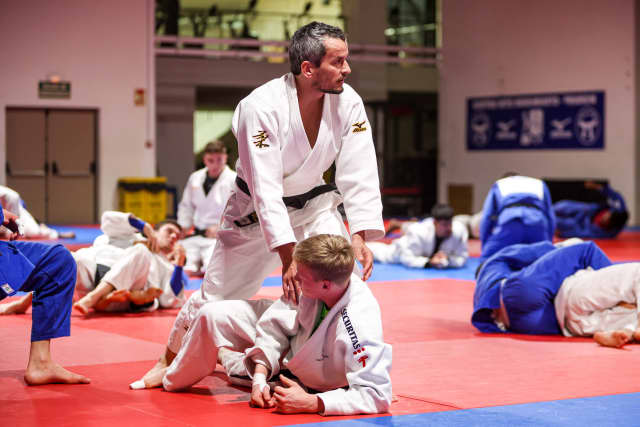 Sugoi has been living in Valencia for more than twenty years. He could be a spy, a confessor to the queen or a bookworm because he is discreet and thorough, a man with numerous profiles who has put his interest and dedication at the service of judo. To talk to him you have to be prepared with a new notebook and two pens, in case the first one fails. Sugoi has a calm demeanor, does not raise his voice and measures his interlocutor before speaking, like a boa studying its future prey. When he opens his mouth, the really interesting stuff begins. 
The story of Sugoi, the one that has brought us here, is that of the high-performance centre in Valencia, a place that would not exist without Salvador Gómez. Judoka, sensei and economist, Salvador is one of those who thinks and does. He is also Sugoi's father-in-law. Laura completes the triumvirate: daughter, wife, mother and judoka. Valencia is like a branch of the United Nations, "forty-three countries from five continents since March," says Salvador. "We have expanded the centre, built a new gym and we are going to enlarge the residence for the athletes." It is a Kodokan made in Spain, with beach and sun, except today. 
Almost all the judoka go here looking for something different, something complementary, a new routine, different faces. The centre enjoys such a good reputation that it sometimes suffers from overbooking. Three weeks ago Amandine Buchard, Odette Giuffrida, Fabienne Kocher, Larissa Pimenta and Ana Pérez trained together; a little more and they could organise a grand slam!
Sugoi is called Judopedia because he has a photographic memory. "I remember all the fights, all the details and I know all the opponents, the strengths and the weaknesses. It happened to me when I competed too." 
Sugoi was world runner-up, European champion and retired in 2016. Overnight he went from the mat to the coach's chair. "My method is designed like a special forces operation. I try to bring together people of the same weight and the best comes from there. Then I develop the strategy before each fight. You have to respect the plan, but I like that there is a touch of freedom. Everyone loses and it is in defeat that I value the good competitor. I see how it affects everyone." 
Sugoi is the bad cop and Laura is the good cop. "Not always," points out Julia Figueroa, "sometimes they switch roles." Everything seems well oiled, everything responds to a choreography in which everyone understands what to do and their place. "I treat everyone equally," explains Sugoi. "I reward the work, not the result. I support the one who tries the hardest. Here the flags do not matter and the status is the same for everyone." 
Sugoi and Laura propose a lot of combat, high intensity randori. In that sense they are the same as Quino Ruiz and repeat the same phrase as the man from Brunete: "You have to train as if it were a competition." 
The difference between Quino and Sugoi is that the Basque is not a friend of his students. "I am more distant, I consider that it is essential to maintain a certain distance. Laura is more affectionate, I am colder. That's why the sports psychologist tells me off." 
For Laura, "Sugoi is more methodical and I am more creative, closer to the needs of athletes. He doesn't go out of his way and I go off on tangents." 
In the end, what matters is learning and leading your team to victory. They are complementary, like hot and cold water in the shower; it is about dosing. 
"On a technical level, our students are very good at ne-waza and kumi-kata," emphasises Sugoi. Each one has a style, which is normal. We promote that and make them work on new things." Sugoi is not one to theorise and doesn't get his hands dirty. First he explains what he wants to do and then he demonstrates it. Today he hits the ground, a lot of ne-waza and Sugoi goes from pair to pair to teach a specific technique. He repeats it every time and as many times as it takes for his students to execute it perfectly. Laura observes and applies her advice, her own therapy. 
Valencia has grown a lot in a very short time. As it has a good financing plan and aid from the regional government and a large chain of hypermarkets, it has had time and resources to become professional. Today Valencia means excellence and there is a rotation of foreigners throughout the year. 
Daria Bilodid is part of those who are present. "I like how they work here and I love the city and Spanish food," confesses the double world champion, even if it is still raining. 
We wonder about the exchange of information, that is, about the fact that those who come from abroad learn the techniques that the Spanish will use against them in tournaments. For Laura, "It is an acceptable risk because the fear of showing your cards is less than what is learned from others." 
At the moment Sugoi follows his plan to the letter. "This year we want to do the best we can, but without added pressure. It is a transitory stage that will take us towards the goal of the Olympic Games in Paris." That is in terms of sporting goals. 
However, there are two separate streams, in which Sugoi, Salvador and Laura also work. One, obviously, is to take care of the quarry, feed the professionals with fresh blood, cadets and juniors with a lot of potential. The second is something else and explains who Sugoi really is. He has higher studies in electronic thermal engineering and higher engineering in industrial organisation. He is a computer with hair and judogi and has just presented a European project in a dual career. It is a detailed report on the life of a high-level athlete combined with studies and life after retirement. A judoka, however good he or she may be, earns much less money than any footballer or tennis player, to give two examples. Judoka have to think about themselves afterwards. Most of them study between two training sessions; it is a very demanding life. Sugoi has thought about all this and has shaped it with reflections and ideas. 
This is Valencia, a Silicon Valley in miniature, a bet on the future that is already getting results. Money, as Salvador says "is an indispensable resource that allows development, but you must have a clear idea of what you want. We do not aspire to just make money, but to provide the necessary tools to succeed as athletes and as people when the competition is over." 
Valencia is the promise of a better and safer future, a refuge for all judo lovers, a source of inspiration and tons of passion. In Valencia Laura and Sugoi are the armed embrace of a philosophy that makes no distinctions, the dream of any lover of independence, because behind this lies freedom. Salvador is, as he himself says, "the Chinese vase that no-one wants to break." 
Understanding Valencia is understanding that there are always solutions on and off the tatami, that nothing is lost and that everyone is entitled to a piece of glory and material and spiritual well-being. In exchange, they offer work, sacrifice and support, they don't look at passports and they speak the same language, that of the wisdom that comes from the sweat of collective effort and the enthusiasm of being together and doing the same thing, each in their own way. Spain is different and if we put Brunete and Valencia in a cocktail shaker and shake, a delicious cocktail comes out, with multiple flavours and there is no hangover. 
We're leaving, does anyone have an umbrella? Of course not, Spain is different.