We love our champions and we love following them in their quest for medals and performance. Among them, Teddy Riner, ten times world champion and double Olympic champion, is undoubtedly one of the most followed judoka on the planet, if not, the most followed.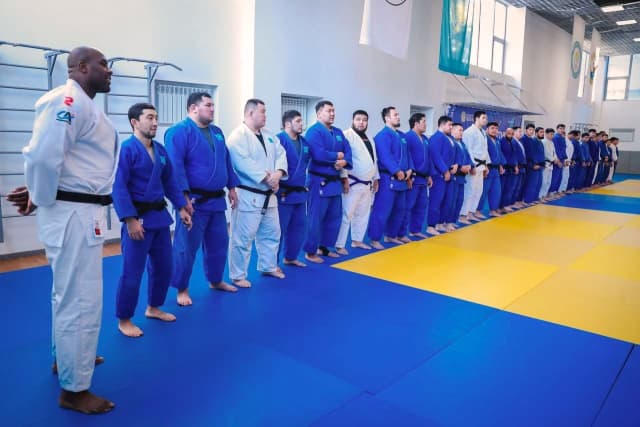 Since his bronze medal in Tokyo in 2021, Teddy has put on his judogi for a new challenge, that of winning his third Olympic title, at the Paris 2024 Games. This challenge is perhaps the most complicated for the French champion and it requires him to be fully committed. It is now or never.
In July 2022, a very positive first step was taken with a clear and precise victory at Grand Slam Hungary. Unfortunately, in the aftermath, Teddy was struck by injuries that kept him away from the tatami for several months; such is the life of top athletes. All of this is now a thing of the past, since the great Teddy is currently in Kazakhstan for a training camp which promises to see him on the international circuit again soon.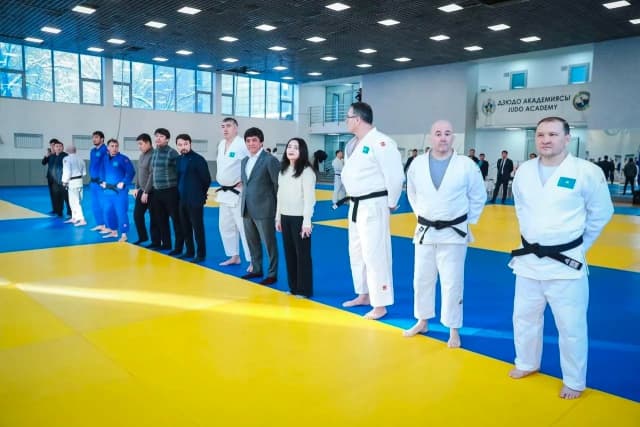 The information reached us through a press release from the French embassy in Kazakhstan. When your name is Teddy Riner, you don't go unnoticed, to say the least, but behind this information, altogether banal, that of an athlete who travels to meet different partners and refine his preparation, it is interesting to see that the Frenchman, despite his unequalled record, does not hesitate to discover new territories and new styles of judo. This is perhaps the secret, his secret to success. It is obviously too early to tell. Only the future will tell us more.
If Teddy Riner is in Kazakshtan, he owes it to the invitation he received from their national judo federation. Present in Almaty from 10th to 19th January, he will train with the Kazakh Olympic team. The objective is clear: to prepare for the Paris Grand Slam and line up in front of his Parisian public. For local athletes, the opportunity is great, to be able to meet the champion and above all to be able to compete with him and to learn more about his incredible record.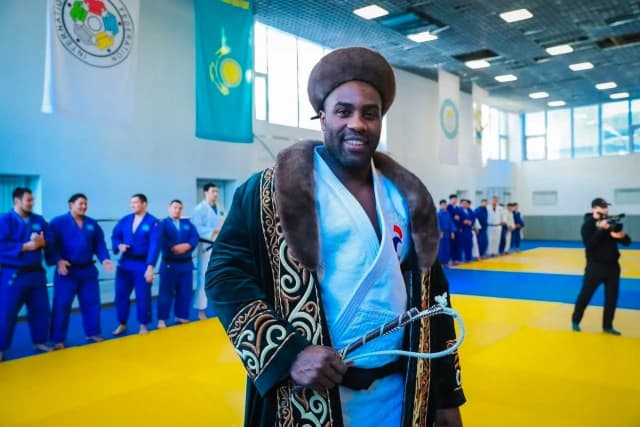 It should be noted that the presence of Riner in the Central Asian country is not insignificant. The French embassy also underlines this, "France and Kazakhstan co-operate closely in the field of martial arts. Since 2017, Frenchman Tareq Abdesselem has been training the Kazakh karate team, which facilitated their sportsmen winning two bronze medals (Darkhan Asadilov and Sofya Berultseva) at the 2020 Tokyo Olympics. Since last year, the Frenchman Stéphane Traineau, former director of the French judo teams, world champion and Olympic medallist himself, trains the Kazakh national judo team to prepare for the next Olympic Games, which will take place in Paris from 26th July to 11th August 2024.
There is no doubt that this camp will be a great experience both for Teddy, whose hunger for victories does not seem to be diminishing, and for the Kazakh judoka. Judo is also about exchange, mutual aid and mutual prosperity. Now we look forward to seeing Teddy and his Kazakh friends again on the World Judo Tour.