We can see that in many countries around the world there is a gradual climb towards a more recognisable normal. We can see gyms accepting their members back and dojos beginning to hold their old classes again, albeit with temperature checks, sanitising rituals and less contact than any judoka would like. Progress is progress though and it feeds our hope; it's a powerful chain of emotions.
Local clubs and national training centres, beginners and elite, all judoka are eager to get back on their tatami and as it begins to happen we see cautious but happy posts on social media. Masks feature heavily, almost as visible as the judogi themselves, but we'll take it if it means we can thaw from the big freeze. We've paused for months and can now accept that hitting the 'fast forward' button isn't possible, but the slow motion re-introduction to our form of grappling is joyous, in any case.
The IJF is playing it's part in the safe return to competitive sport and has announced the first World Judo Tour events, post-lockdown, with 2 Grand Slams before the end of the year.
Athletes from the World Judo Tour have taken a little time out to answer some questions about their recent experiences. They're all training and they're all eager to compete. They miss us as much as we miss them! With 22 Olympic, world or continental medals between them Natalie Powell (GBR), Anamari Velenšek (SLO), Mihael Zgank (TUR), Nick Delpopolo (USA) and Ashley McKenzie (GBR) offer an insight into this unique period, from their positions among the elite of world judo.
What has gone back to normal for you recently?
Mihael - "I recently traveled back to Turkey and joined my team at a training camp. It felt amazing to be back working towards my main goal."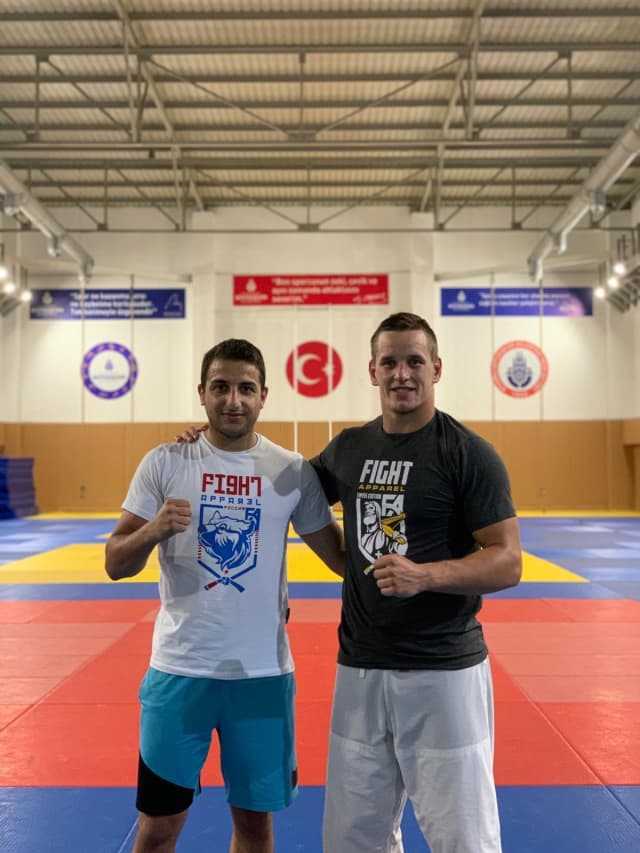 Anamari - "For me, back to normal meant being able to get back to training. I was really happy about it because I missed my friends from our club. I missed the training, but even more so the people"
Natalie - "Having been in the Netherlands for the last 2 months I've been able to do randori again, get back in a proper gym, go out for food and see my friends. I've loved it! I've been able to really appreciate things I took for granted before lockdown."
Nick - "A little over a month ago my club resumed training full-time but with face masks on and strict sanitising, plus social distancing for those not on the mats. It felt so great to be surrounded by everyone again. The camaraderie is so strong and everyone is in good spirits."
Ashley - "We are now able to train on the mats again, but with some social distancing protocols in place. I've missed randori a lot and am looking forward to being able to train in that way again soon."
What is still missing from your day to day life? Is it important or have you learned to continue without needing it anymore?
Mihael - "I think I can say that we are all missing competitions, international training camps and traveling, but for now it's good to focus a bit on our own countries and spending time with our families. So currently, it's all good, but in the next few weeks we are hoping to step on the tatami again."
Anamari - "I miss normal hanging out with friends. Now everywhere you go you have to have a mask, avoid unknown people and if you just sneeze everybody looks at you angrily and they move even further away. I guess this is the new normal."
Natalie - "I think competitions! I love the buzz of competition day and the opportunity to test everything I've been working on. I definitely don't want to continue without the hope of that coming back, but I have also really enjoyed training without the extra pressures that competitions and qualifying bring."
Nick - "Last year I started the first 'Judo After School Enrichment' programme in Texas, with my girlfriend, Carrie. We pick up the children directly from their schools and bring them to the dojo, where we do homework, have a snack and do 90 minutes of judo a day. Unfortunately the virus forced the schools to close and thus our programme with it. It was really hard to go from a quickly expanding programme to nothing, but we are working towards being able to resume in January and we have kept in close contact with all of our students."
Ashley - "I've really missed my little girl. She lives in France with her mum. I didn't see her for over 4 months but managed to visit recently when some of the travel restrictions in France were relaxed. I took her to EuroDisney and had the best day. Day-to-day I have missed eating at my favourite Caribbean restaurants and going for a Nando's after training.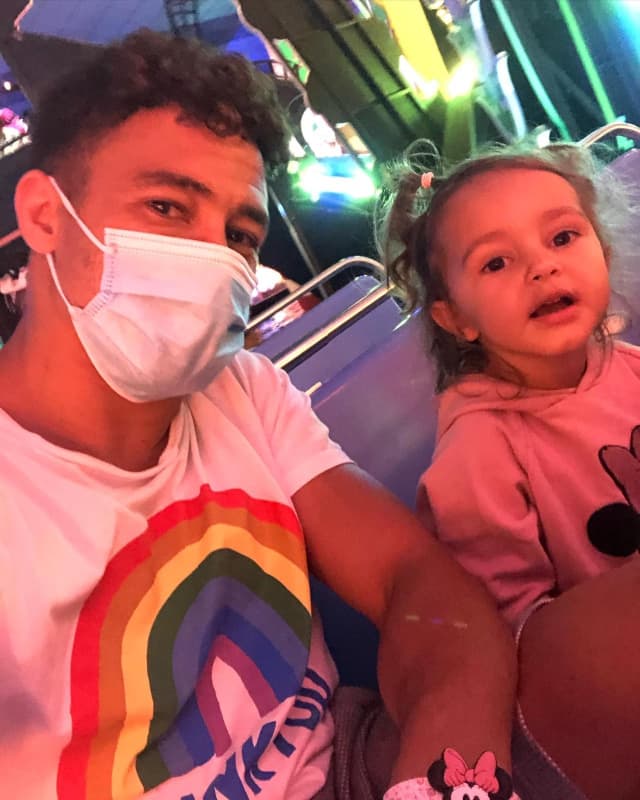 What would you still like to change in order for you to feel settled in training and in life?
Mihael - "Just to try and release the restrictions for athletes a bit, under safe conditions of course."
Anamari - "Id like to see a greater change in people's mindsets. I understand that this new situation is difficult, but some people really go overboard with their behavior. We should all stick to the rules and keep each other safe, but we also have to be happy and continue trying to live a normal life, with positive human contact."
Natalie - "I would love to see an effective vaccine developed for Covid-19, so life can continue with less restrictions again, for everyone."
Nick - "I'd love to see a vaccine widely available as it would put my mind at rest. My parents are in their 70's and 80's and have been in strict quarantine at their home in New Jersey. I have not been able to see them in person since March."
Ashley - "I want so much to be back to normal. I miss the camps, trying techniques on high level athletes from all over the world, travelling and having fun with my team-mates. As far as judo is concerned, I think I miss the camps the most."
Whom have you been inspired by during the world's lockdown and also now as we begin to get back to normal?
Mihael - "I am inspired by all the athletes who stayed strong and still managed to work from home in these difficult times."
Anamari - "To be honest, I've pushed and inspired myself. When all this started I thought I might go crazy, just stuck in my apartment. Here in Slovenia we had some time with not being allowed to go to other cities. Both of my parents live in other cities so I couldn't visit them. Also a lot of my friends do, but I overcame all that, including not going to my club and now I think that things could have been worse than they were. I'm healthy!"
Natalie - "I've actually really enjoyed watching other judokas' training videos on Instagram. Some of the Israeli team have been posting some great material on strength through movement in all kinds of positions, which has really inspired me."
Nick - "I love the way the judo world has come together. I did dozens of Zoom instructionals for different judo clubs all over the world. During our Pan Am Zoom session we had several hundred children participating. It really motivated me to see a lot of the top judo stars doing the same thing. We found a way to connect and engage with the judo community while showing the world it was possible to stay at home and stay safe, but still be healthy."
Ashley - "I've definitely been inspired by my judo coach and my strength and conditioning coach. They're on my case every day and keeping everything moving. They've really helped to keep me going, keeping me on track."
Have you eaten out in a restaurant yet? Where did you go and what did you eat?
Mihael - "I ate in one of my favorite restaurants in one of my favorite cities in Slovenia, Piran. I ordered fresh octopus with some local specialties."
Anamari - "Yes I did. I ate grilled sea fish and potatoes. It was simple but perfect!"
Natalie Powell - "Yes, numerous times, although not in the UK yet. The Dutch have some great restaurants; Miyagi & Jones and Picasso were two of my favourites. One serves street food style tapas and one is Japanese."
Nick - "The first place I went to is called Boomerjacks, close to my house. We wore masks inside the restauarant until our food came and again after we were finished eating. I ordered the French Dip Au Jus, a steak sandwich with incredible dipping sauce and it was amazing!"
Ashley - "Not a restaurant, but I've been for takeaway many times, from DJ's Caribbean takeaway in London. I've been going there for years and as soon as they opened I was in there for curry goat and rice and peas."
There was just one last question: with the IJF press release today about the re-start of the World Judo Tour, can you say something about what it means to you or how your schedule might change?
Mihael - "I was so happy when I heard the news that we will finally be able to return to competitions. Obviously our main aim is the Olympic Games, so the schedule won't change a lot, but short term goals are just as important, to push us a bit harder. It will be a good test and an indicator of how our preparation has been in this crazy year."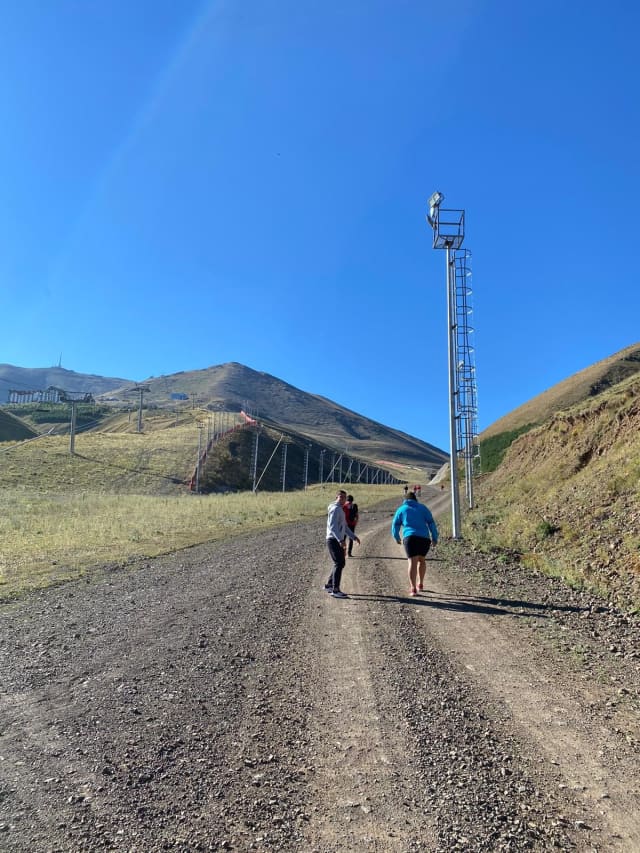 Anamari - "It's an important step in the preparations for Tokyo, having had so long without competitions. I don't think my schedule will change a lot because we were already slowly preparing for competitions to start."
Natalie - "I have to wait to see what the federation says about their approach going forward, but I hope they can give me the green light, if it's safe to do so. I'm super excited to get back to competing again! I've had a great 6 months of training and I'm ready to go."
Nick - "I'm excited about the IJF World Tour resuming and see that they have gone to great lengths to implement new health and safety protocols for all the athletes. My plan is to attend every event possible, as I changed weight categories in October of last year and need to come up with as many points as possible to make it into the USA Olympic team for Tokyo"
Ashley - "We are only just back to judo training but the plan was to escalate that anyway, so the schedule won't change too much. Training will get harder, but I'm looking forward to having a good scrap, getting back to it. I'll be ready."
It's clear that everyone is keen to get back to a full training schedule and they're ready to enjoy all that competition brings. It's also abundantly clear that all the Tour judoka have an embedded sense of community responsibility, feeling the urge to do what's right for the judo community and society as a whole. They've waited patiently, with their careers and goals on the line, but if there's a green light, they're ready to fly through it.
The athletes are not alone. Behind the scenes the referees, photographers, organisers and coaches are all gearing up again.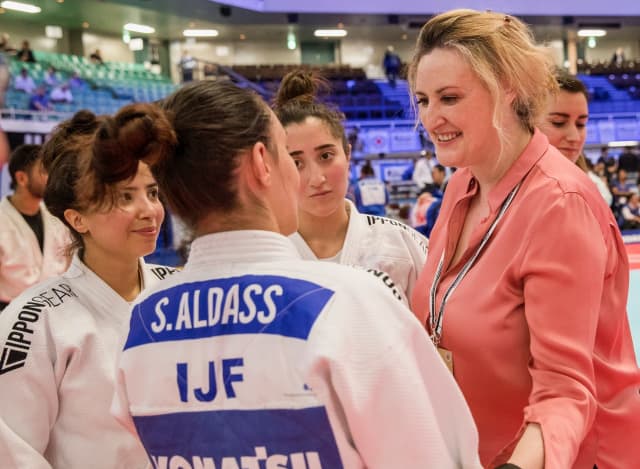 Dr Lisa Allan, IJF competition manager, is pleased to be working on the organisation of the newly-announced World Judo Tour events, "I'm really happy to be working towards restarting the IJF World Judo Tour later this year. It has been a challenging time for all but everyone has been so positive and patient and that will pay dividends. Bringing the judo family back together is exciting and reminds us all how strong we are, even when that unity is challenged so vehemently as with the recent pandemic. We're moving forward, staying safe and getting ready to enjoy the highest level of international judo again."
Hajime