During the last week, most have been focussed on the World Championships for Veterans in Lisbon but there is a lot more going on in the world and the veterans age band is not the only category springing back to life.
The International Masters Bremen is commonly accepted as one of the toughest tournaments on the annual calendar for cadets and juniors, anywhere in the world. The event attracts around 25 nations every year, with countries such as Kazakhstan and Japan making the journey to Germany.
This year it's usual place in March was disturbed, understandably, by the Covid situation but in keeping with the judo philosophy of adaptation, the organiser made plans and re-scheduled for October.
The organising team stipulated some limits, such as no more than 32 competitors per category, no spectators and a strict maximum of 500 people in the hall at any one time. Entry to the building was restricted with Covid passes and negative PCR tests checked at the door. Even with the rules and the tricky travel regulations for many nations, 11 countries sent teams, including: Czech Republic, Moldova, Ukraine and Georgia.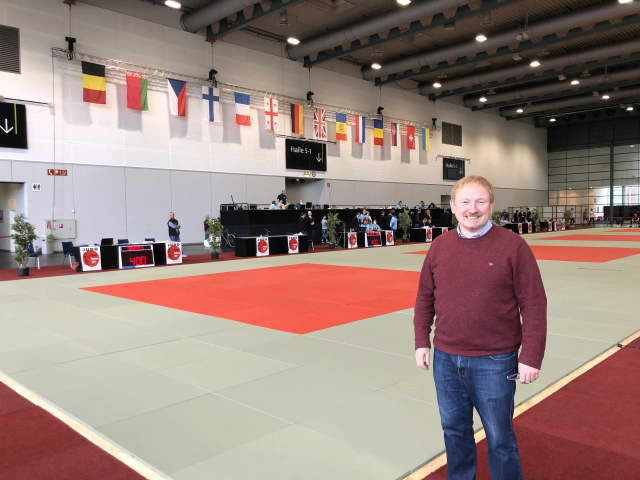 Norbert Specker has been running the event for 35 years and he was keen to sing the praises of his team, "Additional work had to be undertaken over the last couple of months, to ensure protocols. Liaising with the public, government officials and the delegations has been a detailed effort.
Although we run the event in a conference centre, the regulations for sports events and conferences differ greatly and so we had to manage that, ensuring our event is listed as a sports event, giving us the ability to manage the protocols more smoothly; sports is an easier category than exhibitions.
5000 square metres of space was available to us but we had to keep it below 500 people in the space at any one time. Bremen is very low for Covid figures so eventually the tournament was allowed but we are, of course, committed to keeping the Covid figures low and stable. We have a Covid test centre on site which helps if anyone arrives with documentation that may need confirmation."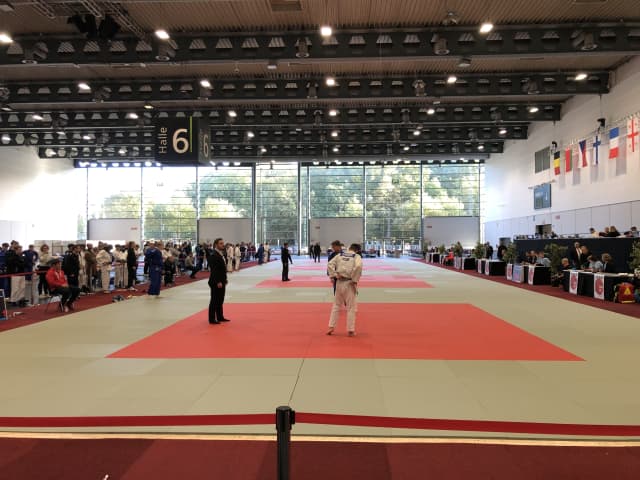 One could ask why do it at all?
"We switched to October to avoid the heavy Covid period. We made this choice a year ago through discussions with city officials. We had the senator for sports of Bremen supporting us, as we are an independent federal state here and she is also the honorary chair of this tournament. It's very important to have good relationships with the local officials, with trust and respect as the joining thread.
This is the 35th year of the tournament but due to Covid it's the 34th tournament. While running the International Masters Bremen, we came up with the concept of 'Masters' only 11 years into its run. At that time we were such a big tournament in comparison to all other events in Germany and we used the title to suggest that it is really worth the very best young competitors coming here and it stuck. With Kazakhstan coming since the 10th edition and Japan here from the 11th or 12th yea, it has attracted a lot of attention. It was so exciting to have the Kazakhstan team here, the first time they came, with a team of 6 judoka and their coach.
The current Kazakhstan national junior coach was here one year and won the cadets category. Ebinuma won here as both a cadet and a junior. Five of the Tokyo 2020 Olympic champions have passed through Bremen: Abe, Takato, Nagase, Wolf and Krpalek."
This is an amazing accolade in itself and as the tournament progresses through the years, this staggering CV only grows. It is likely that some of this year's participants will appear at an Olympic Games in the future.
"We have remained independent and enjoy keeping our own character, a special event only here in Bremen. It's part of the appeal."
A big part of Norbert's pride is found when looking in the direction of his workforce. "We have such a great team. One of our technicians is 75 years old and he built our scoreboards. Once their storage area was flooded and he came along and made sure that his scoreboards continued working, rebuilding some parts. The team has been together in this form for about 20 years. One lives in Strasbourg and many others are not in Bremen. They come to help with the tournament every year. We are like a big family coming together for our special unique judo party.
The atmosphere, especially when we are at capacity with the 8 mats, is always so positive and even relaxed. We know selections can be dependent on results here and we know that many prepare specifically to win here but still the event holds a charm and positivity that I look forward to working in each year."
Bremen, like the World Championships for Veterans, is now over for another year but it's team is already working on the 2022 edition, ready for it to take back its rightful place on the calendar, in March. We'll watch out for it; it's worth it, a hotbed for future judo superstars.