Zagreb is almost ready to open its doors to the world of elite judo as the eve of the final grand prix of 2023 provides the delegations with the last information needed before the tournament gets under way. The draw is now the focus for coaches and athletes.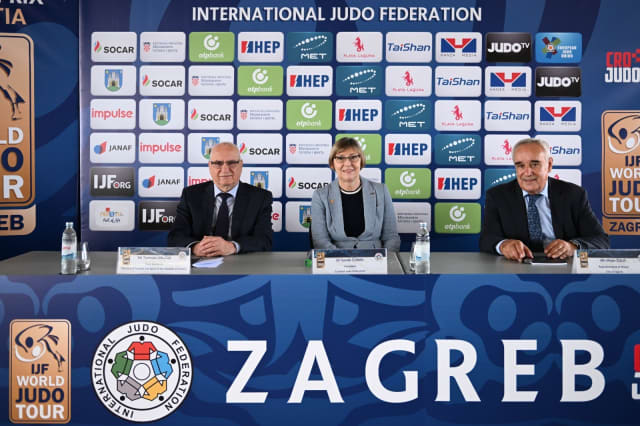 Present for the draw alongside the IJF team were Dr Sanda Corak, President of the Croatian Judo Federation, Mr Tomislav Druzak, State Secretary for the Ministry of Tourism and a sport for the Republic of Croatia, Dr Milan Colic, Representative Mayor for the City of Zagreb, Croatian double world champion Barbara Matic and world medallist Lara Cvjetko.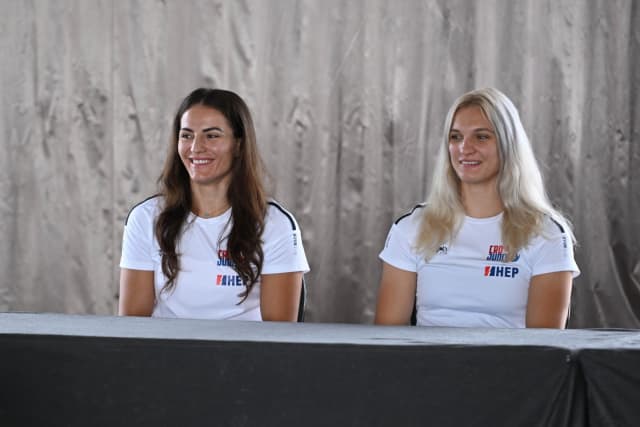 Dr Lisa Allan, Secretary General of the IJF, began with a welcome, "Dear President Corak, Mr Druzak, Dr Colic, dear judo family, on behalf of IJF President Mr Marius Vizer, welcome to the Zagreb Grand Prix 2023. We are here with our athletes who continue to chase points for the Paris Olympic Games qualification. We thank Dr Sanda Corak and her team for the always professional collaboration. Thank you to both the IJF and local sponsors for their invaluable support.
During the grand prix, as part of the IJF's continuous dedication to clean sport and fair play, we invite everyone to visit the Clean Judo - Clean Sport booth, in collaboration with the Croatian Anti-Doping Agency in the Arena Zagreb, Tribune C. We also invite our online viewers to visit the Athlete Hub website of our anti-doping partner, the International Testing Agency, for information and to challenge your anti-doping knowledge with WADA's Play True Quiz, available in 49 languages."
"As we move on with our draw, I wish all participants a successful grand prix here in Zagreb."
Dr Sanda Corak, President of the Croatian Judo Federation, responded warmly, "Good afternoon dear judo friends, IJF directors. It is my honour and pleasure to extend to you all a warm welcome to Croatia, welcome to the Zagreb Grand Prix.
The Olympic Games in Paris are approaching fast, so at the Croatian Judo Federation we are delighted to organise this event so that we can offer judo athletes another chance to win ranking points.
Through the organisation of this event we always want to contribute to the popularity of judo in the country, so this time we organised a lot of activities for young judoka. Many younger judoka are on their way here to take part.
Organising a competition for more than 500 competitors is always a challenging task so I would like to thank everyone for helping us with this, our team, the sponsors, our Ministry of Tourism and Sport, the COC, the City of Zagreb, and of course the IJF and Mr Vizer who always supports the activities of the Croatian federation.
I wish all national teams the best of luck on the tatami. Enjoy your stay in Zagreb."
Mr Florin Daniel Lascau, IJF Head Referee Director, noted, "The IJF Referee Commission selects from the best referees in the world to ensure that high standards are maintained throughout the World Judo Tour."
Mr Lascau then handed over to Mr Vladimir Barta, IJF Head Sport Director, to conduct the mechanics of the official competition draw. "Dear President Sanda Corak, distinguished guests, judo family, we can now start the draw. We have 83 countries and 530 athletes registered with big numbers across all categories."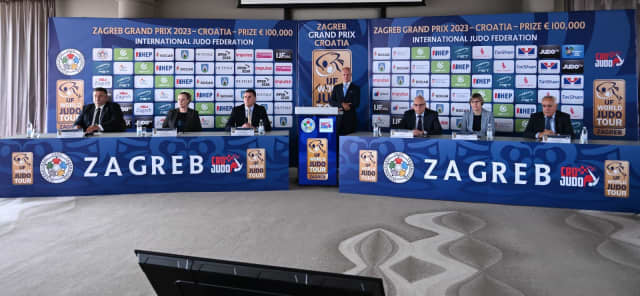 The draw went ahead smoothly, offering judo fans some fascinating early contests and potential finals. IJF commentator Sheldon Franco-Rooks closed the occasion by reminding all of the socials media channels available, including using the hashtag #JudoZagreb and following JudoTV for all the up-to-date live streaming, statistics and draws. "You can also watch our round-up show 'Golden Score' at the end of each day. Thank you to Barbara and Lara for attending. We wish all athletes good luck."