Ian Johns is in Baku, Azerbaijan, having just completed his coaching duties as head of delegation with the British visually impaired judo team. The IBSA Judo Baku Grand Prix is the first event back on the calendar after the Paralympic season was shut down by Covid-19 in March 2020. Being the first event back is notable enough, but this is also the penultimate Paralympic qualifier and therefore carries a significant meaning for all its participants.
"Our visually impaired (VI) team have been able to get back into full time training at the national centre since December, with the UK's elite sport guidelines being followed strictly. The team has had a really good run at it since January, but we can't say it's been easy. Training online through 2020 came with extra complexity with the athletes not able to see demonstrations clearly. Working without their sight and then losing the massive amount communication taken from their sense of touch forced us to be creative and patient, but with a VI team you learn fast that they're not afraid to ask if something isn't clear. To be honest, they are more used to taking and interpreting aural information than most of us and are quite skilled at making the training work for them."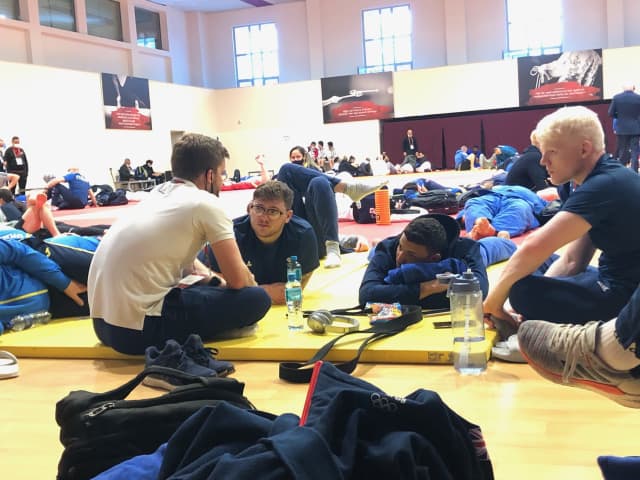 "In person it can be challenging too. For example, Jack Hodgson, our heavyweight, needs to see the whole face in order to lip read instructions. That's an issue in a time when face masks are mandatory, but we work around it to provide Jack and others with the best environment for their needs. Judo people are great at adapting, as proven this last year, but the VI group are even better at it!"
The Grand Prix wasn't at all bad for the British contingent, with a silver medal from established fighter Christopher Skelley and two further 5th places, from only a team of 4.
"A silver and 2 fifth places on day two of the event; Evan Molloy beat the Ukranian Paralympic champion from the London Games. He didn't medal but gave a fantastic performance, showing that despite being unlikely to go to Tokyo, he'll be a real threat in Paris in 3 years time."
Skelley is so consistent, always in and around the top placings and he had a great final. Jack Hodgson also had a good day and that's promising as he's just completed his recovery from an injury in October. In that way the pandemic has supported his return to play and stopped him falling behind. The medical team at our centre have been amazing. Jack has really worked hard to get back on top of things and the physios have done a brilliant job with him."
The host country, Azerbaijan, have clearly put in a monumental effort to ensure the safety of the delegations at this first grand prix back, but it's been even more impressive than just that.
"Azerbaijan has been good. They've hosted so well and taken great care of us. They do a cracking job and they love judo, which is really obvious. The hotel is fantastic and the security measures have been impeccable. Great food, smooth competition and a phenomenal venue, really professional. Really fitting of the penultimate Paralympic qualifier.
I've been around since 2014 with the VI team and the judo is just tremendous now, really sky-rocketing. This event has showcased that rise in level and is stretching towards greater alignment with the IJF.
The team have been chomping at the bit for months, so eager to compete again and that made them really nervous when they arrived. It's disorientating to be in a new place but they were so happy to get to grips with others. Loads of excitement! The professionalism of the organisation really supported the athletes and for that we are especially grateful to the hosts."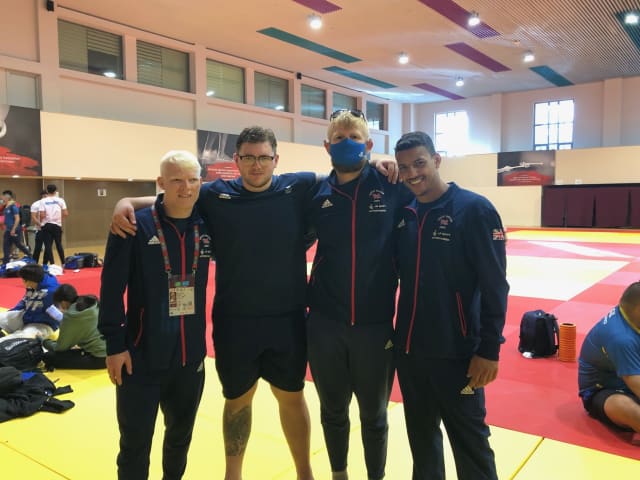 With Baku concluded, there is now just one event left for the Paralympic judo athletes, before the Games teams are selected.
"Being at home in Warwick in England for the last qualifier is brilliant but the irony is how much we have missed travelling. We usually get some world class training in, visiting camps all over the world, but in this climate it's not worth the risk and staying away from the chance of catching Covid is a priority.
The UK guidelines ease on 21st June and the final grand prix of the season is only days before that so we just miss out on having the benefit of home crowds and family in the competition venue, but there are many other benefits. We will understand the language and the food and have no jet lag. To be at home is a fantastic way to close out the qualification period. We have some classification work still to do and then to earn the final points. Anywhere in the Uk would work for us but Warwick is great, just down the road from our training centre.
Our team out here in Baku are similar to the team that will eventually compete in Tokyo. Evan Molloy is gaining great experience but Dan Powell, who isn't here in Baku, is number 8 in the world and will be back on the tatami in Warwick to secure his place at the Games. Evan is a Paris potential player. Jack Hodgson and Elliot Stewart are almost there, a shoe in the door. Chris Skelley will be there, without a doubt.
I remember the guys who were fighting back in the 1980s. They were strong, but now it's so different. They are also in the spotlight, in the media, much more than ever before. They're great athletes and sportsmen. Skelley is chased around by media because he's so likeable. When he travels, he always searches for the best sighted players to train with and that earns respect on the circuit. Our guys are so humble and this sport is the best vehicle for them to achieve and excel."
Just as the IJF have driven the fight to get back to competitive sport in the mainstream, IBSA judo are now part of a collaborative team driving education projects across all sports, raising awareness of inclusion measures and cos chi jong strategies to facilitate Paralympic athletes reaching their full potential.
"I'm now Coaching Education Director for IBSA and we are pushing hard to get to the next level. We have just finished producing an educational video with the IJF to help the IJF Academy, regarding coaching VI judo. Now we are also updating the IBSA website to include a coaching zone, offering information about what coaches need and how to apply their knowledge with a VI crew. Working across all other IBSA sports within that role is exciting and I feel like we are really adding to the profile of blind sport.
The IBSA family really is just that,. It's a relatively small number of people, highly competitive, but supportive across the board. At judo events, judo spirit is on display one hundred percent of the time. My home judo club in the UK, Grimsby Judo Club, is a family and IBSA feels the same."
IBSA Judo will be back in action 19th-20th June in Warwick, England, for the final Paralympic qualifier and then its full speed ahead to the Paralympic Games in August. The British team have set themselves some tough goals, but no-one can say they aren't ready to work for it.