Raz Hershko, a name that seems familiar but also somewhat distant. This surname has been on the circuit for quite a while but not embroidered on to her belt until recently. At 23 she is now the holder of an Olympic mixed team medal and also a gold from the Paris Grand Slam. These two entries on a CV are enough to know that this Hershko is pretty serious.
Her coach is Shany Hershko and now we know where we first recognised the name. He is the coach of Gerbi, Primo, Bolder, Cohen, Rishony and now Hershko!
Yes, they share a name and some family ties but this is not the point; it is made very clear from the beginning that they are a coach and an athlete and that is the format of their relationship. It has to be that way in order to keep everything straight and consistent and so it will stay that way, at least for the foreseeable future.
"The same thing is always said, by everyone, asking about our family. The situation is this: he is the coach and I am the athlete. I am treated the same as the rest of the team, completely. I have been in judo since I was 4 years old and I was training at first in my club. Shany didn't become my coach until I joined the national team. My thinking has always been the same. When I came to the national team it was immediately coach and athlete. I don't remember something else."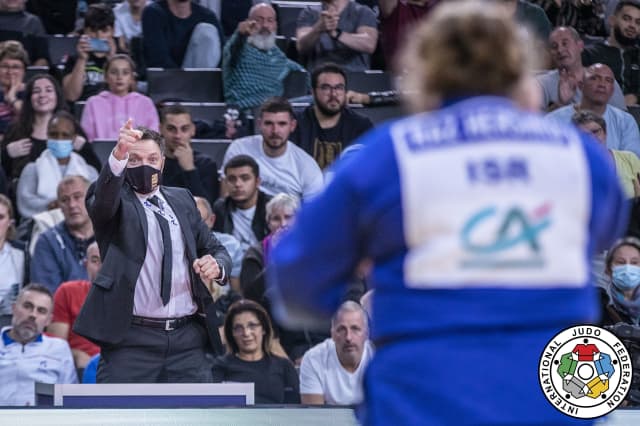 "At family occasions we aren't necessarily together. Judo is one thing and family is another. We put a line there and try not to speak about judo at special occasions." Raz is immovable on this, despite us digging for something extra. There is no bonus secret or revelation. It is simple; Raz is the judoka and Shany is the coach. And so with this in mind we must also draw a line under it and talk about far more prominent matters.
Raz is a member of one of the finest judo teams on Earth. Israel is visible, loud, passionate and above all they are very good at judo! Coming into that senior team must be hard, maybe even intimidating?
"Actually it feels like a good support team. It really is one of the best teams in the world. It's a team but also like a family."
On the World Judo Tour that closeness can be seen and felt by everyone from organisers to spectators. The Israeli women are truly united, but that doesn't mean it was easy for a young Raz to begin.
"It was difficult though, because it took a long time to start getting the senior results. I thought in my mind that I was good in cadets and juniors and so why not in seniors? I had to change all my mind and my judo to think like a plus 78kg player. I had to take all my good things and be better and better."
With some minor results prior to 2021, Raz was still waiting for a breakthrough at grand prix or grand slam level, while colleagues continued to win big medals and impress globally.
"I think I had just a medal from the Marrakech Grand Prix 2018 and one senior European Cup result in Poland, both at -78kg. After Marrakech I injured my knee and then came back at +78kg."
Changing category is tough no matter who you are and regardless of what you have or have not won in the previous category. It's one of the toughest decisions a judoka can make.
"I had a small surgery on my knee, the meniscus. I had a little depression after the injury; I think it's normal for athletes to feel this way. I ate more than normal and then with all the coaches we decided to stay there. We decided it might be better for me to get stronger and not have to lose the weight. I'm small and faster than most and I have judo that is good in all directions. I can throw right and left and with different techniques and I believed in that."
It wasn't that simple though. "I remember Düsseldorf and I had Nunes first fight. She picked me up, so high and so easily. I felt like a child and said to Shany, 'what can I do?' He said I mustn't try to match them power to power, I must be different and explosive, fast and dynamic.
In the open weight you have all shapes and sizes, very different from the task at -78kg. I can be against someone 60kg heavier than me. They can be taller or stronger. Every contest is different. You can't learn the category in the same way as the other weight groups."
This must have an impact on the training programme?
"I do more hours in the gym than most, although my judo training is the same as the rest of the team. The coaches think I must train like the rest and continue the aerobic training. I must be able to do the same number of uchi-komi as the lower weights and in the same time. This way, with support, I can keep the pace and use that work against the rest of the open weight competitors."
So the training ethic is clear and the support is obvious but still it isn't a smooth path. "Tel Aviv 2021 was the first competition back after an elbow surgery. From that event until now everything contributed. All the team has been able to see a different Raz since then.
With coronavirus, of course, we had ups and downs and everything was uncertain. When the team went to Budapesst in 2020 the coaches decided it was the right time for the elbow surgery. 4 days after the surgery I started training again. From then every competition went up and up. At that time there was a really big question between me and another Israeli competitor fighting for the quota place for the Tokyo Olympics so surgery was then or never and so we did it and then focussed fully, moving ahead towards the Games. After my gold in Antalya, a first grand slam gold, the road to the Olympics was clear."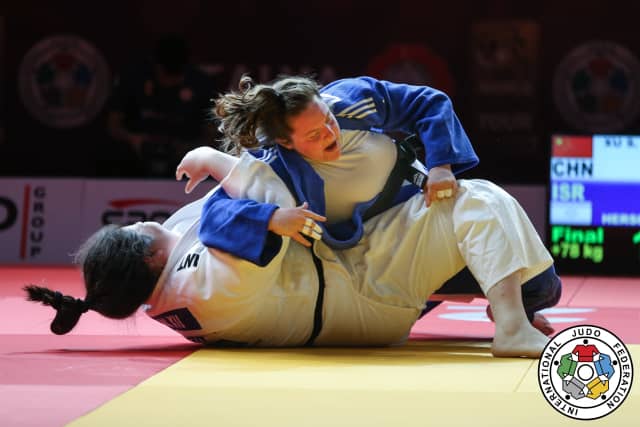 Raz didn't win a medal in the individual tournament. In fact, Israel didn't meet expectations there at all, in terms of medals. However there was redemption when their team took bronze in the first ever mixed team Olympic tournament. Their performance was nothing short of incredible, bringing an intensity, belief and determination that few could replicate.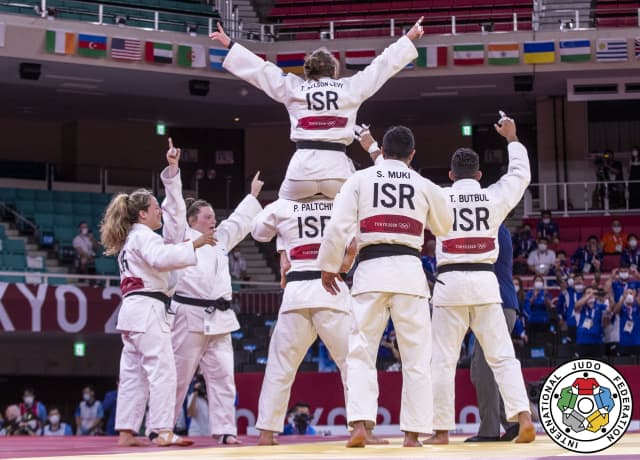 At the age of 23, with a first grand slam gold and an Olympic medal, Raz is still very young, especially for a heavyweight. This means the story is still developing and there is undoubtedly a great deal more to come. Tokyo is now in the past and a new cycle is well under way. How is Raz approaching the 2024 goal?
"In Paris at the grand slam, I was so stressed, after the Olympics and after Antalya. It was my first time back with a crowd and also my first Paris. All my friends from the team talked about how crazy Paris was and I didn't understand how crazy it could be. Then it was really crazy. I watched on the first day and I had such wide eyes when I saw it. Then I realised that tomorrow it was me!
Paris is really a competition and before I walked out I was excited. I love to fight. Getting to the final was a great moment. Shany told me very clearly the timeline of the final fight, with solutions for each situation. I felt 100% ready for this fight. I needed that detailed level of preparation to bring the animal out in me.
It was the first time fighting someone so much bigger than me and it was a concern and a big point in the strategy, but when we faced each other I realised that she is not so different from me. We both know the rules and we both train judo. Let's go! When the crowd started to chant her name I decided, 'now there is no way I'm leaving the tatami without winning.' I did everything to win this fight."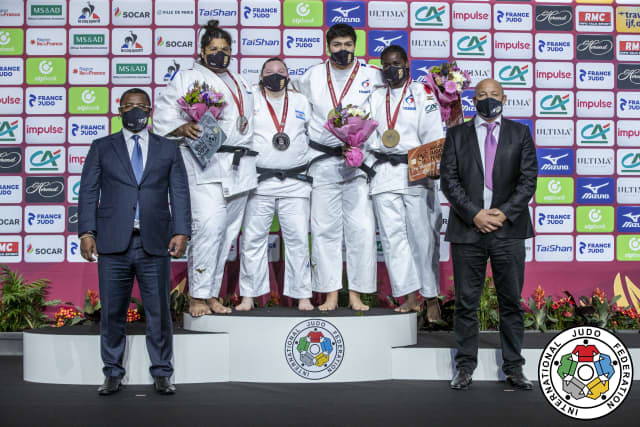 A Paris gold is no small thing and Raz reacted accordingly. We are used to seeing her with a serious demeanour, always focussed and with little reaction to any given situation.
"All the emotion came out at the end of the final. When she got the final shido, me and Shany looked at each other. I don't know what I thought but I had the gold medal in Paris.
Everything that came before helped with this medal. I train with now cadets as well as my senior teammates. When I was a cadet I trained with the seniors. I knew the big names of the time. I trained with them and looked up them. From cadets to juniors and seniors, we train together like a national team, all the way through. I feel good that we help them just as we were helped. We all help each other. We really have the best coaches in the world; it is everyone for one and one for everyone. Shany works hard for us to be good and strong altogether."
So the Israeli women's team is in Baku and they will do as they always do and walk on and off the tatami as a whole unit, carrying each other's spirit with them when they fight.
"My target now is to do my best in Baku. Of course my dream is a medal in the world championships and even better to be gold but I am focussing from competition to competition and training to training. I don't look too far ahead."
I accept for myself to do everything I can to do my best and not give up for even one second. I can promise this to myself and everyone who watches. I can't promise gold because this doesn't only depend on me but I can promise never to give up.
I feel better here than I did in Paris. Before the Games I was training so hard and now at the second event since the Games I feel I had some time to absorb everything.
Longer term, I can be a judoka until my body says stop. I would like to do Paris 2024 and also LA in 2028."
We can be assured that in true Israeli style Raz will not give up on that. She has said it and so she means it. Two more Olympic Games are on her horizon but for now it's one day at a time, with Baku just within arm's reach.