"Laaaadieees and Gentlemeeeen we have a next Woooorld Champiiiooon …" Now, that's exactly how you would transcript the words the official announcer blares out of the speakers at the Judo Worlds here in Baku.
And then there's the musical tunes he chooses to accompany the athletes marching in ready for battle. They always fit the purpose: getting pumped up. The booming voice of the championship's speaker almost makes your eardrums pop. But hey, the audience always gets the message. The man behind the microphone and music buttons is nicknamed 'The Voice'. But did you know he's a judo legend? The IJF Media Team had a chat with him.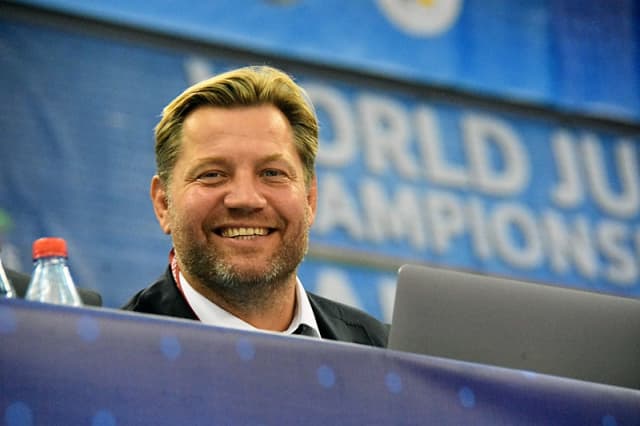 'The Voice' a.k.a. Dennis Van der Geest … Rings a bell? It should if you're a judo aficionado. Dennis hails from a judo family and made a name on the tatami in the early years 2000 as a heavyweight collecting some nice silverware to put on his mantlepiece, i.e. a stunning amount of 81 medals (36 gold, 17 silver and 28 bronze). To name a few of his heroics: twice European Champion (2000 & 2002), silver and gold at the Summer Universiade (1999 & 2001), twice bronze at the World University Championships (1998 & 2000), three times bronze at the Worlds (1997, 1999 & 2001), Vice-World Champion in 2003, bronze medalist at the 2004 Olympics and World Champion in 2005. He retired from the tatami in 2008.
"I used to throw people, now I throw records," he jokes. After his competitive years as a judoka, he decided to follow his other passion: the entertainment business. A DJ, actor, TV-producer, he's a popular character and easygoing guy, totally the opposite of Dennis, the heavyweight menace on the tatami.
"The last competition I did were the Olympic Games in Beijing in 2008, already ten years ago. Time sure flies when you're having fun," he muses.
"We have a gym in Haarlem where we still teach judo. Judo is really in our DNA within our family, we will never let go of that completely," Dennis adds. Although, after his career, he had no ambition to play an active role as a coach in judo. "A few years ago, however, IJF President Vizer asked me, being a former champion, if I wanted to be involved within the IJF. He knew that I was working with music and TV. So, I did it once and I liked it. And now I'm suddenly on the other side of the mat." Dennis pumps up the volume as an entertaining announcer. "I think that judo needs it today. After all, sport has partly also become entertainment. The people who come to see the competition must get their money's worth. The judokas have to perform on the mat, but if you manage to giftwrap the whole event nicely, that's even better."
After his active career, Dennis always sort of knew what he wanted to do. "Sometimes, I ponder what I would have done, if I hadn't been an elite athlete. The outcome is the same. My interest has always been in the entertainment industry and the media. From the age of 18 I went on to perform well on the mat and when a camera came my way, I always felt comfortable. And I have always found that remarkably interesting. I also invested enough time to foster it during my sport career. When I quit, I was 33 and I received many requests to present sports programs on TV. I turned the offers down. The people had to get to know me without that sports angle. Music always has been a bit of hobby of mine, just a nice outlet next to training. Now I make TV programs that are non-sports related." For example, he goes under cover with mayors in their city and went travelling with senior citizens.
Dennis is also an inspiring speaker. "Sports and business cover a lot of common ground. I like it when I know how to inspire people with my story. I also like it when I can inspire people with the fact that after my sport career I have found a new drive." The former World Champion learned a lot from top sport. "To be thrown on your back and always getting back up, for instance. And next time you will continue to improve yourself in all kinds of areas. That's what I do with everything in my life and I really like that." Judo will always play a special role in Dennis' life. "Whether it's on or next to the tatami, it doesn't matter. Being a judoka is really a kind of lifestyle. One does it at a higher level than the other. The beauty of our sport is that you can fight 100% against each other without damaging your opponent in comparison with a whole bunch of other martial arts. I especially look at what it has given me as a human being besides all the medals. My children also do judo because I'm convinced a few years of judo is a good thing to do. You learn to break your fall, play around. Children who are timid are opening up, intense persons learn to control themselves. These are very nice features judo can give you. I will always find that beautiful. Here, at the highest level, I competed here myself once. Here again, I feel everything tickling ... Flashbacks? Certainly, but I mustn't dwell on it too long. I'd register tomorrow to join it all again, but let's be honest, I am afraid this will not be an intelligent thing to do, so let's not do that," he jokes.