In 1937 a dictatorship-style government was in power in Brazil, gaining strength and imposing rules that filtered into general culture and into sport. Vargas had been in power since 1930 but just prior to the Second World War was making fragile alliances with Germany and this spilled over into Brazil's own political situation.
The fragility of that international relationship became visible though and during the war Brazil came down on the side of the allies. At home, however, the scene was already set and we can focus on one Brazilian law, in particular, that played a significant part in the history of judo.
We do not wish to bring politics to the front of our thinking; we are, after all, committed to improving this world through sport, in ways that transcend political or geographical hindrances. This bite at the political apple is necessary, though, as the link between sport and politics brought forward a shiai in Brazil that would forever change the face of the world of judo.
It was forbidden for women in Brazil to participate in any sport that was perceived as 'activity outside of feminine nature.' In real terms this exiled women from most sports at that time. Imagine living in a place and time where sport was illegal for one slice of the demographic. In our much freer world now, maybe we can't understand easily what that really means or how it impacts culture and lifestyle.
By the 1960s, with a new political leader in place, the laws of the 1940s should have been a thing of the past but in 1964 those laws were promulgated, as so many women had been flouting them. Judo, as with most sport, was a solely male pastime, with very few women pushing to train and learn, even underground.
"I did start when it was forbidden. I had a friend who wanted to start training because she liked the look of the teacher. I began with her but after a while she stopped attending and I continued."
Cristiana Pallavicino, an Italian raised in São Paulo, Brazil, witnessed and lived through the various guises of that law and its society. "Most people think I am Brazilian, but I'm Italian and that's where I live again now."
Not all of South America was in the same position as Brazil and judo was becoming more accessible. "A few years before the 1980 judo revolution, there were some championships across South America. Women from Brazil would travel with men's names; I remember one in particular in Montevideo in 1979.
A few of us did train even with the laws against us. When the Montevideo event was organised the law was still in place but the government actually helped with arrangements for the women. They knew the 1980 world championship was coming. Military presence had relaxed and it seemed the Brazilian government knew they were falling behind their neighbours. They sent 7 women to NYC, but with strangely rigorous qualification in place.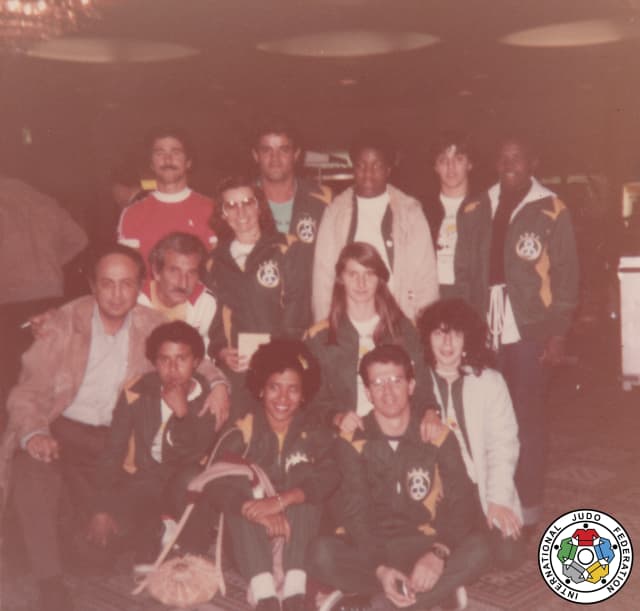 Just weeks before NYC was the state champs and the São Paulo championships, needed to get to the nationals and subsequently to the worlds in New York. It was all linked; a very peculiar situation. No other country had this strange handicap or anomaly. The girls didn't even have friendly competition before the inception of that qualification system. So, at the worlds there were no medals for Brazil. They just weren't ready. How could they be?"
Cristiana's Italian roots gave her a different view of freedom and opportunity from the one propagated in Brazil's political climate.
"I was living in São Paulo state. I was not really involved much then. In the 1980s I began for real and now compete in the world veterans. I was a physical education teacher and then I moved to an airline and at that time went back to judo. There were other women practising and it was more open and welcoming. It was period of huge change.
I spoke a lot recently with the women from that first team. Most of them felt they had good relationships with their academies, even at the beginning, when it was not allowed. Soraia had a different experience, though and was separated from the men. She was really not welcome, but she was wilful, like me. My first sensei wanted to throw me out of the tatami, but as soon as I realised this I was determined to stay. I really liked judo. I also liked my freedom to choose.
The mentality for sport changed so much from then until now. I think what Rusty did was the first huge step for everything that happens now."
The consequences of the Brazilian government feeling pressure to keep up with their contemporaries drove them to accept Rusty Kanokogi's event, even if, at first, it was against their own laws to prepare for participation. Without that world championships, we have no way to know where Brazil would have been now, with regard to women and sport. Judo again pushed the boundaries and not only highlighted injustices, but forced change.
"You have to believe 100 percent in what you're doing... that something we do is going to change the world in some tiny, minute way." ~ Lynsey Addario (American photographer)
Cristiana continues, "it is unlikely I would be competing in veteran events now, if it weren't for Rusty's tenacity in the face of immense opposition. She enabled all of us whom have enjoyed judo since to have a life in judo. We owe her much more than the recognition offered for simply running a big competition."
"Life imitates art." ~ Oscar Wilde
The first Brazilian women's team, with all their inexperience, made up for by perseverance and hearts filled with equality, saw the world open up for them, to a way of life that was forbidden.
"Change will not come if we wait for some other person or some other time. We are the ones we've been waiting for. We are the change that we seek." ~ Barack Obama
Cristiana is enthusiastic about the futures the first Brazilian women's team created for themselves, "They became allowed to stay as teachers and competitors. More women came. More and more in the middle 80s. There was a boom after that world champs.
Equality in Brazil progressed so much. Judo was seen as absolutely masculine before that time. The law had just changed and the publicity came. After competing, back in those days, I would put on make-up and rings etc. It gave an impression that it was not only for men. We were feminine and we did judo. Judo is an educational sport and that is what Jigoro Kano wanted. It's what keeps people in the sport for life. Now in the veterans we are here because of the lifestyle. Most are there because they enjoy judo and it's a big part of their life.
I am currently European veterans champ. I would not be, without Rusty and New York. Eventually this equality would have come but Rusty gave that process impetus and energy. She was the catalyst that gave us the power to continue. I am undoubtedly a beneficiary and I am grateful for that."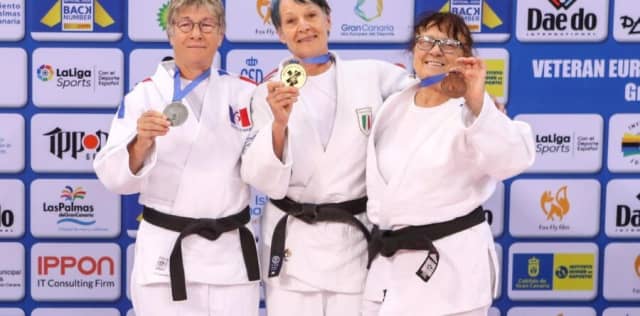 As a witness to that era of progress, Cristiana is insistent that the Brazilian team from 1980 be recognised. They battled and fought against their communities and the unacceptable laws which framed their society. Cristiana is right. It wasn't ordinary and it wasn't easy.
"Success is no accident. It is hard work, perseverance, learning, studying, sacrifice and most of all, love of what you are doing or learning to do." ~ Pele
With an almost unreal backstory behind them, we record the sporting highlights of these women's lives and thank and applaud them for their services to equality, to equity, to sport and to their country.
1980 Brazilian Women's team
-48kg Gislaine A. Lamano
-52kg Iara Mari Martins da Cunha.
-56kg Solange Pessoa (Vincki)
-61kg Heliana R. Carmo
-66kg Angela Maria da Cruz
-72kg Helena Cristina Guimarães
+72kg Soraia André (Cesar)
Iara went through university and qualified as a physical education teacher, having begun judo in 1975. She was petite and most people were amazed she would dare to practise judo. Many ostracised her for it and so she soon stopped telling people about it. In 1980 She was 18 years old and following the publicity around that event she began to explore her own freedom more. Lara has spent all her life since in judo and sport in general.
Solange continued her competitive career after New York and became Pan-American champion in 1986, in Puerto Rico. She competed in subsequent world championships and medalled at the World University Championships. At the time of the NYC event it would have been unthinkable, but Solange spent some time later as the Brazilian women's coach.
Heliana took up judo in 1975 and was 20 in 1980. She graduated from university in Social Work the year after the championship and stopped training due to work. Since her retirement, however, she has become involved with judo again, with a strong link to the values of judo, working with disadvantaged children, to help them improve their lives.
Soraia started Judo in 1976, aged 12, with a great deal of opposition, not being readily accepted into a very traditional Japanese-style judo club. She was 16 years old in 1980 and competing in the +72kg would have meant facing 'monsters.' With such a steep learning curve, she took hold of her opportunities and in 1987 became Pan-American champion, in Indianapolis. She was a member of the Brazilian team for 12 years and took part in 2 Olympic Games, placing 5th in Seoul in 1988, when women took part for the first time.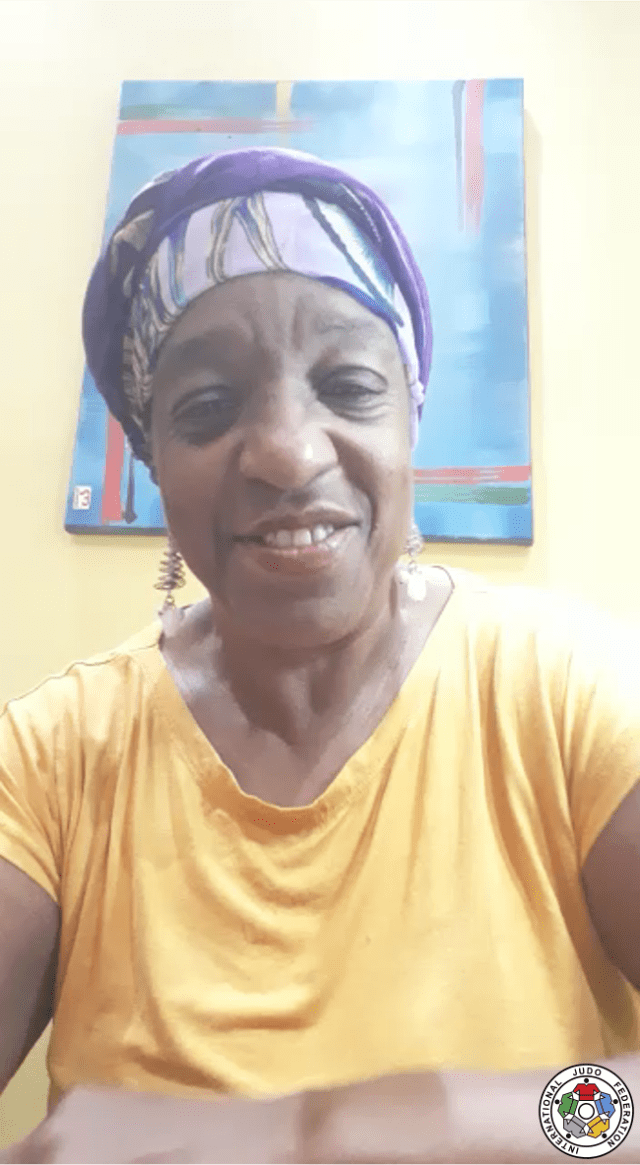 Soraia's is a life full of firsts, from the first Women's World Championships to the first inclusive Olympic Games and she has taken the time to document much of it in her book 'Japonegra.' Soraia became a physical educaction teacher and a psychologist and is now proud of her rokudan grade and her history.
She has no photos or medals at home, having given all her memorabilia to the museum of her city, such is the importance of recording these women's lives and their important place in the history of women's judo.
Forty years has past, but thanks to the contributions of the Brazilian women, Rusty Kanokogi, teams from 27 nations, the IJF president at the time and many whose names have yet to be re-written, the place for women in sport accelerated in a way no-one could have imagined.
"Far better is it to dare mighty things, to win glorious triumphs, even though checkered by failure... than to rank with those poor spirits who neither enjoy nor suffer much, because they live in a gray twilight that knows not victory nor defeat." ~ Theodore Roosevelt