As countdown clock closes in on 500 days to go until the Tokyo 2020 Olympic Games we decided to look at the current landscape in the race for the Olympic qualification.
The story so far with 13 events down
The road to Tokyo 2020 officially started in May 2018 with the Hohhot Grand Prix in China. Japan put down a marker for the entire qualification phase by topping the medal table with seven gold medals as the winners included Olympic bronze medallist KONDO Ami, world champion ABE Uta and World Judo Masters champion MARUYAMA Joshiro, who are all now established as leading contenders for their home Olympics.
Since the start of the qualification campaign last year, judo fans have witnessed the emergence of new stars, seen new locations established on the circuit and said farewell to a number of retiring legends.
Judo's journey towards its 2020 homecoming next year has made 13 stops so far.
The IJF World Judo Tour has stopped in Hohhot (China), Zagreb (Croatia), Budapest (Hungary), Baku (Azerbaijan), Abu Dhabi (U.A.E), Tashkent (Uzbekistan), The Hague (Netherlands), Osaka (Japan), Guangzhou (China), Tel Aviv (Israel), Paris (France) and Düsseldorf (Germany) in this qualification period thus far.
The IJF has awarded a colossal 728 medals in that time with 56 judoka medalling at each event.
But, after thousands of fights, the world around, there's still everything to fight for.
Who's won what?
Since Hohhot 2018…
Daria BILODID (UKR), judo's youngest world champion, has shot to fame.
The teen star has won the Zagreb Grand Prix and World title in this qualification phase and is currently riding a winning record of 35 consecutive contests.
The Ukrainian wonderkid, 18, has not fought since winning junior version of World Championships in October and is not currently registered for any upcoming competitions.
Top 5 Ippons
You can follow the best of the action from all IJF World Judo Tour events on the road to Tokyo 2020 with our dedicated post-event ippon compilation series on the IIJF website.
What about the Rio 2016 champions?
Women
Paula PARETO (ARG)
The reigning Olympic champion won bronze at the World Championships last year, gold at the Cancun Grand Prix and bronze at the Abu Dhabi Grand Slam. The 2018 Buenos Aires Youth Olympic Games role model is ranked sixth in the world and is on track for her fourth consecutive Olympics.
PARETO starts her 2019 season at the Ekaterinburg Grand Slam on 15 March.
Tokyo 2020 status: QUALIFIED
Majlinda KELMENDI (KOS)
Kosovo's most loudest athlete started her road to her Tokyo 2020 title defence by taking silver at the Abu Dhabi Grand Slam in October. KELMENDI had to concede the final due to injury but quickly returned to winning way with gold at the Tashkent Grand Prix a month later.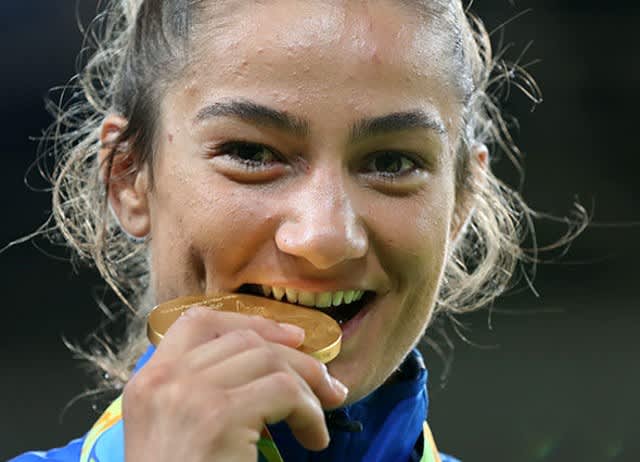 The two-time world champion has won both of outings in 2019, stealing a march on her nearest rivals at the Tel Aviv Grand Prix and the Düsseldorf Grand Slam.
Tokyo 2020 status: QUALIFIED
Rafaela SILVA (BRA)
Brazil's owner of the gold -57kg backpatch has not rested on her past glory as she bas made her presence felt on the IJF circuit and is hitting her stride in 2019.
The 2013 world champion won Grand Prix in Budapest and Cancun last year to signal a return to form after an almost inevitable dip in form post-Rio 2016.
SILVA has started her 2019 season with fifth-place in Paris and silver at the Düsseldorf Grand Slam and will be in action later this month at Russia's annual Grand Slam in Ekaterinburg.
Tokyo 2020 status: QUALIFIED
Tina TRSTENJAK (SLO)
Slovenian ace TRSTENJAK ensured that the -63kg title remained in her country after her long-time teammate Urksa ZOLNIR had clinched the Olympic crown in 2012.
TRSTENJAK is engaged in one of the most exciting rivalries in the sport with world champion and Olympic silver medallist Clarisse AGBEGNENOU (FRA) and they are expected to be key protagonists once again on the Olympic stage at Tokyo 2020.
The Z'Dežele Sankaku judo club member has placed at six of her seven competitions since qualification started with a silver at the Paris Grand Slam most recently but a gold medal has eluded her in this campaign.
Tokyo 2020 status: QUALIFIED
TACHIMOTO Haruka (JPN)
Seven-time IJF gold medallist TACHIMOTO called time on her judo career after winning the Olympics in Brazil. TACHIMOTO finished seventh at London 2012 and exceeded all expectations in Rio de Janeiro in 2016.
Tokyo 2020 status: RETIRED
Kayla HARRISON (USA)
America's first Olympic judo champion HARRISON retired from competitive judo after winning her second Olympic title at Rio 2016.
Tokyo 2020 status: RETIRED
Emilie ANDEOL (FRA)
Surprise heavyweight Olympic champion ANDEOL retired in 2017 after finishing seventh at the 2017 World Championships. ANDEOL was honoured by the French Judo Federation at the Paris Grand Slam earlier this month.
Tokyo 2020 status: RETIRED
Men
Beslan MUDRANOV (RUS)
Russia's second -60kg Olympic champion is yet to medal on the IJF circuit since qualification opened and therefore is in a lowly place of number 33 on the IJF World Ranking List and is currently not qualified for Tokyo 2020.
MUDRANOV won a bronze medal at the European Championships last year before qualification started but has struggled in IJF competition with a round three defeat at the World Championships in Baku and a round two defeat at the Abu Dhabi Grand Slam in October.
MUDRANOV will be in action next week at the Marrakech Grand Prix and will be tipped for a return to the IJF medal podium.
Tokyo 2020 status: NOT QUALIFIED
Fabio BASILE (ITA)
Italian showstopper BASILE won the most desired medallion of them all after a Rio supershow in 2016. The unranked, unfancied, firecracker is still without a gold medal on the IJF circuit which just goes to show that anything can happen at the Olympics.
BASILE has made slow but steady progress since moving up a weight division from -66kg to -73kg at the end of 2017. The world number 24 won bronze at the Paris Grand Slam in February to highlight his rise in the category and should now push on and quickly move into a qualification place.
The modified kata-guruma expert will be in action at the Ekaterinburg Grand Slam.
Tokyo 2020 status: NOT QUALIFIED
ONO Shohei (JPN)
The thrower of throwers, Tenri's pound-for-pound ace ONO, won the Osaka Grand Slam in November and claimed gold at the Düsseldorf Grand Slam a week ago.
The two-time world champion has now won four events in a row and is ranked 11th in the world. He is the favourite to be picked for Tokyo 2020 next year ahead of former world champion HASHIMOTO Soichi (JPN) and double Olympic bronze medallist EBINUMA Masashi.
Tokyo 2020 status: HOST NATION SPOT
Khasan KHALMURZAEV (RUS)
Russia's Olympic hero KHALMURZAEV started his road to Tokyo 2020 at the first qualification event, Hohhot 2018, where he took a silver medal. The 2017 world bronze medallist finished seventh at the Worlds last year and ended the World Masters in the same position.
The uchi-mata finished fifth at the Paris Grand Slam last month and is currently ranked 11th in the world.
Tokyo 2020 status: QUALIFIED
BAKER Mashu (JPN)
Kodokan Judo Institute product BAKER won the Olympic title at the age of 21. The Tokai University judoka lapped up the wave of media attention and was featured in tv commercials and made a host of appearances on popular chat shows.
His return to action was blighted by injuries and he had to wait until 2018 to finally compete on the IJF circuit. BAKER finished fifth at the Hohhot Grand Prix and lost his third round contest at the Osaka Grand Slam in November.
The unorthodox Japanese fighter is only ranked number 48 in the world and has it all to do to regain his position as his country's number one judoka in the -90kg category.
Paris Grand Slam bronze medallist NAGASAWA Kenta (11 WRL), Osaka Grand Slam winner MUKAI Shoichiro (22 WRL) and Düsseldorf Grand Slam silver medallist MURAO Sanshiro (28 WRL) are all in the hunt for Tokyo 2020.
Tokyo 2020 status: HOST NATION SPOT
Lukas KRPALEK (CZE)
Czech ace KRPALEK won the Olympic and world titles in the -100kg category and moved up to the heavyweight ranks in early 2017.
Since the start of the Oylmpic qualification phase he's earned a fifth-place at the Worlds in Baku, gold at the Cancun Grand Prix and silver medals at the Abu Dhabi Grand Slam and Osaka Grand Slam.
KRPALEK has not started his 2019 season and is currently ranked second in the world.
Tokyo 2020 status: QUALIFIED
Teddy RINER (FRA)
Judo's heavyweight kingpin RINER, a 10-time world champion and double Olympic champion, is not in a qualified position for Tokyo 2020.
This was always expected at this stage as the 29-year-old has spoken of his desire to continue on to the Paris 2024 Olympics and is looking to prolong his career by being selective about his competitions and he can afford to be.
The French phenom has not fought since Tokyo 2020 qualification started with his last event being the 2017 Openweight World Championships where he clinched a record-breaking 10th world crown.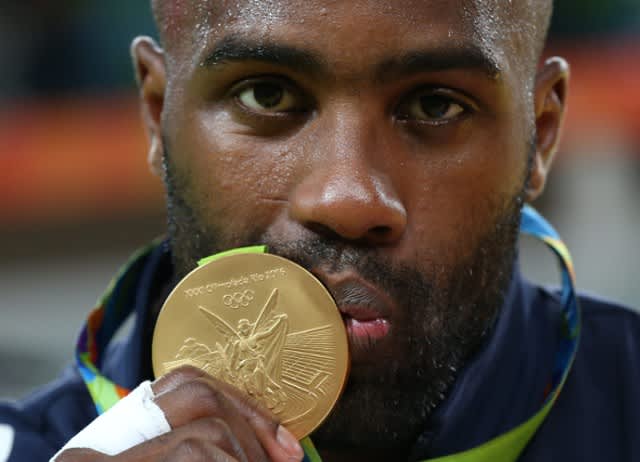 The world number 26 has just postponed his return after originally being selected for the Marrakech Grand Prix and plans to return in the near future with the Antalya Grand Prix in April being a possible setting for the return of the French king.
Tokyo 2020 status: NOT QUALIFIED
Which countries will be in the mixed team event?
As hosts reigning world team champions Japan are directly qualified for the team event next year.
14 counties are currently sit in a qualified place with at least six of their respective in a qualified position in their respective weight categories.
Azerbaijan, Brazil, Canada, Cuba, France, Germany, Hungary, Israel, Italy, Mongolia, Netherlands, Russia, South Korea and Spain are all set to join Japan.
Belgium, Great Britain, Kazakhstan, Poland, Portugal and the Ukraine are on the verge of qualification with only five slots filled and they each need to qualify one more judoka.
Follow the team qualification here
Next qualifier: Marrakech Grand Prix
494 judoka from 72 nations are set for action in Marrakech as the IJF World Judo Tour moves on to Africa for the newest event on the circuit.
A host of Olympic champions and world medallists will compete with the Grand Prix being hugely significant to the African judoka looking to make the host of having an IJF leg in their home continent.
Stay tuned to the IJF website for the full build up to the Marrakech Grand Prix next weekend.
Watch #JudoMarrakech2019 live and free here on the IJF website at live.ijf.org from 8-10 March.