Judo is a sport with a presence in many international settings, whether sporting, social, or even political, in the broad sense of the term. In the midst of the core tasks of the IJF, President Vizer always finds time to devote time to initiatives aimed at the youngest judoka, a cohort that he supports consistently. This time, following all covid protocols of course, the IJF decided to organise educational activities following the Tashkent Grand Slam. The purpose was to give extra motivation to a generation of young children in Uzbekistan, who are going through a difficult time because of the pandemic, as most of the dojos have been closed and competitions have been cancelled.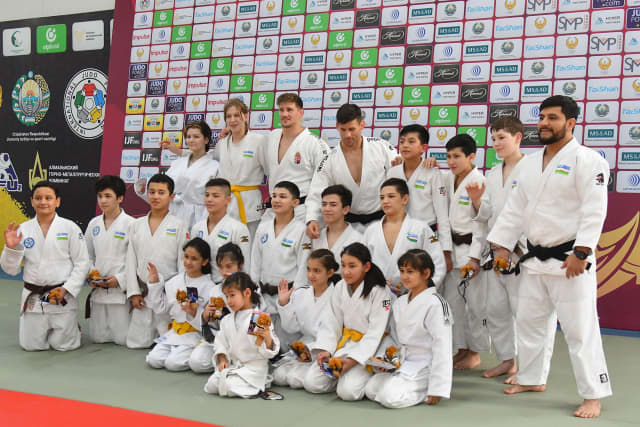 On Monday 8th March, immediately after the grand slam and with several negative covid tests on record, children, coaches and staff gathered together for a fun and entertaining judo session in the presence of the Ungvari brothers, Attila and Miklos. As soon as the judo session started, the children forgot all about the recent troubles, as their eyes started to shine and big smiles appeared on their faces.
The week before, the Uzbekistan Judo Federation had taken up the challenge of organising their first judo grand slam, and it was a huge success. One of the assets of the country being its youth, this educational activity proved that Uzbekistan is one of the strongest rising countries in the world when it comes to judo.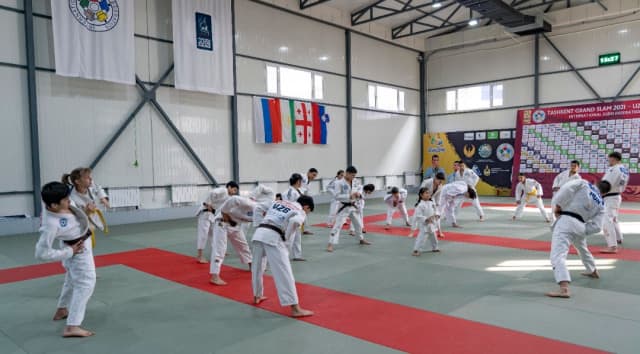 Judo federation President, Azizjon Kamilov understands that, in order to have a strong group of judoka at the senior level, they need to start the development of the educational aspect of the sport at a very young age. Therefore Uzbekistan has been working hand in hand with the IJF for several years, developing the Judo In Schools and Judo For Children programmes. Beyond the grand slam and the highest level, judo can play an important role as an educational tool and can provide the extra support which is necessary to create and develop great champions, on and off the tatami.
During the session, President Kamilov said, "You are very welcome, Ungvari brothers. We are very happy to have you here; you are a true inspiration to our young generation, because the international experience that you are sharing is very important for us.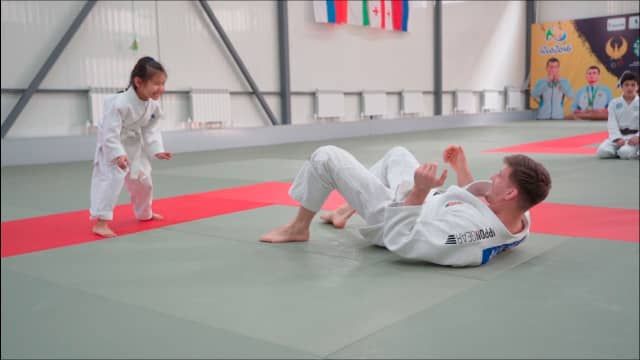 We have just completed the international grand slam and we want to go forward from this. The first step was that Ilias Iliadis, our national head coach, would bring his experience of the international level. Now having the Ungvaris with us, who are well known worldwide for their achievements, is also significant. They are not only judo experts, known for their extraordinary work in ne-waza and for being ko-uchi-gari specialists, but it's also important to have two brothers, side by side, competing in the same sport, both being humble and committed to the values of the sport. This is judo and they are true champions on the tatami and also in their daily lives.
I want to thank the IJF and Mr Vizer for giving Uzbek children the opportunity to experience this. It is a very big step for our educational development in the sporting context. Connecting children with champions is the best way to motivate the youth to discover judo.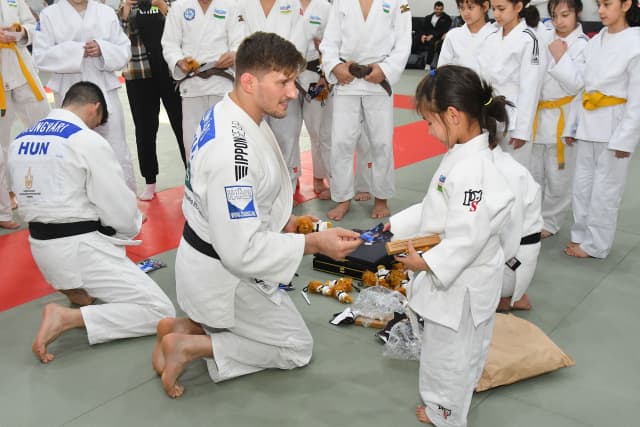 The number of children involved in the IJF Judo In Schools project is increasing. We started with 20 schools and now we have 40 and we want to involve children more and more with judo and later on with the high level, but we also want to show them how much fun it is to practise and how the judo values can guide them trough their lives to become better citizens.
Our next step will be to increase the number of schools from 40 to 60. In Uzbekistan we have 12 regions and in each region we are building the same dojo 'arena,' connected to the schools. It is very important as it will give extra motivation to the school students to come to judo and discover this extraordinary sport."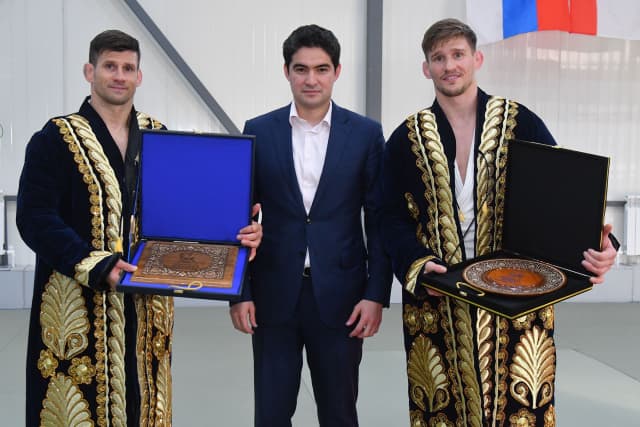 World Judo Tour judoka, Grand Prix winner, three times Grand Slam silver medallist and World Judo Masters bronze medalist, Attila Ungvári said, "We would like to thank Mr Vizer, the IJF and Mr Kamilov, as well as the whole Uzbekistan Judo Federation, for this opportunity. Having the chance to share our experience with children is always amazing. They are the future. I could see on the children's faces how enthusiastic they were to practise different exercises, in addition to their usual training.
For me it is very easy to do this, to be part of the development of judo. I love judo and after my performance career I want to be a coach, so being here with the young ones gives me extra insight. I know very well the issues of high level training, but I also believe in the IJF philosophy around judo for children and in school settings, to teach children skills for life through the values of judo. They need to learn judo but also have a lot of fun during the sessions. If you love what you are doing, it will be easier to accomplish your goals. Judo offers each and every child a range of choices; it is not only important to be a big champion, it is also important to be a good coach, a strong referee, a development officer. There are many careers in judo.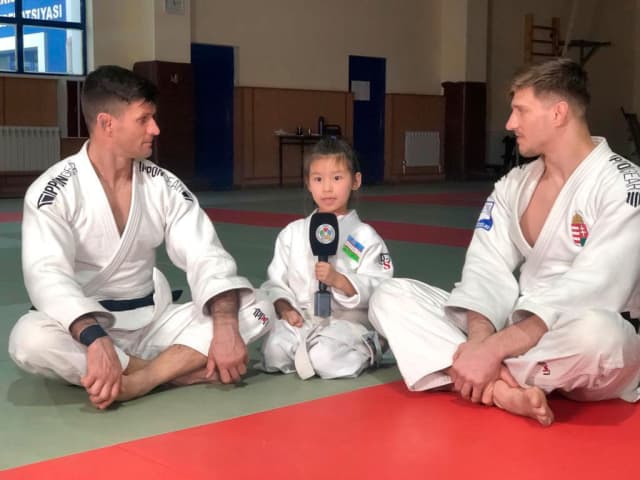 Being here, with my brother Miklos ahead of me, with our 8 year age difference, made me believe even more in the power of judo. For me judo was a very easy choice. I had my brother already participating and so I just joined in and I loved it. It is special to have your sibling doing judo with you. You share so many good moments, but also less good ones and then you can support each other. Judo played a fundamental role in what we are today and the values are fundamental to our mentality; they help us to face the challenges of life. It's not only about the defeats during competition, but also in other aspects of life. For example, now with the global Covid situation, I believe all judoka took a lot from our values to keep their spirit and mind strong, to be able to face this period."
London 2012 Olympic silver medallist Miklos Ungvári added, "I am a bit nostalgic being here with all these children. It makes me remember when I started my judo career and also when I saw the evolution of my brother, following in my foot steps. It's an honour to share our experience with them and if we can give them that extra motivation that they need to follow their dreams, we are more than happy. I also saw that they liked our ne-waza skills!" Miklos smiles.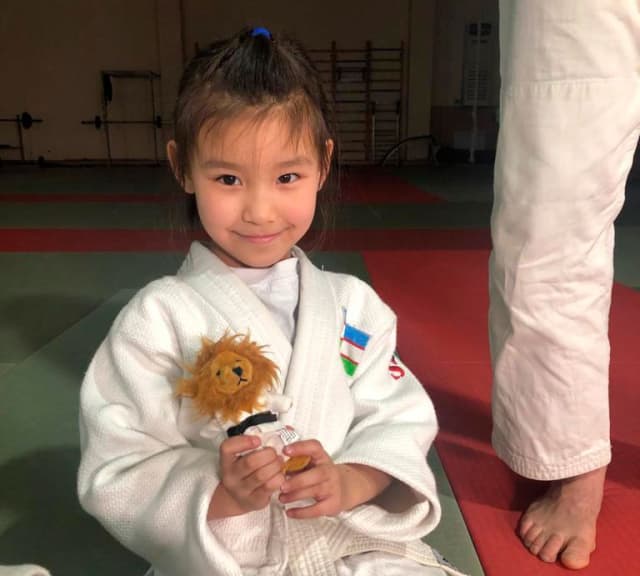 Amina, the youngest of the future Uzbek stars present on the tatami, only 6 years old, said, "I just loved to be here today. We did some different things. Now I have 2 new favourite judoka added to my list. I even threw one of them. It's so cool to see 2 brothers. My big sister, Gulaim (12), is also here today with me. I am trying to be as good as she is, so it is very nice to see an example of brothers who succeed. My whole family do judo and my parents are both coaches. Judo is our family base. We love it."
Smiles, positive energy and entertainment took centre stage in Tashkent on this bright sunny day, concluding a week of high level judo. All the children, as well as the adults and champions, simply enjoyed being on the tatami to share their experience. Ultimately, the judo values are the winners and this is all that matters.
Photos: IJF and National Olympic Committee of Uzbekistant