We see more and more women in sport and particularly in judo and at each level of practice. We already know that parity is almost reached when we talk about the number of athletes who participate in World Judo Tour events, as is the case here in Tashkent. We also notice that there are more women in refereeing now.
Roberta Chyurlia (ITA) is one of those women regularly officiating on the world circuit. This weekend, she is not in Uzbekistan however, because she will be present in Italy, in her native country, for another event. It was thus during her journey to Lignano, that she was kind enough to tell us about her vision of women's judo in 2023.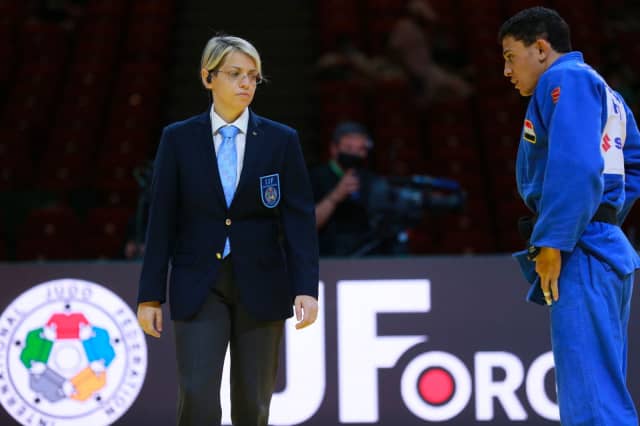 "I see women grow in each part of the world, in every sector of our sport, like coaches, athletes, referees and supervisors too.
To be honest, our sport is one of the most 'equal' around the world. As a referee I didn't see any difference; same effort, same joy for the win, same frustration for defeat. Also between us, the referees, we are a group of people, not men or women, just referees with the same uniform.
If I watch the wider landscape, the only difference that I find between male and female athletes is the issue of motherhood. Especially in the last year, we have great examples of how a woman can be a mum and high level judoka too. Clarisse, Kim and Nekoda gave a lot of power to the young generation, to see their pictures with their children in competition or in training camps is one of the best images that we can offer.
This is thanks to the effort that people like Lisa Allan and our equality gender team make around the world. I think that there were always women in refereeing and in coaching. Now we are just more strong and self-confident thanks to the effort made by people before us. I really believe that in our sport we have no difference between women and men. If you put all of yourself in judo you can reach your goals. It doesn't matter about your sex, religion or political point of view. It's only about how much you are ready to sacrifice yourself to do the best that you can.
I don't think that women can bring something special, it's more about the whole person. All of us can bring our life, our emotions and our knowledge to make our judo family the best place where one young person can grow up, doesn't matter if they're a woman or a man.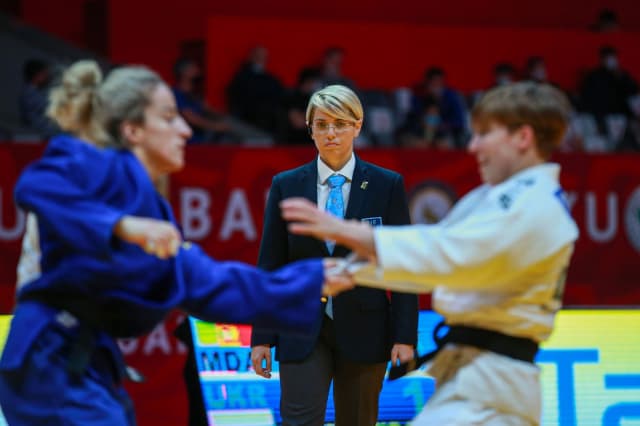 I never felt discriminated against because I am a woman. I was and I am really lucky to share my experiences with a group of people who before were just a group of colleagues but after a special time together during and after Tokyo 2020, became a family and in our family everybody is welcomed. We are from different continents, different ages, different cultures but we are referees and we love judo. When I started on the World Judo Tour, I was one of the youngest. I have to say that thanks to the more experienced ones, I never felt out of the group. They discuss with me, they taught me and when it was necessary they gave me everything. It was all useful to become the referee that I am now. I will do my best to do the same with others.
When I am on the tatami, I never think about who I will referee, men or women. I just try to do my best to help them in their fight. I respect all athletes so much. They make all that effort to reach their dreams. That is also the case for me. They fight against weight, injuries, illness and being far from their families, so I have to be ready and prepared for them.
If a woman wants to become a referee, I would say, please do it. It's fantastic! You can see the best athletes in the world live. You can go around the world feeling different experiences and you can find a second family. I would say too that you have to put all of yourself in this, you have to study, you have to train, you have to be prepared because there will be difficult times but also fantastic ones, you have to love judo. You have to desire to be a referee and to be proud of it.
We are the example that we can break these barriers. We are referees without cultural or religious differences. We are a fantastic mix. It should be great to share our experiences with women referees around the world, to go to other continents to understand that there are different types of respect from our original one, to play judo with them in their countries, to take part in some competitions and referee with them, give them suggestions and support, enjoy some moments of normal life with them. Sometimes I can understand that for some people it is not easy to ask questions or to give your own opinion about technical aspects in front of everybody, so it would be easier for them to have us directly next to them to talk freely.
I hope that we can realise this project. Last year in Tashkent, I was really surprised and proud that so many young girls, out of the sport hall, called me by my name and asked me for pictures. They hugged me and told me that it was their dream to stay on the mat with me like other referees. So I understand that I should do something for them."
Time is running out for us, because we would like to continue talking with Roberta, but her duty and her passion call her. So we let her arrive quietly in Lignano while we concentrate on Tashkent. Two places, two cultures, two points of view and yet so much in common.