This morning began with buses filling up with world and Olympic medalists, with the world's finest referees, experts and coaches, to assemble side by side for a weekend of pure education. Discussion, explanation and sharing have been the emphasis, amidst an atmosphere of respect. This cohort is getting ready to disperse and spread knowledge and good practice through their home countries, for a pristine final push to the pinnacle event of this cycle: the Tokyo Olympic Games.
Today's proceedings were introduced by Head Referee Director Mr Juan Carlos Barcos, relaying a heartfelt message from IJF President Mr Marius L. Vizer, who was unable to attend. Mr Vizer wished everyone to enjoy their weekend of collaborative learning and thanked the Qatari hosts for their unbelievable effort in facilitating such a fundamental gathering and accommodating everyone so openly and generously.
Mr Barcos then offered congratulations to Mr Yasuhira Yamashita on his election to the IOC, "a great step forward for Japanese sport and of course for Judo."
Mr Barcos continued, "During the last 3 days we have been preparing the programme to include plenty of discussion and to standardise further the criteria for all rules. Judo is always complicated but we will do our best. Preparation for our future Olympic referees is very hard, but the level of refereeing in Tokyo at the Olympic Games must be excellent. We hold the seminar in English but would like to take questions in all languages to ensure all situations are open to all."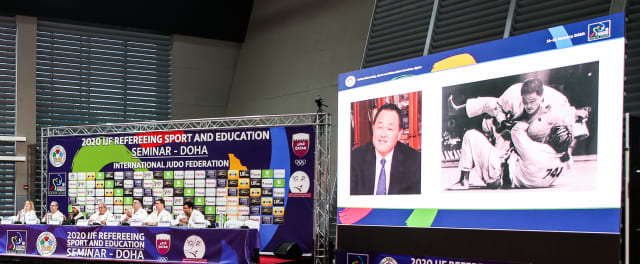 The General Secretary of the Qatari Taekwondo, Judo & Karate Federation Mr Eid Al Muraikhi then welcomed all guests, "Dear Judo experts, referees and coaching experts from 90 countries, peace be with you. Wishing you all an enjoyable stay in Qatar and I wish you all the best success for your time at this world coaching and refereeing seminar. We look for commands and feedback for helping us organise the best 2020 Masters and 2023 World Championships for you and your federations."
Mr Barcos welcomed IJF referee supervisors Mr Udo Quellmalz and Mr Neil Adams to the tribune to begin discussion of the current rules, but reminded everyone that there can be no rule changes at this time. "We must unify the criteria to avoid a conflict of judgement in the lead up to the Olympic Games."

A wide range of rules were illustrated and explained using video clips from the 2019 IJF World Tour events. It was made very clear that the way in which judo is now embracing technology is a crucial part of the process, aiming to ensure the right winners always leave the tatami. Multiple camera angles combined with refereeing excellence and expert supervisors make for a high success rate and should provide athletes and coaches with confidence going into each contest, that the result will be correct.
Mr Saso Sindic and the whole IJF IT Team were praised for the skill with which they process the footage for the supervisors to be able to act so quickly and decisively at the tournaments.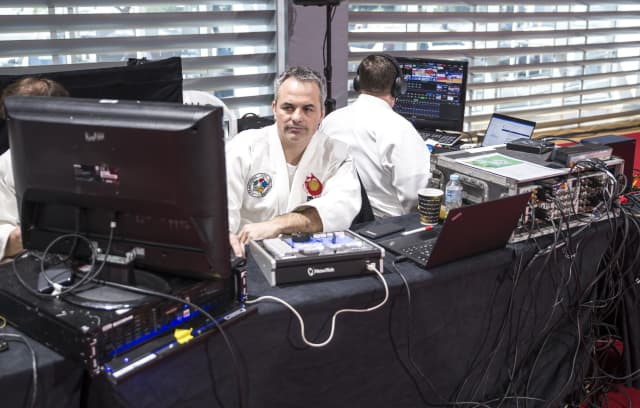 Mr Barcos added, "It is important that in the future we are able to show the public how and why decisions are made so that we can ensure the relationship between referees, supervisors, athletes, coaches and public stays positive and united."
Sport Director Mr Daniel Lascau explained, "sometimes we take time in the competition hall to find the correct evidence. People at home have the opportunity to revise and replay and show that a decision was incorrect. We have to make these decisions in the live situation and so sometimes it might take some extra seconds, so that we can get the right support from the IT team. Sometimes the seemingly long periods of waiting are for us to gather and review the correct evidence, not because we are not sure about the rules and the decision. This process will continue to get more streamlined as we go forward."
Mr Barcos noted that the education seminars are becoming less and less fiery. "In the past there has been significant controversy and sometimes with no real conclusion. Now we have established a set of criteria that even if there is an occasional, understandable mistake from a referee in situ', with the supervisors we can see the controversy is really limited now. Much better. We are on the same line."
IJF Sport Director Mr Vladimir Barta added that while we are all considering rules we must also be agreed regarding safety, "We must take care of the safety of our athletes. We have had moments where continuous action takes judoka more than 4 metres outside the contest area. This is unusual and if safe we can still consider action for scoring purposes, but if there is a potentially dangerous outcome then the referee must take care of safety first and say matte clearly and in a timely fashion. This will cause upset if someone thinks there is a score coming for them, but safety must always be first."
Following the discussion of the rules there was time for questions and then the day's education came to a close. Mr Barcos emphasised that at this time the objective must be simply to bring refereeing to the same exceptional level as the competitors, within their field.
"Mr Vizer has provided the opportunity to prepare an education pathway for this to happen and we are happy that all persons within our judo community are pulling in the same direction."
Day two will offer a series of short lectures from the education commission, including, but not limited to, ethics, Tokyo 2020 rule 50 and anti-doping.